Bone broth has, for a few years now, held a solid position at the top of the health pyramid. Touted by many as a miracle elixir and used to solve an array of ailments, bone broth is bandied about as a solution to any and all skin, joint and gut woes. But when it comes down to it, how much do you really know about its benefits? For those of you who have perhaps heard about the craze but are yet to buy into it, let us run you through some of the reasons why bone broth is the warming, healing bandwagon you need to be jumping on this winter (and where to get the best broths in town).
Look younger
Perhaps one of the things bone broth is most known for is that fact that its collagen content can significantly help with skin elasticity and repair. It is a rich source of collagen, which means that adding it into your daily diet will likely result in the reduced appearance of fine lines and wrinkles and a more glowy, supple face.
Fix your gut
Another reason it's so renowned is its apparent ability to help heal the gut, including aiding people who have chronic bowel problems. This is due to the presence of amino acids like glutamine, proline and arginine that can help to reduce inflammation and facilitate a healthy immune system response. The gelatin in bone broth can also help with the growth of probiotics in the gut which work to maintain intestinal integrity.
Up your mineral intake
Bone broth contains over 19 essential and non-essential amino acids as well as a raft of minerals including calcium, magnesium, phosphorous, silicon and sulphur which when consumed through bone broth, are delivered to the body in a form that's easy to absorb.
Sleep better
Perhaps one of the lesser talked-about benefits of the hallowed bone broth is the way it supports a good night's sleep. Amino acids like glycine — which increases serotonin — will work to counteract insomnia and support the central nervous system, ensuring a deep, undisturbed, restful sleep.
Keep your joints healthy
The collagen and gelatin content in bone broth work collaboratively to help counteract joint issues. Collagen helps to keep joints and cartilage flexible, while gelatin acts like a cushion between bones, reducing friction and the ailments that can come from inevitable wear and tear over time.
Want to know where to get the best? These are our favourites.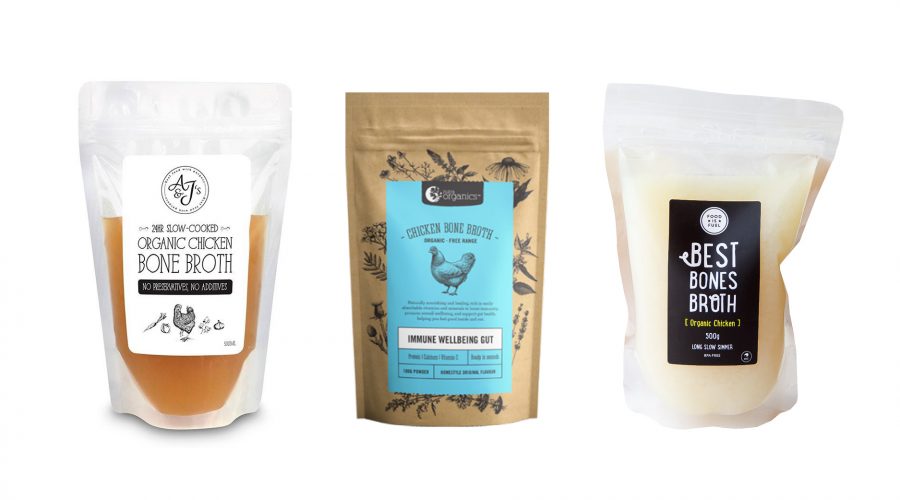 Left to right:
A&J's Organic Chicken Bone Broth is locally made using sustainably sourced ingredients, certified organic vegetables and herbs. Made from scratch and slow-cooked over 24 hours, this broth is just like the kind you would make at home and is one of our picks for its natural, nasty-free nature. Available here.
Nutra Organics Chicken Bone Broth comes in powdered form and simply requires that you add a teaspoon to 100 ml of boiling water for a hearty mug of warming, healing goodness. This one is also perfect to use as the base for soups, stews and nutritional gravy. Available here.
Best Bones Broth's Organic Chicken broth is made using only the best ingredients including certified organic bones and organic apple cider vinegar that works ensure you can derive all the goodness from the broth's array of minerals and vitamins. Available here.