There is nothing that conjures Christmas spirit quite like a scented candle, but the traditional scents that are inextricably linked to the season — like gingerbread, mulled wine and mistletoe — struggle to find their place amongst antipodean festivities. As such, those at Ecoya have taken it upon themselves to craft the ultimate olfactory representation of Christmas in the Southern Hemisphere — and it's more reminiscent of balmy evenings and summer soirées than it is cosy nights by the fire. In fact, it's a scent inspired by the unofficial drink of summer: rosé.
The tipple-inspired candle, entitled Wild Strawberry Frosé, is suitably refreshing and fruity, crafted from summer berries, tropical fruits and rosewood. It will be Ecoya's second Christmas inspired fragrance, set to become as instantly recognisable as the cult classic, sharp and crisp Fresh Pine. Both are available in Ecoya's classic Madison Jar, the Monty Jar, the Mini Diffusers and the quaint tea lights, the vessels of which have been given a sublime festive makeover, now crafted from frosted glass and topped with white, gold-coated lids.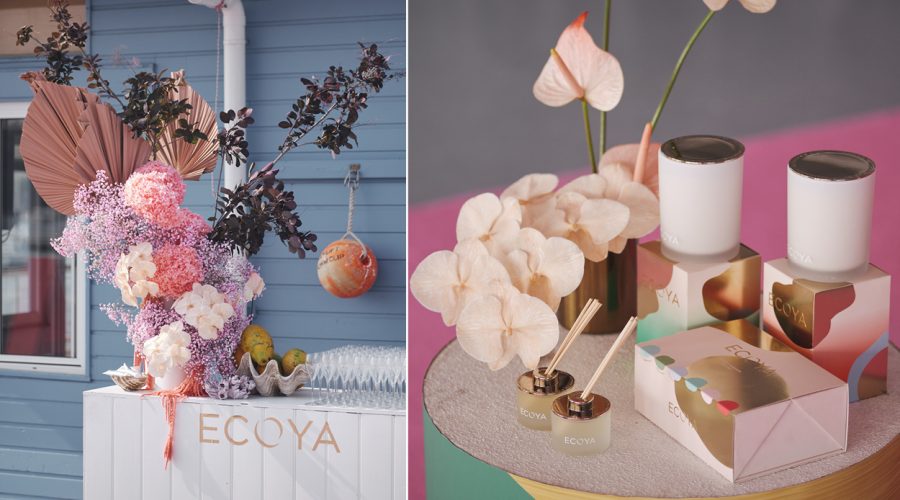 Last week, proving that those at the iconic candle brand are just as proficient at throwing parties as they are crafting candles, Ecoya curated the ultimate celebration at the Vaucluse Yacht Club in Sydney. The space was festooned with glorious decor fitting for the launch: an entrance fashioned from blush-hued balloons, strings of pink LED lights and a fuschia carpet to welcome notable guests in style. Floral decorated frosés and an overflowing fresh seafood station, complete with freshly shucked oysters, Moreton Bay Bug and fresh prawns, ensured guests were sufficiently satiated, while DJ Niki De Saint kept everyone entertained long after sundown. Of course, variations of Ecoya's new summer offering were peppered throughout the scene, but, out of respect for those affected by the bushfires currently rampaging through Queensland, New South Wales and Victoria, candles remained unlit — and donations to the New South Wales Rural Fire Service were made.
A glorious addition to the brand's iconic Christmas Collection — which comprises everything from Christmas-cracker bonbons to tea light sets — we're thanking Ecoya for making the art of secret Santa gifting and stocking-filler filling undeniably easy. A rosé-inspired candle is, after all, a highly covetable gift, just perhaps not as covetable as the rosé itself — but we'll let you be the judge of that.