They may feel like something to come out of a film from the 80s — futuristic headsets that look like something only Tron would wear. But this is the picture of where at-home skincare is heading. New technologies allowing for salon level treatments (minus the salon) are quickly outstripping our simplistic mantra of 'cleanse, tone, moisturise' and changing grooming habits for good. Between sheet masks, serums, peels and other potions staving off ageing and acne, these gadgets are promising long-term solutions with little fuss.
Clarisonic Smart Profile Uplift
This easy-to-use handheld device reportedly targets 15 signs of ageing on the face, neck and décolleté. Offering micro-firming massage — which stimulates the muscles to firm the skin, and a revitalising cleanse — which removes residue from the face and helps to minimise pores — results are said to be visible after the first use.
Neutrogena Light Therapy Acne Mask
Despite the fact that you'll resemble a disco-serial killer while wearing it, this mask has been met with widespread acclaim for the revolutionary way it targets problem skin. Using a mixture of red and blue light to stimulate change from deep within the dermis, it only requires 10 minutes a day to work its magic. 
NuFACE Trinity
Popular for its much acclaimed '5-minute facial', the NuFACE Trinity utilises microcurrent technology to improve facial contour and skin tone. The technology sends soft waves through the epidermis that mimic the body's natural current, stimulating the muscles for a firmer appearance all over. 
Dr Dennis Gross SpectraLite Eye Care Pro
Demanding a mere three minutes per day to work, this innovative headset employs 72 LEDs to deliver a full spectrum of therapeutic light to your skin. Designed to permeate the deepest layers of the dermis, these lights stimulate collagen production, improve skin density and texture, and minimise fine lines and wrinkles around the eyes. 
LightStim
Harnessing the power of light to reduce the appearance of fine lines and wrinkles, LightStim emits UV-free rays to energise cells and stimulate collagen and elastin production. The simple, handheld device encourages the process of regeneration leading to reduced pore size, improved texture and a radiant glow. Available here.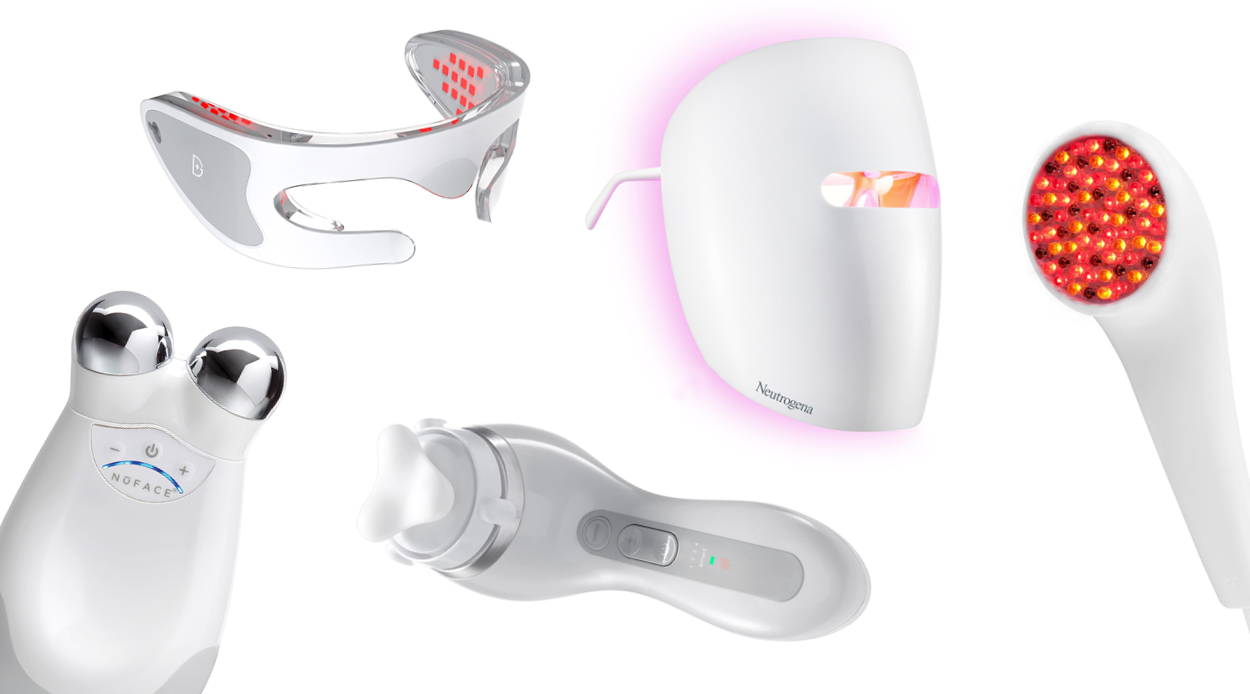 Left to Right: NuFACE Trinity, SpectraLite Eye Care Pro, Clarisonic Smart Profile Uplift, Neutrogena Light Therapy Acne Mask, LightStim