Face tanners are the simple answer to achieving sun-kissed skin without subjecting the face to the pore-blocking body variations or harmful UV rays — but they're not all created equal. As with all tanning products, there are many on the market that deliver oompa-loompa-like results, a less-than-appealing smell or a sticky, gloopy formula. To help you avoid these outcomes, we've rounded up six of the finest face tanners we know — it's time to get your glow on.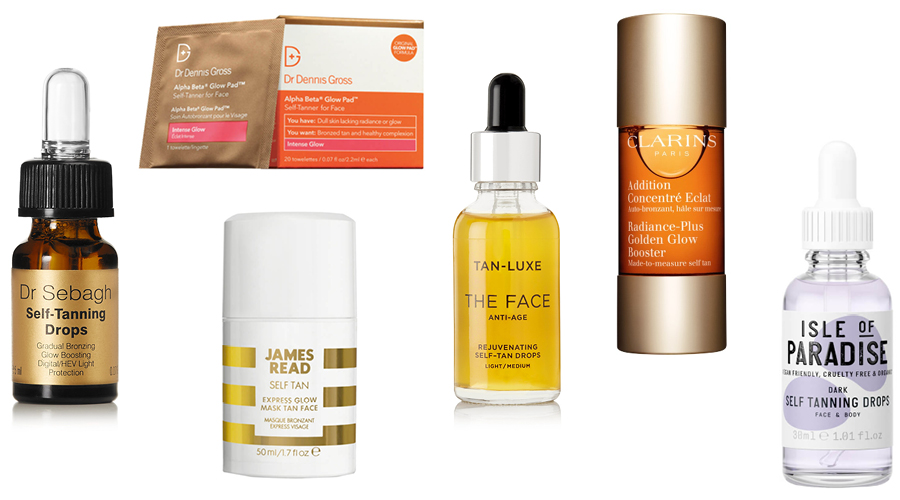 Tan-Luxe: The Face Anti-Age Rejuvenating Self-Tan Drops
Designed to be mixed with suncream, moisturiser or serum, drops have made the job of self-tanning the face undeniably effortless. Tan-Luxe's variation is infused with Tri-Collagen Booster, Vitamin E and Aloe vera, meaning that not only is it easy to apply, but it's nourishing, brightening and firming, too.
Dr. Dennis Gross: Alpha Beta Glow Pad Intense Glow Self Tanner
Ideal for those who are short on time, Dr Dennis Gross' pads, pre-soaked with Vitamin D, Microencapsulated DHA and Soy Proteins, are simple and quick to use while on the move. Simply sweep a towelette over cleansed, dry skin in a circular motion and you'll be gifted with a golden visage in approximately three hours.
Dr Sebagh: Self-Tanning Drops
Dr Sebagh is another brand that has jumped on the drops train, but this elixir boasts far more than just fantastic tanning properties. Thanks to the inclusion of High Energy Visible Melanin, this formula also gives the face a high level of protection from HEV light, the same blue light emitted from phones and computers that has been known to cause dullness and ageing in the skin.
James Read Tan: Express Glow Mask Face
Able to turn a ghost-like visage into a glowing one in just half an hour, James Read's Glow Mask is perfect for when you're caught off-guard with unexpectedly balmy, sunny weather. Especially deserving of the title 'face mask', the moisturiser-like formula also contains aloe vera, jojoba oil and hyaluronic acid, thus giving the skin an added boost of hydration.
Clarins: Radiance – Plus Golden Glow Booster
A few of Clarins Plus Golden Glow Booster drops, when added to a daily moisturiser, help to build up a natural, gradual tan — thus avoiding all orange-like, fake tan nightmares. The pipette ensures easy, tailored use, while the formula itself is light, quick-absorbing, and doesn't leave behind an uncomfortable, sticky-residue after use.
Isle of Paradise: Self-Tanning Drops
Specially formulated for those prone to sensitivity, these tan drops include non-sensitising, hypoallergenic ingredients that are at the ideal pH level for skin. In fact, the Medium shade (the drops come in Light, Medium and Dark) includes Isle of Paradise's renowned Super Balance™ complex, which calms the skin and reduces redness, too. As with all other drops, all you have to do is simply add to your morning moisturiser.