Here at the Denizen office, we are inundated with new beauty products, many of which include serums, and thus, we've had the chance to trial more than most people would in a lifetime. After testing the good, the bad and the ugly we've managed to get a pretty good idea of the little bottles that are really, truly, honestly worth their salt — here are ten of the best.
Biologi — Luminosity Face Serum
Best for: those with lacklustre skin
With a formula that contains a powerhouse of antioxidants, Biologi's serum is the most effective way to add a dose of hydration, healthy colour and luminosity to the face. Be warned though, this serum might be able to work wonders on most, but its rich formula can be aggravating to those with highly sensitive skin.
Tata Harper — Rejuvenating Serum
Best for: those with fine lines
In Tata Harper's Rejuvenating Serum, hyaluronic acid and peptides from Spanish lavender combine to create a formula that dishes out a double-plumping, extra-hydrating result. We're not saying that it's capable of turning back time, but it definitely makes a notable difference to deep set wrinkles is used regularly enough.

Mara — Algae Retinol Face Oil
Best for: those prone to acne
Perfect for skin that breaks out but is still in need of some serious hydration, Mara's Algae Retinol Face Oil is an antioxidant-infused serum that drenches the face with omegas, vitamins and minerals derived from plankton, algae and seaweed extracts — leaving skin cleansed and treated, feeling smooth and looking radiant.

CODAGE — Spring Break
Best for: a spring skincare update
The ideal serum update for when the warmer season begins (which is now, technically). CODAGE's Spring Break helps to amend the effects of winter's wrath, by using a moisturising, antioxidant, anti-pollution formula to repair and rebuild dry, dull winter skin, so that your face is clear and healthy once again just in time for summer — making it easier for you to move onto the simpler, lighter-duty products.
Shiseido – Legendary Enmei Ultimate Luminance Serum
Best for: those who need extra help in the morning
Like a cup of Joe for the face, Shiseido's Legendary Enmei Ultimate Luminance Serum has the ability to make your skin a little fresher, healthier and more awake-looking come morning time. Simply add to your routine the night before and let the serum work it's magic while you sleep.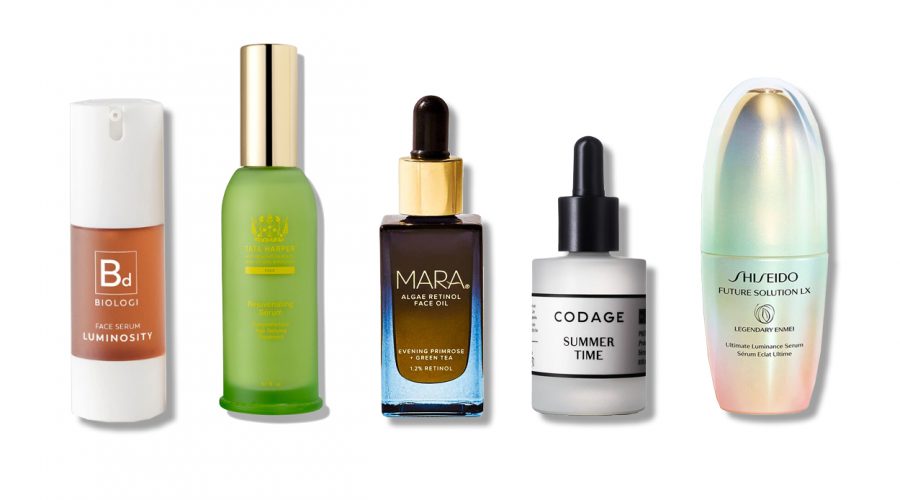 Dr. Dennis Gross — Ferulic + Retinol Wrinkle Recovery Overnight Serum
Best for: brightening dark spots
Not just ideal for those who have seen more years, but for those who have fallen subject to pollution-induced premature ageing too, this rich overnight serum incorporates retinol, ferulic acid and niacinamide to even out skin tone and help tone down hyper pigmentation (aka those pesky, ageing dark spots.)
La Mer — The New Regenerating Serum
Best for: ageing skin
Magical things are inevitable when there's La Mer's iconic, sea kelp-infused Miracle Broth at the helm of the operation. This new update on the cult-product sees the broth mixed with Metabolic Ferment, (more information on which can be found here) to create a potent serum that reduces uneven skin tone, smoothes out pores, and boosts luminosity.
Aesop — Lucent Facial Concentrate
Best for: priming skin before makeup
Aesop's Lucent Facial Concentrate is best incorporated into your morning skincare routine, just before you moisturise. Light, soothing and rich in Vitamin C, it delivers a dose of hydration and a boost of luminosity — prepping the skin for the day ahead. Plus, it smells divine.
Estée Lauder — Advanced Night Repair
Best for: an intense overnight option
It's a product that's made a seriously impressive impact on the industry, and for good reason, too. The famous Advanced Night Repair is a thicker, gel-like serum that instantly sinks into the skin, one which tackles the most obvious signs of ageing (lines, wrinkles, dark spots) alongside the smaller skin gripes all while you sleep. Perfect for those who feel as though they're in need of something a bit more hard-hitting.
Babor — A16 Booster Concentrate
Best for: those beginning to notice sagging skin
With active ingredient Retinew A16 as a core ingredient (which is 16 times more concentrated than Vitamin A and renowned for its skin-firming properties), Babor's A16 Concentrate is an especially alluring option for those whose skin is beginning to lose its elasticity.