Nestled below the timber-laden façade of the Wynyard Central development in Wynyard Quarter, Williams Eatery, is giving us a renewed reason to visit the waterfront precinct. The latest venture of brothers Charles and Patrick Williams (of Ceremony success), this formidable, new opening is bringing a brush of 'cool' to the area's culinary lineup.
Explaining how they wanted to create a simple, unfussy space, Charles cited his brother's recent trip to Japan as having influenced their creative vision. Collaborating with Gerrick Numan from MILLÉ design to bring their aesthetic to life, the result is chic and minimalist. Wooden accents from the building's exterior are carried through to the inside, but play second fiddle to the concrete detailing that covers the eatery's walls and floor. Cleverly pairing this heavy concrete with lighter, timber furniture has imbued the space with an inviting warmth and pleasant, relaxed atmosphere. Subtle green hues weave through the predominantly neutral palette, with indoor foliage, soft furnishings and hand-blown pendants all lending a verdant tint.
The brothers' commitment to supporting 'local' extends well beyond their sourcing of local produce, seeing them commission a number of highly talented, Auckland-based artisans to take care of the fit out's finer details. The glass pendants were created by Grey Lynn's Monmouth Studio; tables and chairs painstakingly crafted by Ben Glass; beautiful ceramic serving dishes handmade by Hayley Bridgford; and custom, yellow mugs the result of a collaboration with Fiona Mckay.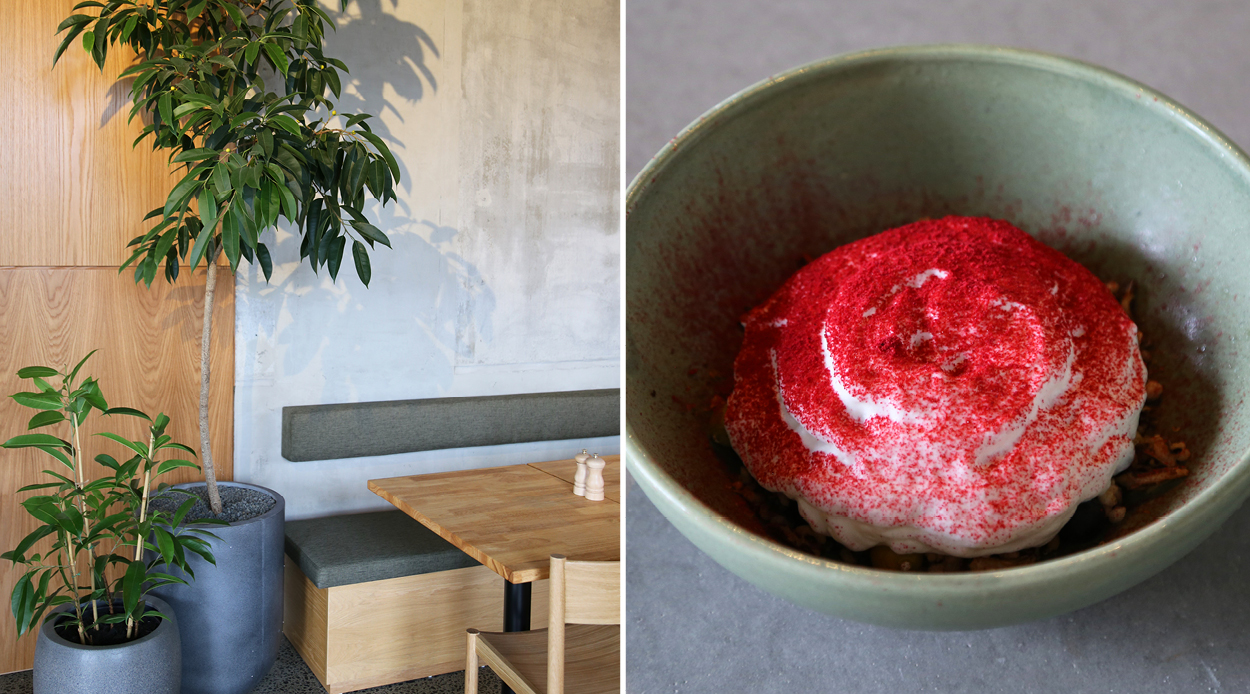 Offering all-day dining (dinner service to start soon) on their entire menu, the cuisine is a simple but intriguing mix of contemporary classics with hints of Japanese and Nordic influence. Make-your-own breakfast options (think eggs any way with house whipped butter, kumara sourdough and a curated selection of sides) sit alongside dishes like the Breakfast Bowl — a textural fiesta comprising homemade muesli, coconut kasu foam, seasonal fruit sorbet and raspberry powder — that is both effervescently light and satisfyingly crunchy.
Another highlight is the 'Mushrooms', made with pine buttermilk, porcini crumb, honeycomb, quinoa crisp and pine nut oil, that made every prejudice I had against 'creamy mushrooms' (based entirely on poor past renditions) fade away in an instant. The delicately balanced flavours and happy clash of textures made for a breakfast that would get any day off to a roaring start.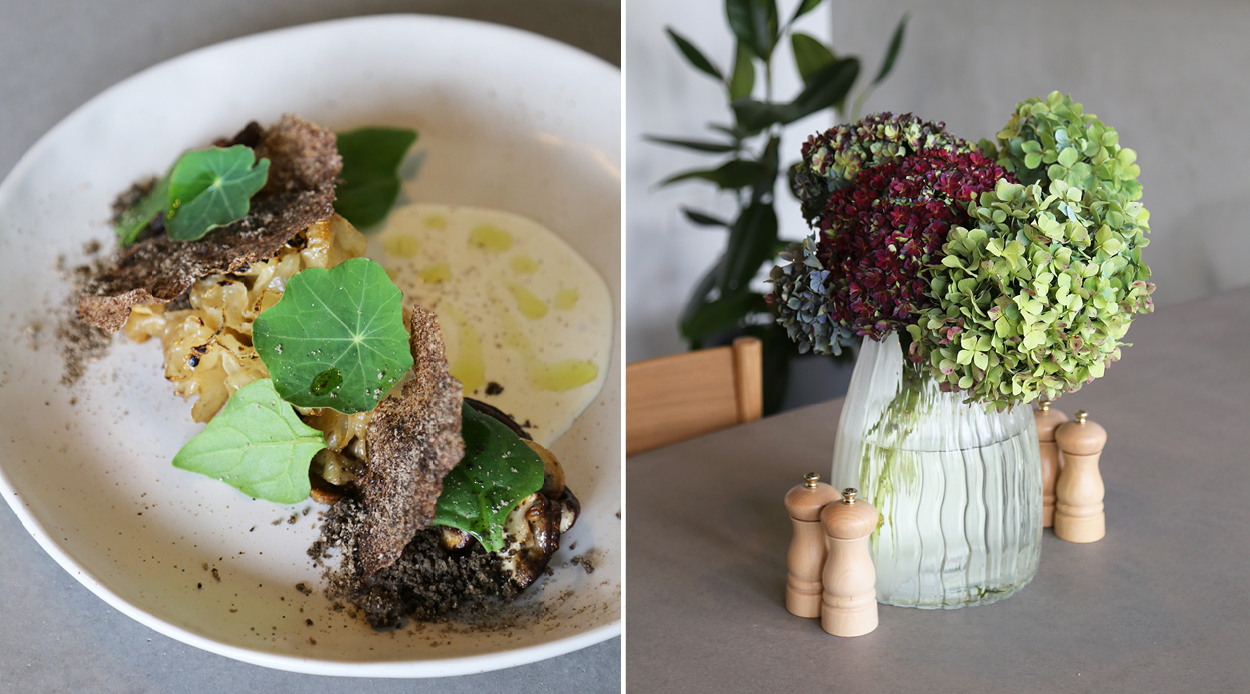 With drink suppliers like Flight Coffee, Batchwell kombucha and Sawmill brewery; a well-rounded wine and cocktail list; a comprehensive selection of cabinet food and a laudable focus on sustainable practices (all their packaging is compostable and they are currently growing their own herbs in the community garden at the front of the building), Williams is laid-back but perfectly polished, and is sure to become a regular weekend favourite.
Opening hours:
Monday to Friday, 7am – 4pm
Saturday and Sunday, 8am – 4pm
Williams Eatery
G03/85 Daldy Street
Wynyard Quarter
Auckland
(09) 373 3906