Let's face it. People who don't like Tiramisu are a vast minority in this world, and what a gloomy bunch they must be. The failsafe Italian dessert, known to enchant even those who detest coffee, has an uncanny ability to mollify dessert eaters with its featherlight layers and creamy yet invigorating nature. In spite of its universal appeal and easy to make-ability, however, the Denizen team has devised a way to elevate the already delicious dessert to new heights, by using Lewis Road Creamery products wherever possible and thus enshrining the gratifying taste of New Zealand's best dairy. To recreate our take on the beloved tiramisu, follow the instructions below and we promise this will quickly become the only dessert recipe you'll need for the festive season ahead.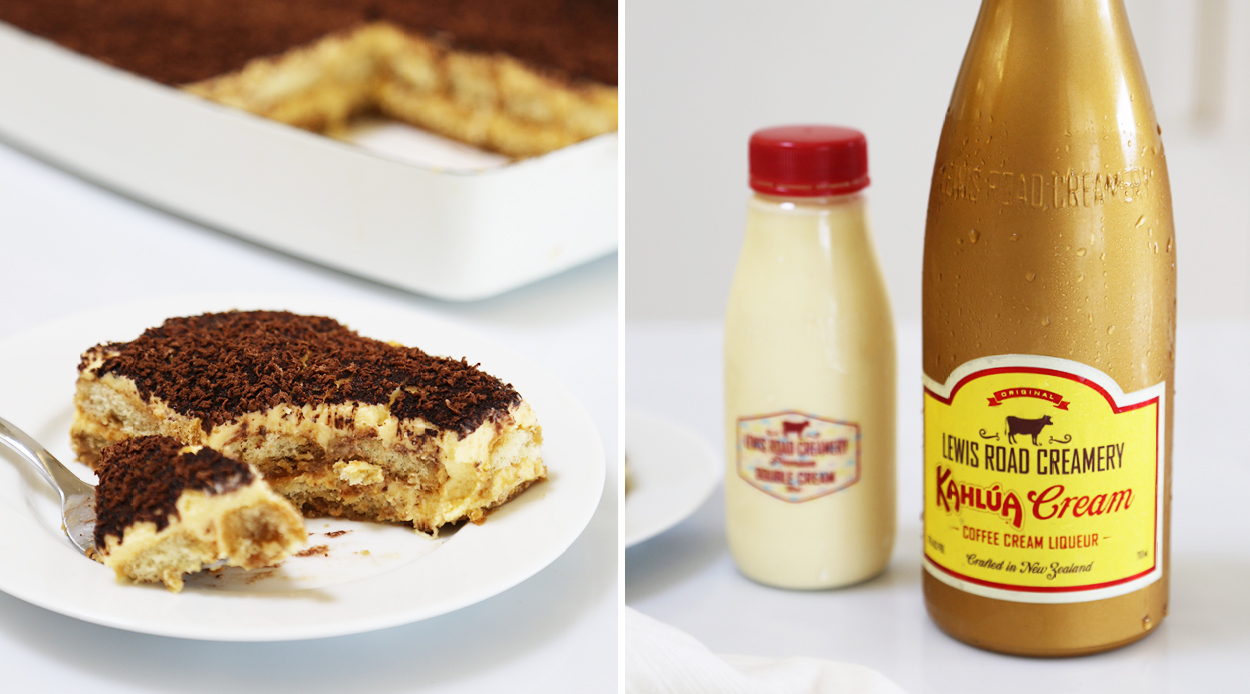 Makes 8 to 10 servings
Preparation time: 30 minutes
Total time: 7 hours
INGREDIENTS
– 2 cups boiling-hot water
– 3 shots of Nespresso
– 1/2 cup plus 1 tablespoon sugar, divided
– 3 tablespoons of Lewis Road Creamery Kahlúa Coffee Cream Liqueur
– 4 egg yolks
– 1/3 cup dry Marsala
– 2 1/2 cups mascarpone
– 1 cup of chilled Lewis Road Creamery Premium Double Cream
– 36 Savoiardi ladyfingers
– Unsweetened cocoa powder for dusting
PREPARATION
Stir together water, espresso, 1 tablespoon sugar, and Lewis Road Creamery Kahlúa Coffee Cream Liqueur in a shallow bowl until sugar has dissolved, then cool.
Beat egg yolks, Marsala, and remaining 1/2 cup sugar in a bowl set over a saucepan of barely simmering water using a handheld electric mixer until tripled in volume, 5 to 8 minutes. Remove bowl from heat. Beat in mascarpone until just combined.
Beat Lewis Road Creamery Premium Double Cream in a large bowl until it holds stiff peaks.
Fold mascarpone mixture into whipped cream gently but thoroughly.
Dipping both sides of each ladyfinger into coffee mixture, line bottom of a 13- by 9- by 3-inch baking pan with 18 ladyfingers in 3 rows, trimming edges to fit if necessary. Spread half of the mascarpone filling on top. Dip remaining 18 ladyfingers in coffee and arrange over filling in the pan.
Spread remaining mascarpone filling on top and dust with cocoa. Chill, covered, at least 6 hours.
Let tiramisu stand at room temperature 30 minutes before serving, then dust with more cocoa.
Tiramisu can be chilled up to 2 days. 
This recipe has been adapted from Epicurious.