It's that time of year again folks, the season of soaked fruit, spiced, sticky pillows of warmth and copious layers of melted butter. Hot cross buns have hit the shelves of almost every bakery in town and each iteration boasts its own twist on the Easter delicacy. We have eaten our way through the city and gathered the best of the best from our HXB journey. Here is everything you need to know about the most delicious hot cross buns in Auckland.
Daily Bread
Traditional at its finest is how we would explain Daily Bread's hot cross buns. The artisanal bakery uses a sourdough starter, and the buns are fluffy beyond words with a crispy outer crumb that adds crunch to each bite — especially when toasted. The buns boast a generous amount of glaze and are packed with spices and soaked fruit which burst with rich sweetness. Interestingly, they do not feature any candied rind. When toasted, the spongy pillows perfectly absorb all the butter smothered on them but when served fresh, they're equally as tasty and will feel just like biting into a cloud.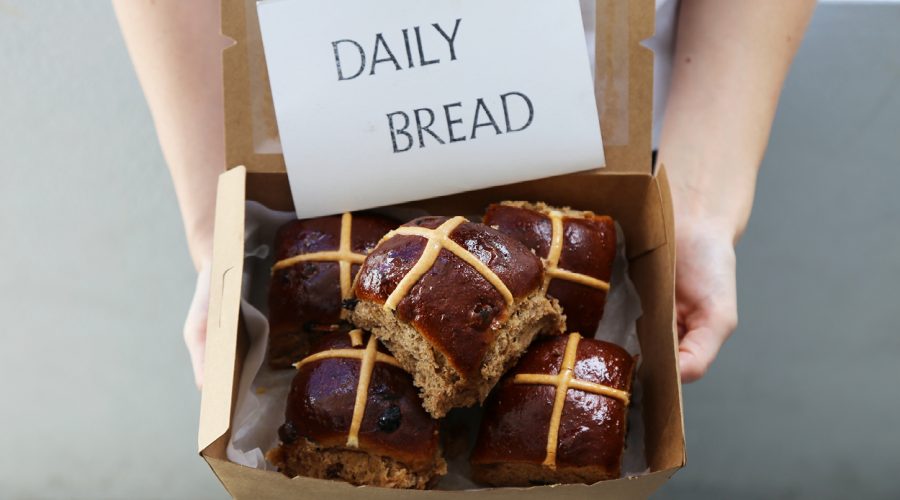 Fort Greene
Similar to Daily Bread, Fort Greene also uses a sourdough starter for its Easter morsels which only makes sense as it's renowned for being one of the best bakeries in town to get a loaf of sourdough. Fort Greene's rendition tastes somewhat more rustic with stronger flavours of yeast and a mix of spices rather than rich and fruity sweetness. The thick top layer of the bun has an extra crunch (similar to an actual loaf of sourdough), and the addition of candied rind lends a zesty and citrusy element to the HXB.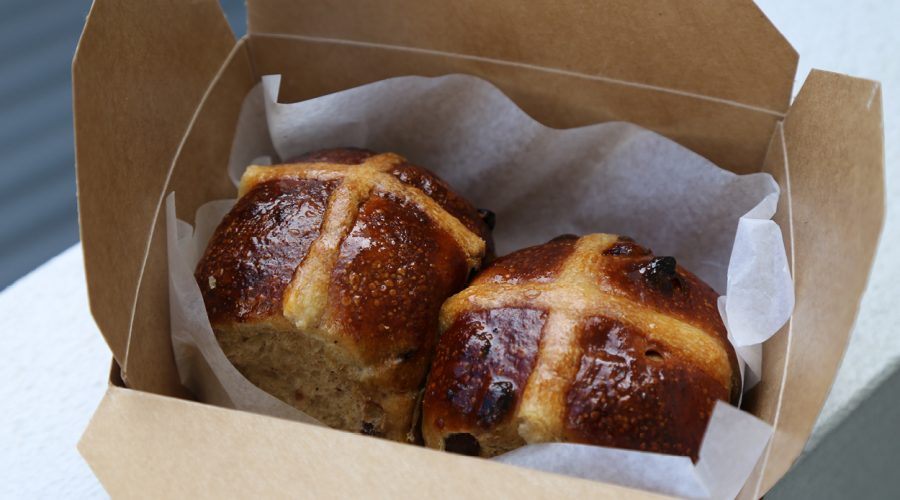 Huckleberry X Bread & Butter Bakery
Our favourite organic grocer has collaborated with one of our favourite bakeries which makes the result inevitably delicious. These hot cross buns contain organic ingredients from the fruit, the butter, the flour, right down to every grain of spice. The buns are soft and lighter than the majority of the ones we tasted which made it much harder to stop after one. Huckleberry and Bread & Butter have added their little spin by introducing touches of coriander and cumin to the mix, lending the buns a unique and herby aroma.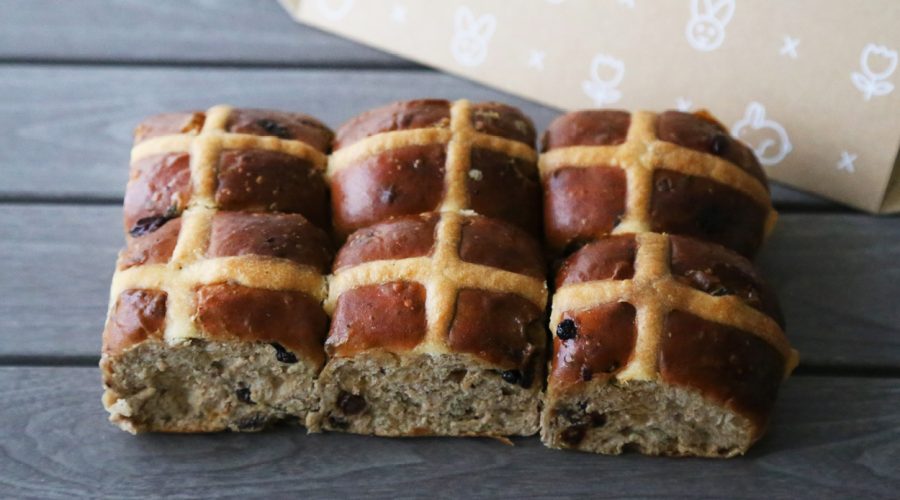 Ima Cuisine
Just from first impressions, you can already tell that Ima's hot cross buns are anything but regular. They weigh quadruple the amount of a traditional HXB, and each dense roll is jam-packed with candied fruit peel, currants and sultanas, so every bite is as sweet and fruity as the next. A mixture of freshly ground spices is used to bring the buns to life, but it's the custard crosses that make all the difference. The ooey-gooey custard crosses have turned the wholesome Easter treat into an indulgent dessert, and it's the definition of decadent. These buns should always be enjoyed toasted so the butter seeps into the dense bread and the custard turns warm and caramelised.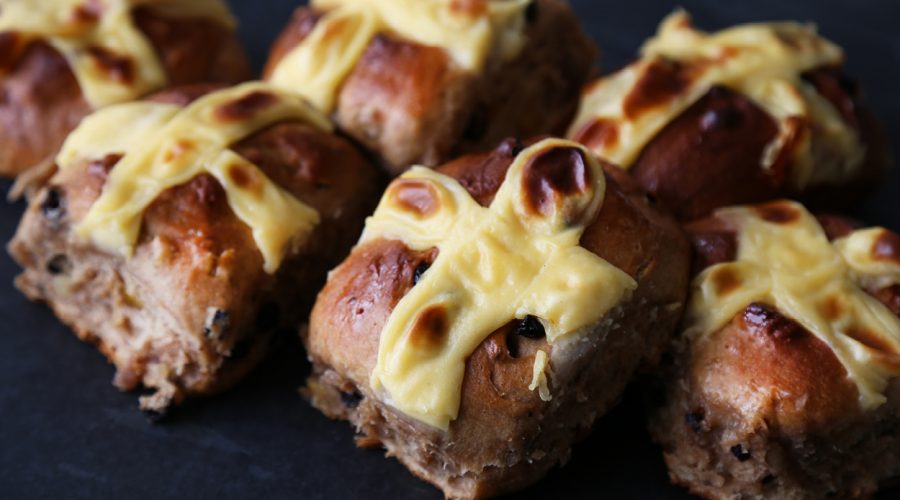 Little & Friday
Believe it or not, there are people out there who actively dislike custard. In fact, we have someone in the Denizen team who isn't a fan of the traditional treat (I can't possibly think of a reason why). Luckily, Little & Friday leave the custard to Ima, despite creating hot cross buns that fall into a similar category of density and texture. Rather than being soft, spongy and fluffy, these buns feel more like little cakes and will fill you up after one. Boasting the traditional, thin and crispy cross, Little & Friday's is sweeter than the other contenders, with the bread itself boasting a substantial amount of spice to have the soul-warming effect — the tell-tale sign of a good quality hot cross bun.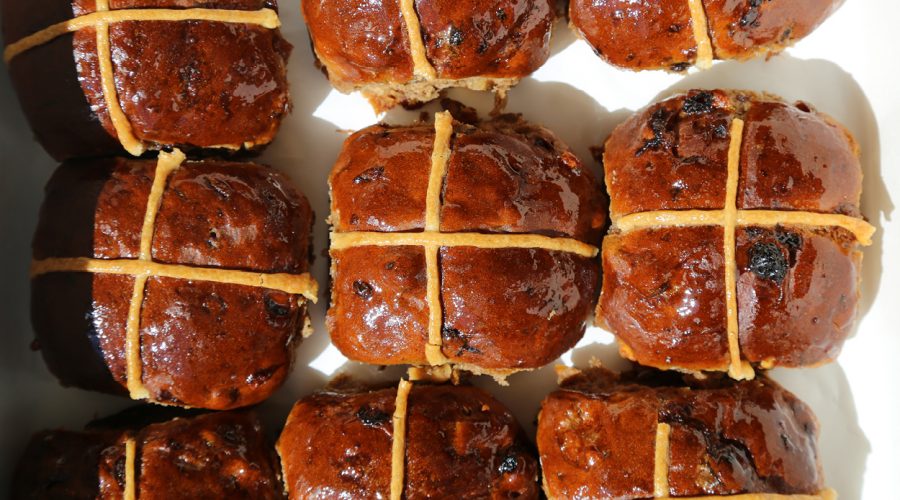 Miann
We wouldn't usually consider a chocolate hot cross bun as a contender for this round-up, but Miann's iteration cannot go unmentioned. The chocolate hot cross bun has been taken to new heights as it boasts Miann's brand new bean-to-bar chocolate range from its recently-opened Morningside store. The bun is packed with chunks of chocolate chips to create a rich, dark flavour and is the epitome of indulgence. The traditional hot cross buns from Miann don't disappoint either. The sticky buns have an extra spongy quality to soak up every ounce of butter you slather on them.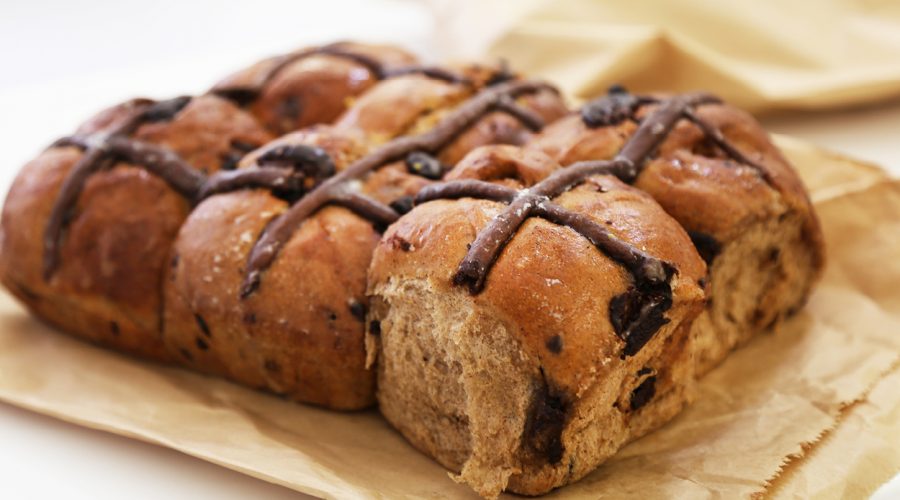 The Real Bread Project
Former Head Baker of Amano, Daniel Cruden has been brewing up some magic for this year's Easter. In collaboration with Sparks Brewing, Cruden has incorporated Sparks' Outlander stout into the mix to achieve a maltier flavour and imbue each bun with an earthy aroma. The fruit and candied rinds are enriched with the stout, and the bread is infused with a complex and sophisticated mixture of Indian spices. The intense, spicy aroma of this bun will fill the kitchen as you're toasting it to get you in the Easter mood straight away. You can find these at Pastrami & Rye and Flour Mill.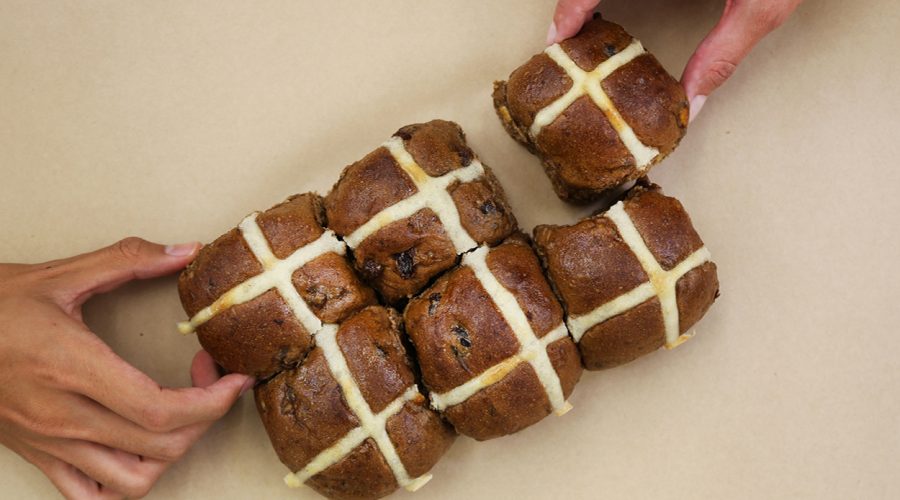 Wild Wheat
This version was arguably the most aesthetically pleasing of all the buns, boasting a perfectly round shape, glistening with a sticky glaze and sporting a perfectly aligned cross. Wild Wheat's hot cross bun is beyond light and fluffy and has the ideal balance of spices and fruit, where the flavours complement one another rather than being overpowering. The outer casing is thick and lends the bun a slight chewiness while protecting the soft centre. The cloudy texture makes these buns just as enjoyable fresh as they are toasted with lashings of butter.