The 2019 Rugby World Cup kicks off this Friday and even if you're not a fan of the sport, you don't have much of a choice but to get amongst the tournament and embrace the inevitable fervour of the upcoming weeks. Rugby is a prevalent part of Kiwi culture and most New Zealanders will be donning their black jerseys and turning out to bars and venues around the city to support the All Blacks in their effort to defend the title. And whether you're a rugby fanatic or not, there's something special about the atmosphere of watching an All Blacks game with your countrymen. It's unifying, electrifying and makes you proud to be a Kiwi. As such we have rounded up a few of the best places in Auckland to grab a bite and something to drink while supporting the boys in black.

Dr Rudi's Rooftop Brewing Co
From its rooftop location to its lively ambience, Dr Rudi's is an ideal place to spend a night watching the Rugby World Cup. Foot-long pizzas, pints from their very own brewery bar and a bowling alley along with the big flat-screen televisions is a recipe for a fun-filled evening. We recommend ordering the goats cheese and caramelised onion pizza. The combination of the garlic base with the slightly sweet onion jam is enough to have even the most infrequent rugby-watcher returning to the rooftop for every game.

Coops Corner Pub
The new kid on the block, Coops is not your average corner pub. Situated in the heart of Viaduct Harbour and providing a friendly and welcoming vibe — Coops is set to become another waterfront favourite. Take advantage of this Friday and order the Friday-only dish — Coops' Super Sandwich. Served in a humble white roll, premium-quality carvery roast beef and a sauce of your choice is combined to delicious effect. Add a tequila espresso martini to your order and you're all set for an exciting evening.

Auckland Fish Market
No matter what day of the week it is, Auckland Fish Market is constantly heaving with people, creating the ideal, bustling vibe that one seeks when watching a game of rugby. The outdoor courtyard has numerous screens to view the game and spectators are also spoilt for choice when it comes to dining options. Azabu at Auckland Fish Market is always a favourite of ours as the chicken katsu bao from this eatery is one of the best in town.

The Brit
Having recently taken up residence in the Northern Steamship building, The Brit is the new social anchor of Britomart. With six big screens and a projector, you're sure to get a good view of the games no matter where you're seated. Although getting a great view won't be a struggle, deciding on what dish to order is a different story as everything on the menu is beyond enticing which only makes sense as it was designed by the Executive Chef of Nourish Group, Gareth Stewart. A few must-tries, however, include the parmesan truffle fries, smoked corn dogs and skillet baked mac and cheese.
MASU by Nic Watt
As the 2019 Rugby World Cup is taking place in Japan, it would only be appropriate to celebrate the kickoffs while indulging in Japanese cuisine. MASU by Nic Watt is introducing an Asahi Black Out menu from the 20th September until 2nd November which features elevated Japanese bar food, including karaage chicken, katsu sando, soft-shell crab and more. Nibble on these delicious dishes while sipping on Asahi as you watch the live screening of the games on MASU's new flat screen.
Fantail & Turtle at Goodside
For those who live on the North Shore, crossing the bridge is unnecessary as Fantail & Turtle at the Goodside dining precinct at Smales Farm is also hosting regular live screenings of the Rugby World Cup. Its open space and wooden deck exude a homely feeling, making it the perfect spot to kick back and relax while tucking into the popular jalapeño wontons and sipping on one of their many beers on tap or a delicious wasabi negroni.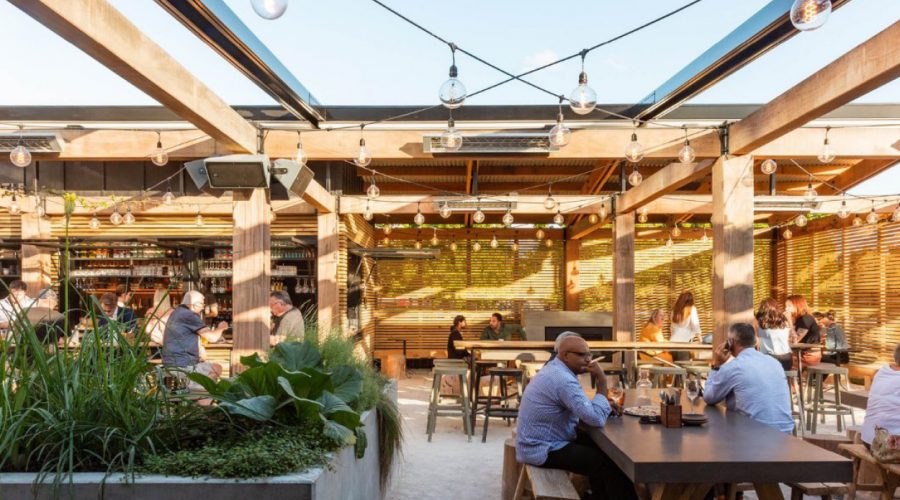 Morningside Tavern
Boasting a casual and comfortable vibe, Morningside locals are quick to state Morningside Tavern as their go-to local spot. The tavern is screening the Rugby World Cup this Friday on the projector and we suggest you go early as this tavern fills up fast. The menu differs from the usual pub grub and features dishes like eggplant parma, salmon terrine and prosciutto bruschetta but still showcases a few classics such as fried wings and pizza. Not to mention a full drinks list of wine, beer and cocktails, our favourite being the Morningside Martini.

Andy's Burger & Bar
Another central spot with numerous screens and a projector is Andy's Burger & Bar at SkyCity. This eatery and pub is renowned for serving up tasty burgers, but it's the hot wings and onion rings that have us returning again and again to this joint. To pay tribute to the All Blacks, we suggest you order the dark and rich Mississippi mud pie. This decadent slice sees an Oreo crumb layered underneath a chocolate mud cake, chocolate custard and white chocolate cream and is the definition of indulgent.