We know, it's technically the end of summer. Autumn is in full swing and we should really be welcoming cosy nights in, but we're not ready to let go of the warmer season's rendezvous and, if this recent spate of sunny afternoons are anything to go by, the weather isn't either. Undeniably, the best way to truly make the most of these final, sun-drenched evenings is by sitting, cool beverage in hand, atop a bustling rooftop bar. That being said, we've rounded up some of the best lofty watering holes you should be paying a visit to before the heat lamps come out.
Saint Alice
Crowd-pleasing newcomer to the Viaduct Harbour, in just three short, sweet months Saint Alice has cemented itself firmly as one of our favourite evening hangouts. With a sublime seafood-centric menu and an all-encompassing drinks list, not to mention a retractable roof and some of the best views of the glistening harbour, you can rest assured that this lively hotspot has all the boxes ticked for a seriously memorable outing.

Dr Rudi's
Next door at Dr Rudi's, you'll find the rooftop hangout that's been luring in the crowds for a couple of years now — and with good reason, too. The OG of Viaduct Harbour's bustling evening scene, here you'll find a menu comprising glorious sharing fare like pizzas and platters and palatable side dishes, designed to be fought over amongst friends over a drink or three. With a bowling alley nestled indoors and a star view of the floating boats in the Viaduct marina, it comes as no surprise that Dr Rudi's is a failsafe evening option for most.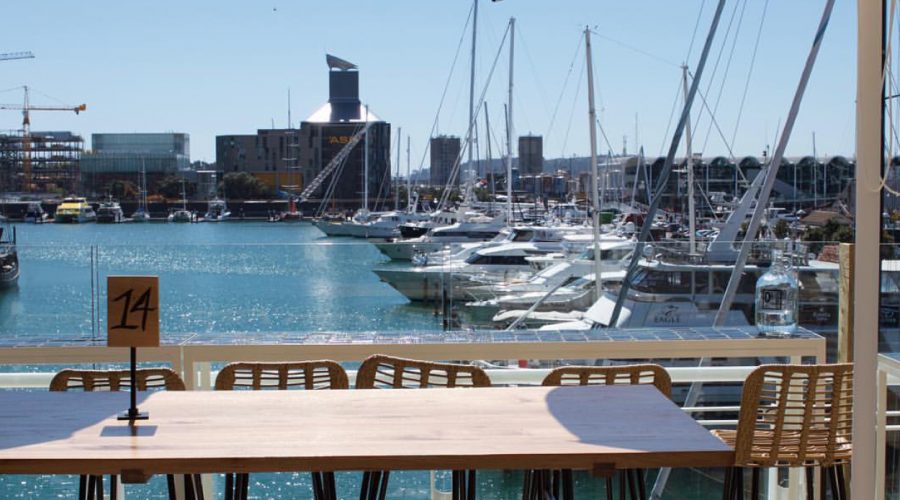 SEVEN
Rooftops done the elevated way, SEVEN ensures that anyone who frequents this Seafarers top-floor resident is subject to a seriously refined experience. The food is enough to render anyone speechless — think Asian delicacies comprising silky dumplings and moreish wontons — while the delicious medley of cocktails ensure that leaving the premises is never imminent. What's more, SEVEN is still championing the art of the Aperol like never before with their tangerine drenched Club Aperol — something we suggest you make the most of while the sun's still here.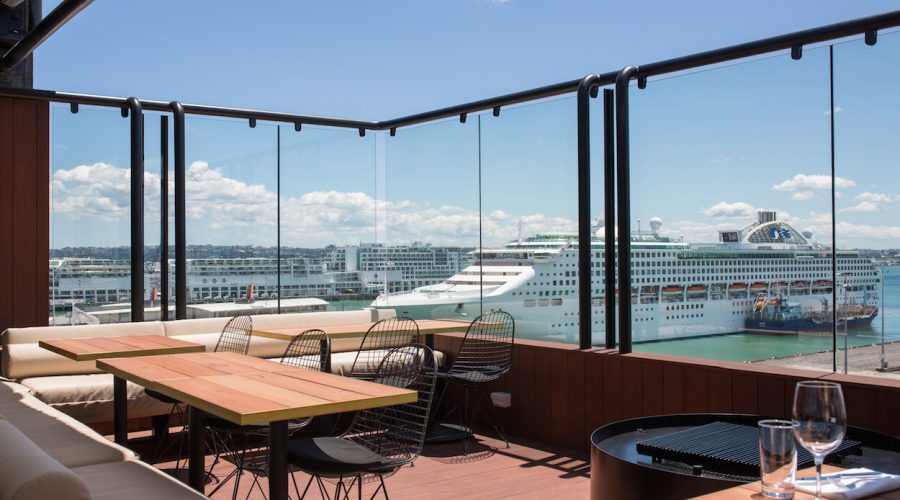 The Deck at OSTRO
Often referred to as Britomart's best kept secret, this rooftop hideaway is one of the best places to go to enjoy some captivating city views and revelrous entertainment. What's more, The Deck seriously delivers on the drinks front with a Happy Hour that we can truly get on board with: between the hours of 4pm and 6pm, Monday through to Friday, all house pours are just $9.
Parasol & Swing
Sat snug between Soul Bar & Bistro and the aforementioned Dr Rudi's lies Parasol & Swing, a place where you can round up the troops and indulge in some serious lip-smacking libations. An extensive list of mouth-watering, bespoke cocktails are the stars of the show, with carefully sourced boutique wines and craft beers fighting for the limelight.
The Glass Goose
Tucked away atop a clandestine staircase just off Federal Street, this glasshouse reminiscent, hidden gem serves as the perfect inner-city garden escape. The menu is perfect for sharing, while the crisp wine's, cool beers and melange of thirst-quenching, titillating cocktails keep ensure you're well looked after till sundown.