Sri Lankan cuisine is something we're yet to become well acquainted with in Auckland. In fact, when visiting St Kevins Arcade's newest resident, Revolver, I had trouble thinking of where else one goes to taste the uplifting flavours of the island nation south of India. Sure there are crossovers at various eateries around Auckland. Satya offers an authentic dosa which is akin to the hoppers served at this modest yet somewhat game-changing eatery, but more on that later.
Oli Bradford is the man behind this new venture, assuming the tenancy of what was formerly Fort Greene's original premises (they've moved here instead). No newcomer to Saint Kevins Arcade, however, Oli, who is originally from Wellington, has spent the past three years working between the arcade's foremost cafe resident Bestie and Lebanese eatery Gemmayze Street. In explaining the concept for his Sri Lankan-inspired pitstop, he respectfully explains, "I wanted to deliver something that wouldn't conflict with everyone else in the arcade." We can confirm that he has achieved as much.
For us, the hoppers — a common street food snack/pancake bowl, normally served with either eggs in the morning or curries in the evening — were a completely novel experience. They come in various forms, including one with a fried egg, tamarind yoghurt, chilli ketchup and crispy shallot which was a truly glorious mid-morning snack. The thing we loved most was arguably its size; not too big and not too small, it's a pleasingly textured masterpiece that will leave you just satisfied enough to still manage a substantial lunch.
Aside from these pancake-esque delights, Oli has put his spin on a series of other traditional street food items, all of them vegetarian, including the 'chana vadai'. The pseudo meatball dish is made from a chickpea-based mixture similar to falafel, doused with spinach sauce and accompanied by coconut sambol, tamarind yoghurt and a sweet and spicy Indonesian pickle — yet another winning combination for our relatively ignorant palates.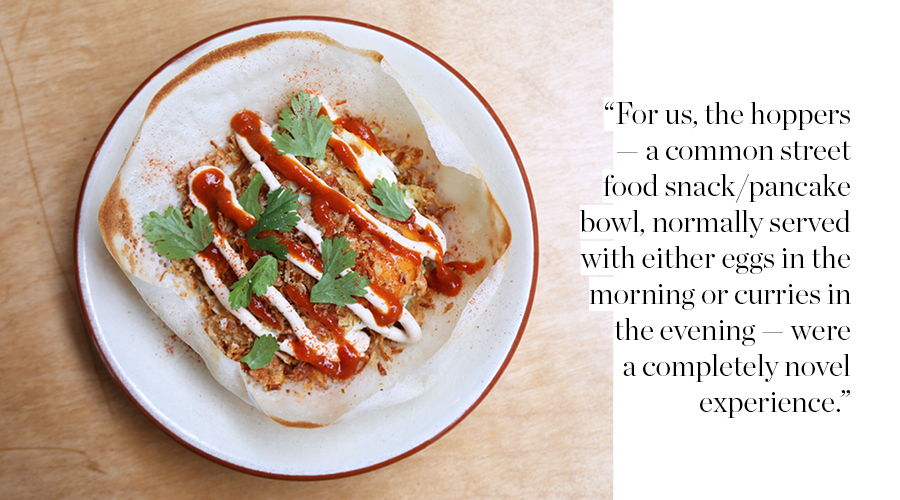 When asked where his knowledge and love of the food comes from, Oli explains that his mother, who is from Colombo, would habitually prepare similar snacks at home when they were young. Delivering said snacks to the masses has been a longtime goal of his. Suffice to say, he already has a captive local audience. Having opened only 10 days ago, business has been getting busier ever since.
Speaking of what is yet to come, Oli mentions he is still awaiting a cabinet which will house a daily offering of fresh wraps, raw salads, bliss balls and plenty of original sweet treats. Once licenced, he'll look to lure in an after-work crowd with offerings like masala spiced hot chips and hunger-busting toasties alongside a beer and wine. For now, the flavour packed breakfast bowls and hoppers will have to do the trick.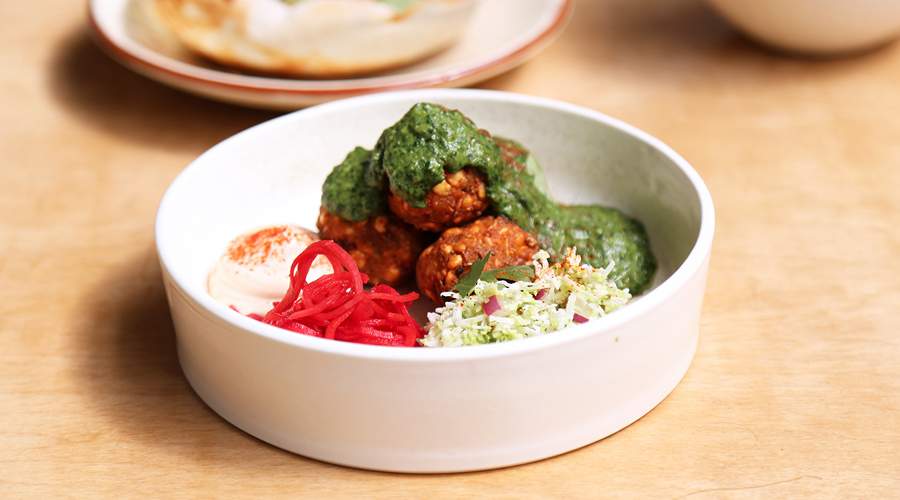 Importantly, Oli wants Revolver to maintain a Wellingtonian vibe in the way that you can get whatever you desire at any time of the day — "on Cuba Street, you can always find somewhere to get a coffee at 10pm" he promises. Embarking on his pursuit with integrity and the passion of someone who has long awaited their own hospitality venture, Revolver is a worthy addition to Saint Kevins Arcade's notable lineup.
Opening hours, currently 7 days 7am – 5pm.
Revolver
Saint Kevins Arcade
183 Karangahape Road
Auckland Central