When you can count Chairman Mao Zedong, Margaret Thatcher, Richard Nixon, Joseph Stalin, Kim Jong-il and Bill Clinton amongst the people you have cooked for, you must know that your culinary skills are that of an almighty calibre. This was the case for Kevin Liu's late grandfather, Cheng Ruming, aka executive chef to Chairman Mao.
Liu is the founder and gastronomic helmsman behind new Parnell eatery, Red Wall 1939, located in the newly refurbished white house of the suburb's famous Rose Gardens. The eponymous year marked the beginning of Liu's grandfather's long and illustrious career, during which, he passed knowledge down to his grandson, who he later worked alongside. Cooking for such notable individuals granted access to centuries-old recipes that are closely guarded by very few people, including Liu himself, and some of these he is sharing — or rather, demonstrating — at his beautifully appointed new eatery.
It's a completely novel experience, walking into the space that was formerly a run-down wedding venue in need of some TLC. Liu has spent a pretty penny restoring the building from its very foundations to create a calm and luxurious dining space with obvious but not over-the-top Chinese influence. The dusky, ash grey walls and upholstered seating have a soothing effect as does the natural light spilling in from the verdant garden surroundings. It was across the road from the Rose Gardens, where Liu, staying on his first trip to Auckland six years ago, first fell in love with the beauty of New Zealand. Inspired by our country's purity and the quality of local ingredients, the chef made it his mission to open a restaurant here. It would be the fifth in a series of establishments, the rest of which are highly regarded back in his homeland.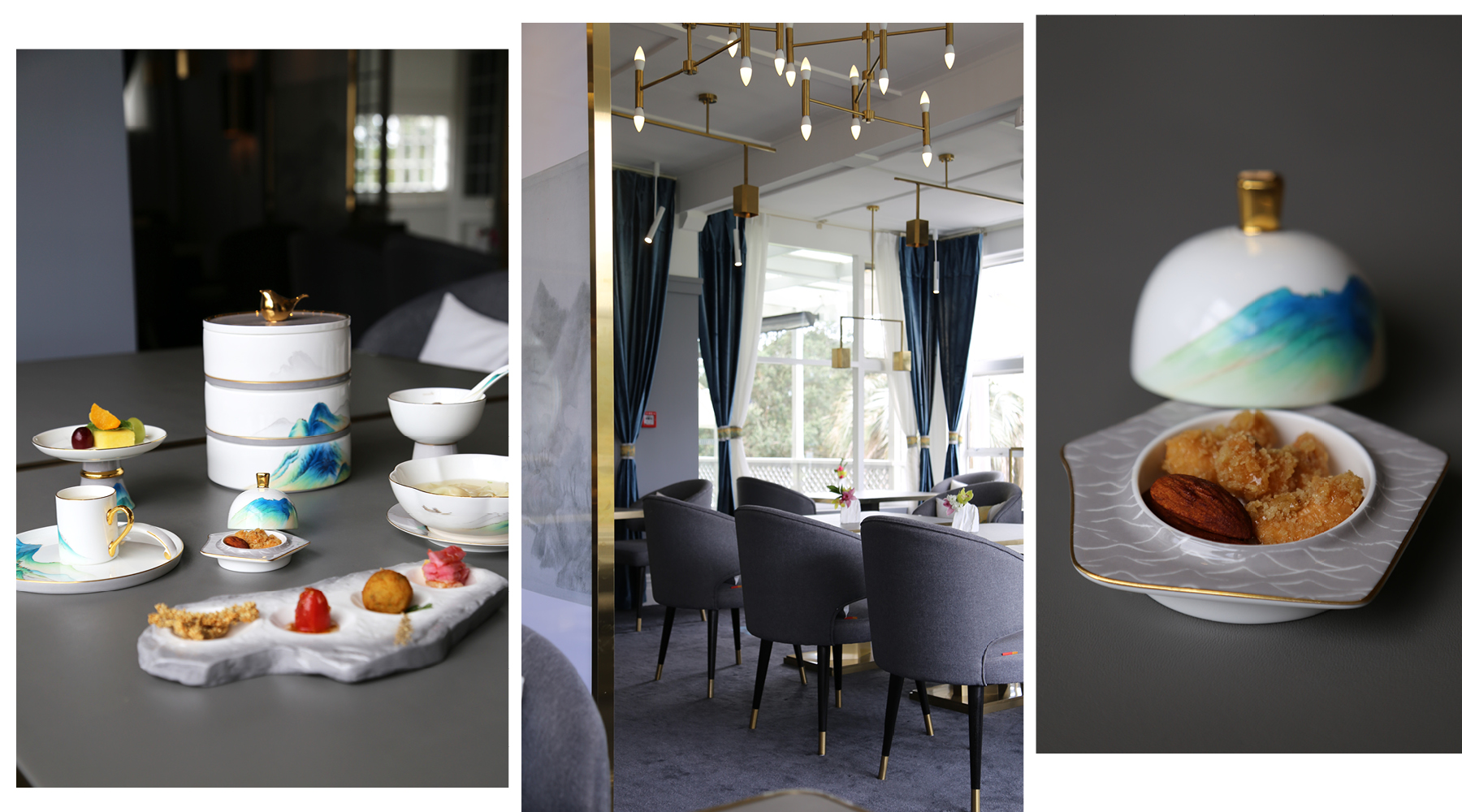 The food offering at Red Wall 1939 is split into two parts. The daytime high-tea offering, called a Bobo Feast, is a banquet-style affair akin to that which would customarily take place in a Chinese Palace. Starting with a small plate of fruit — to aid with digestion — and moving onto delicate snacks, an exquisite selection of appetisers, and an array of sweet and savoury bites, the smorgasbord of delicacies demonstrates facets of traditional Chinese haute cuisine presented in an utmost modern way. Novel flavours show international influence and careful craftsmanship gives way to charming surprises. One we discovered when starting on the savoury morsels, was the 'magic potato' — a disfigured steamed bun that looked uncannily like the starchy vegetable, but was, in fact, squishy to touch and filled with flavoursome shiitake mushrooms.
From 6pm onwards, the restaurant transitions to a degustation-only dinner menu — anything less and they would be selling themselves short. Whether it's the seven- or nine-course menu, the collection of dishes are an exhibition of Liu and his grandfather's international culinary training including that of English, Russian and French cuisines, as well, of course, as the eight main culinary styles of China. The 'kim chi short rib', for example, takes nigh on a day to prepare. After marinating the beef for six hours, it is cooked sous-vide for 12 hours, stewed for another two hours and heated in the oven before being plated with garnishes that are also intricately prepared — carrots that have been pickled and tomatoes that have treated to an osmanthus infusion.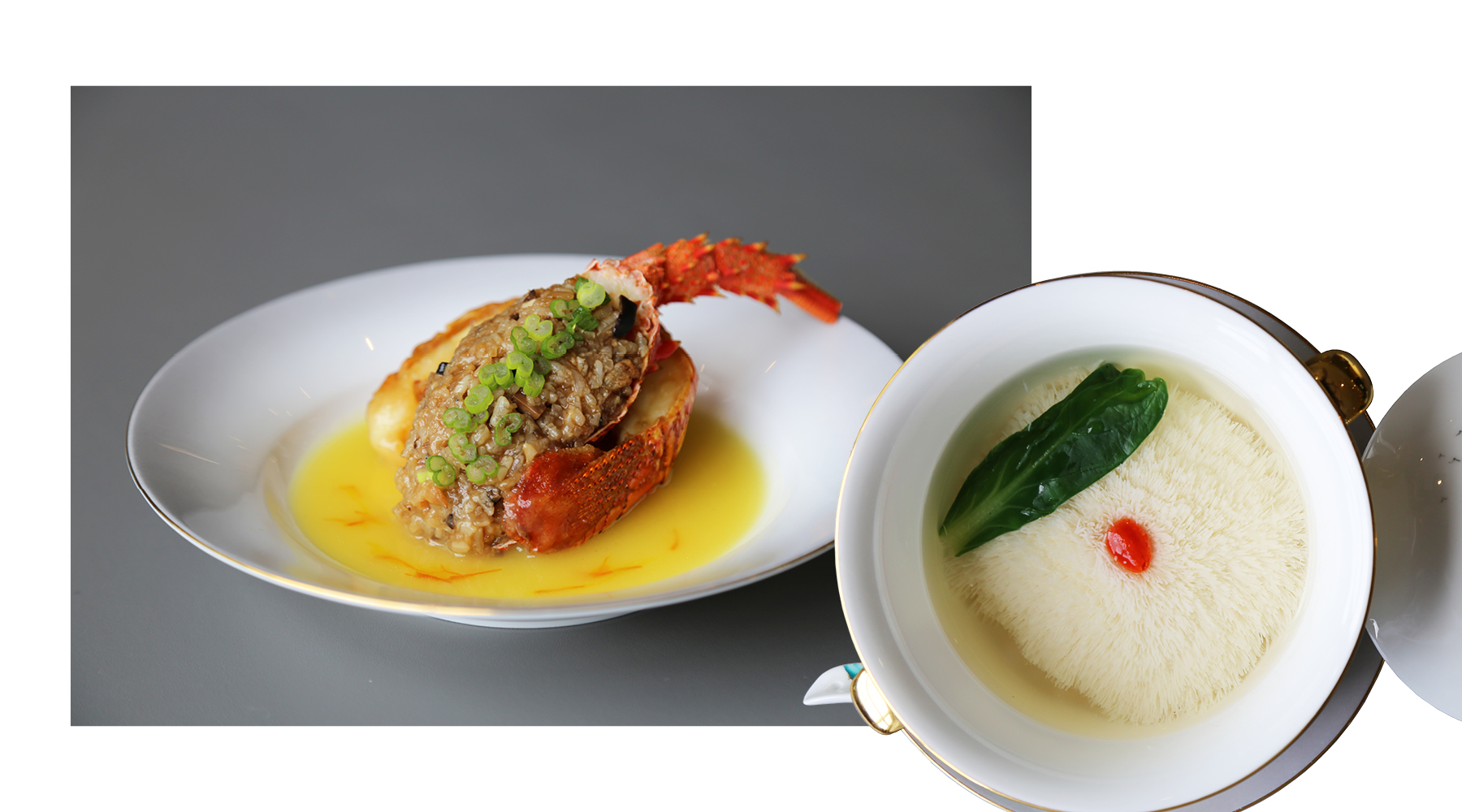 When it comes to each dish, Liu uses one descriptor repeatedly — harmonious. The fact that each element of each dish must serve a crucial purpose in a bid to achieve perfect balance is an ethos that spills over into the restaurant as a whole. The traditional zither music, the hand-painted dinnerware, the custom-made flatware, the alleviating environs — it is Liu's way of demonstrating the Chinese way of life while also serving as 'a gift to the local community' he says. The culture of asking "Nǐ chī le ma?" or "have you eaten?" is as common as asking "how are you?", whereby food equates to simplest of greetings and foreshadows the veritable feast that is sure to unfold.
Not only will a visit to Red Wall 1939 provide Kiwis with an incredible insight into the most superbly intricate Chinese cuisine, but it will be a sought-after experience for Chinese visitors too. In light of this, the expansive location boasts a private dining room upstairs that can be accessed by a separate entrance. Here, a large portrait of Mao sitting with Nixon and various dignitaries governs one wall, while another is adorned with 19-century ornamental vases. There is also an intimate study — an exact replica of Mao's — that will cater to the coveted VIP experience.
Both a culinary education and a cultural one, Red Wall 1939 is a dining experience unlike anything Auckland has seen to date. Fair to say, it's high-time to verse oneself in the finer nuances of lofty, intricate, and often times, jaw-dropping Chinese fare.
Click here to make a reservation. Bookings are essential.
Red Wall
85 Gladstone Road
Parnell
Auckland
(09) 300 3178