This is poké how it ought to be.
While poké's origins may be deeply seated in Hawaii, one can only credit the Californians for commercialising the abundant food trend. With quality poké bars almost a dime a dozen on America's sunny West Coast, it was music to our ears to hear that one of the most prolific outlets, Poké Bar, was the one to take up residence on little old Ponsonby Road.
It turns out that the fast and healthy pit stop, located on the strip next to AdamArnold, is the franchise's first international outlet. Lucky us. With over 40 Poke Bars already operating in the States, namely California, the company's CEOs, Yoon Ju and Jason Park, explain that New Zealand is the perfect market to test the waters before (hopefully) launching in Australia.
Executing the raw fish salads in an exceptionally delicious manner, this is poké how it ought to be. The process of picking up a bowl involves selecting your desired fish — there's über fresh salmon, tuna, spicy tuna, Trevally, even tofu and chicken — before a staff member douses it in sesame oil and soy sauce, white and spring onions, and proceeds to mix it up in front of you. It is then dished up with a side of white or brown rice and plenty of crispy salad additives. The sauce situation is not something to be taken lightly either. You'll find the cult Sriracha bottle within hands reach through the fresh new premises, but we're advised that the house sauces — one is described as a Sriracha aioli — are what make Poké Bar's speciality really pop.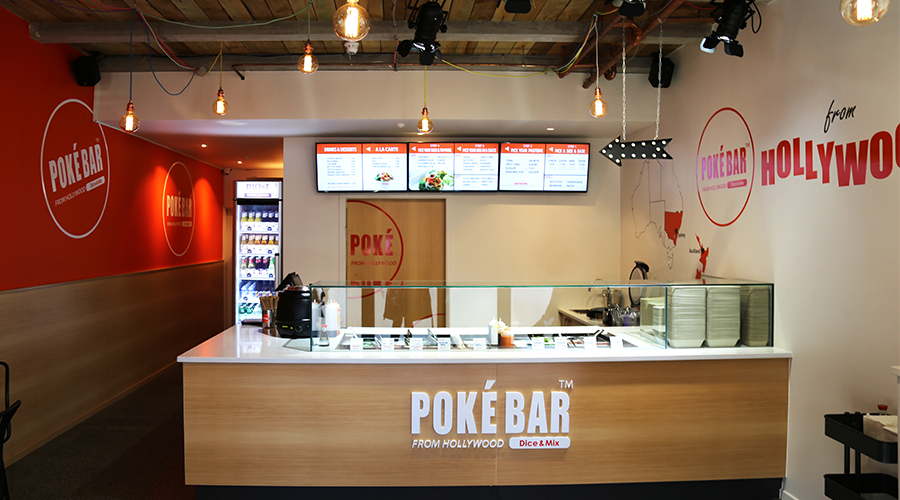 With a slogan that simply reads '…from Hollywood', you can trust in the fact that these guys know what they're up to. (We've also decided that if it's good enough to put in David Beckham's temple of a body, then it's good enough for us.) With a fresh, healthy and sustainable ethos driving the whole operation — we've been told Ponsonby is just the beginning — what's arguably the most exciting aspect of the newly minted Poké Bar is that it's open late, serving as a very swift and very satisfying dinner pickup too.
Opening hours:
Sunday to Wednesday: 11am-8pm
Thursday to Saturday: 11am-11pm
Poke Bar
171a Ponsonby Road
Ponsonby
Auckland