Being in the midst of winter and all, its high-time to indulge in the outlandish carb-loading sessions. Pizza dough is an indispensable ingredient to have in the kitchen; super diverse and delicious when freshly baked, the humble dough can make a variety of savoury and sweet bites for breakfast, lunch and dinner. Here are five dastardly delicious options that aren't garlic knots or calzones — go forth and bake, we say.
Pot Pies
Not the first thing that comes to mind when thinking of pizza dough, ditching the pastry for a super-indulgent doughy topper creates a unique revamp on the classic pot pie. Fill ramekins with your favourite pot pie filling (like chicken with mushroom or a veggie combo), roll out a piece of dough and lay it over the top of each of them. Brush the tops of the dough with olive oil, then bake at 170°C for 30 minutes. Once the filling is heated through and the dough is golden-brown, they're ready for the eatin'! (Just wait until they have cooled first, of course.)
Crackers
Thin, crispy and divine with a dollop of dip, the humble cracker is a seriously underrated snack in our books. Just roll out the pizza dough until it's extremely thin, poke multiple times with a fork, and give a good drizzling of olive oil and a sprinkling of salt before baking the dough at 205°C for about five minutes. Flip the bread over and cook for another minute or two, until crisp. Let the bread cool, then cut it into cracker-sized pieces and let the snacking commence.
Empanadas
A delicious little treat with South American and Spanish origins, the empanada is a tasty bite that can be stuffed with a medley of mouth-watering fillings. To make, heat oven to 205°C, flour your surface and roll out dough to a quarter of an inch thickness. Take a five or 6-inch round cookie cutter and cut the dough into circles before adding two tablespoons of filling. (Choose anything from classic beef mince to mouth-watering mac 'n' cheese.) Fold dough over in half to enclose filling and seal with a fork, before brushing each empanada with an egg wash. Bake until golden brown.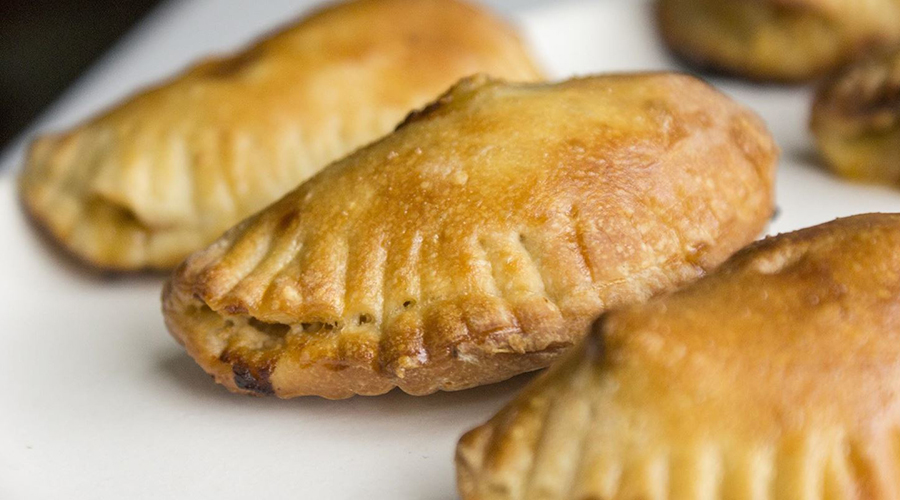 Pretzels
There's absolutely no experience like biting into a soft, chewy pretzel straight out of the oven. Luckily, you don't have to be in NYC to get a bite of the good stuff. To make at home, cut the dough into equal pieces and roll each into a thick rope about 18 inches long, twist into the classic pretzel shape and parboil them for three minutes. Finally, sprinkle lavishly with sea salt and bake them on greased baking sheets in a 190°C oven for about 35 minutes, until golden brown. We recommend stocking up on chocolate dipping sauce and getting stuck right in.
Simple Scallion Pancakes
These traditional Chinese savoury bites are made from a similar dough to that of a pizza, meaning that they are easily interchangeable. Brush the pizza dough with sesame oil, spring onions (scallions) salt and pepper, before cutting it into 6 by 10-inch pieces. Roll dough like a crêpe and then coil it into a snail-esque shape, rest covered with a damp towel for an hour. After an hour, flatten each coil of dough and roll out as flat as possible. Fry on medium heat until both sides are golden brown and then cut into quarters.