The 'king of the superfoods' is back and better than ever before.
As we edge toward the dawn of a porridge renaissance, one that recognises the nutritional value of oats as much as their trendiness — porridge has been proven to boost bone mineral density, lower blood pressure and cholesterol, promote healthy gut bacteria and reduce the risk of diabetes — we felt it fit to equip you with the following ideas on how to prepare your porridge and welcome it back to your own ritual for the cold mornings ahead.
Bacon Maple Porridge – For those who like it sweet and savoury
There's nothing overly gourmet about this recipe but it does pander to our persuasion for all things sweet and salty. Start by preparing some plain porridge as you normally would, using Chantal Breakfast's "Just Add What" Grainola Base. In a single ramekin that you've lined with a little butter, spoon in some oatmeal until it's 4-6cm in depth. Make a well in the centre and crack an egg right into it before cooking in an oven at 180°C for 15-20 minutes (or, to your preference). While the egg is cooking, prepare your bacon. If you want to go the whole hog, you can candy the bacon by using a thick cut and sprinkling brown sugar and cayenne pepper on each slice before cooking at 180°C for 15-20 minutes, or until crispy. Otherwise, just grill it as normal. Two minutes before your egg is fully cooked, pour a tablespoon of maple syrup over top and leave to bake for another few minutes. Once done, chop the bacon into small, lardon-sized pieces and sprinkle on as a garnish before devouring with gusto.
Savoury Curried Oatmeal – For the exoticist
Playing on oats' natural blandness and thus their aptitude for carrying flavour, this hearty recipe is perfect for whipping up a satiating vegetarian lunch. To make, grate one teaspoon each of ginger and garlic. Throw this in a pot with some melted butter and half a teaspoon each of turmeric powder, coriander, cardamom, cumin and cayenne pepper as well as some salt and pepper. Chop a zucchini into cubes (you can also add carrots and onions if you like) before tossing in the pan until it's coated in the spices and slightly tender. Remove half of the zucchini to use as a topping and keep the other half in the pan to be cooked further along with the oatmeal. Add a cup of coconut milk to the pan, this will give your porridge extra flavour and creaminess. Add 1⁄4 cup of water and wait for it to boil before adding 3⁄4 cup of Chantal Breakfast's "Just Add What" Grainola Base. While the oats are cooking, toast some pine nuts until light brown. To serve, pour the porridge into a bowl, top with the zucchini and sprinkle with pine nuts, chopped spring onion and golden raisins for a hint of sweetness.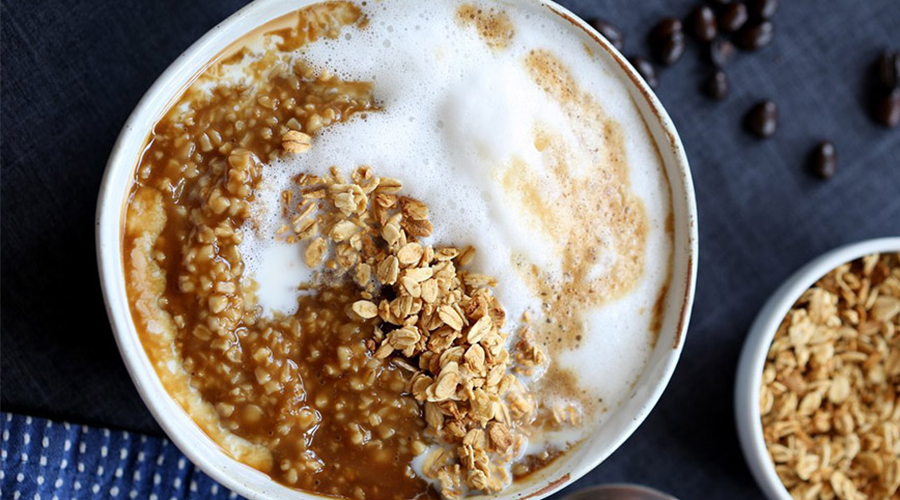 Oatmeal Latte – For the fitness fiend
It's hard to believe we didn't think of this cup of coffee meets power brekkie earlier. The breakfast mash-up was once invented by early fitness bloggers and is most famously served at the ski-in Cuppa Joe cafe in Breckenridge, Colorado. It's warming, hearty, peppy and convenient meaning you'd be hard-pressed to find a better start to your day. To prepare, heat 3⁄4 cup milk — preferably the amazing Almo almond milk (available from Huckleberry stores)— before adding 1⁄2 cup old-fashioned oats, a pinch of salt and a few drops of vanilla essence. Once cooked, add a dash of frothed milk to make the mixture especially creamy. Top the concoction with one or two Nespresso shots and serve in an oversized coffee mug (on this occasion, we'll even turn a blind eye to you having it in a bowl). Garnish with cinnamon, a sprinkle of crunchy granola and, if your diet allows, a modicum of brown sugar.