Banish any preconceived notions of a high tea involving dinky sandwiches and clunky multi-tiered stands; Park Hyatt Auckland is here to revitalise the beloved ritual, turning tradition on its head with its inventive and elevated five-course Afternoon Tea.
Taking place in The Living Room's comfortable, elegant dining space, the Afternoon Tea menu is a culinary collaboration between the Park Hyatt Auckland's executive pastry chef Callum Liddicoat and sous chef Daniel Gorham. 
Diners are invited to embark on a gastronomic journey, with each of the five-courses arriving one at a time on the table so the magic of every dish can be fully enjoyed. Bespoke crockery is then cleverly stacked on the table as each plate is cleared, a nod to the traditional tier without being view-obscuring — a good thing, seeing as The Living Room's outlook spans the sparkling Viaduct Basin.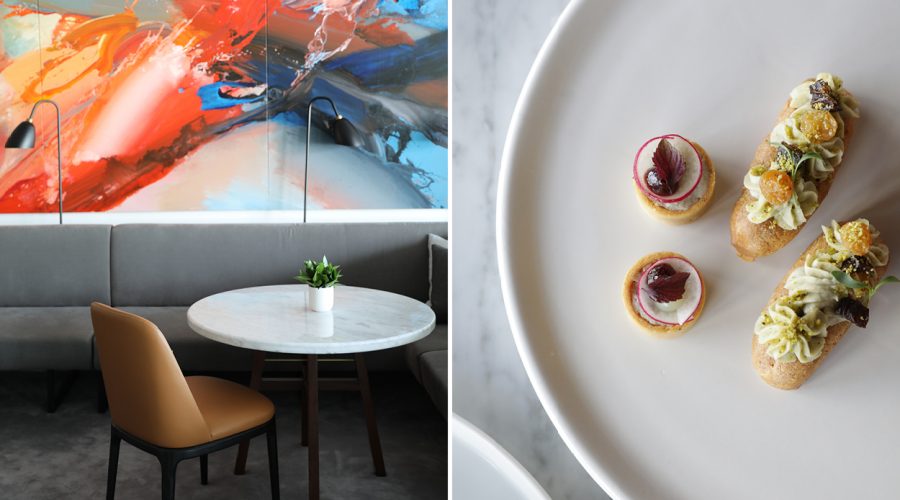 The menu will change seasonally, with an additional focus on Mother's Day and Christmas, and utilises nearly 100 percent locally-supplied ingredients. Currently, the offering kicks off with a savoury morsel of a beetroot-cured salmon and citrus cone. The salmon is cured for 48 hours, and paired with lemon mascarpone, fresh lemon and a blood vein sorrel garnish — something fresh and light to cleanse the palate to start, says chef Gorham. The cone is paired with a refreshing, sparkling tea (you read that right), which is served effervescently cold, adding to the cleansing effect. 
The ensuing courses harness both the savoury and the sweet, the collaboration of which Liddicoat says is one of the main focal points for the dining experience. The Dulcey is a highlight, comprising a Valrhona chocolate mousse with notes of butter and toast, atop of which rests a tart blackcurrant chantilly; as is the prosciutto bruschetta, utilising meat from A Lady Butcher's Hannah Miller, paired with a tart apple chutney and topped with a creamy quail egg.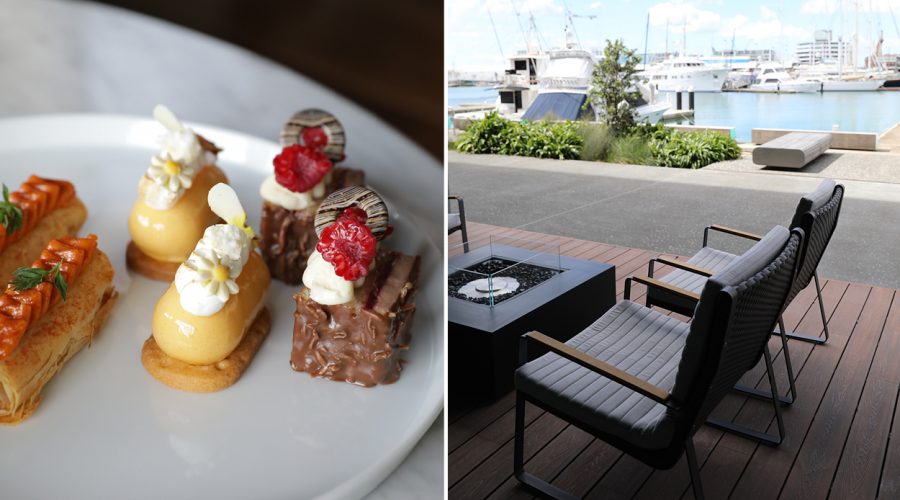 Each pastry or morsel is exquisitely well-considered, with playful nods to nostalgia and modernity. Of course, with Liddicoat being an Australian chef in New Zealand, there's a lamington. This one is more deluxe than any lamington we've ever tried, with six layers of coconut sponge interspersed with raspberry jelly and milk chocolate ganache, dipped in coconut chocolate.
The tea selection is extensive, with several loose leaf and botanical infusions from Webster's Tea, Forage + Bloom and The Tea Curator, as is the champagne list, with Eighthirty coffee also on offer.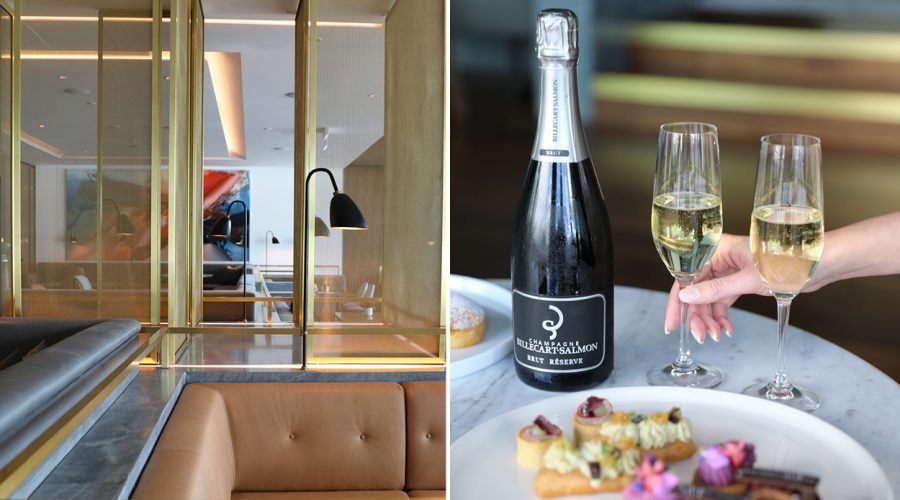 Anyone with dietary requirements will be pleased to know they can be catered for upon advance request, with vegetarian and even vegan tweaks able to be made, and The Living Room also serves an a la carte breakfast and lunch menu throughout the day.
But, it's the Afternoon Tea that's got us hooked. Having been in the industry for 20 years, and seeing high tea done the same way every time, Liddicoat says it's high time it was given an update.
Whether you want to make a special event like Mother's Day or a baby or bridal shower even more memorable, or you're just in the mood to treat yourself, Park Hyatt Auckland's Afternoon Tea is sure to delight.
The Living Room
Park Hyatt Auckland
99 Halsey Street