The spirit of Christmas is in the air — and with it, the frenzied need to feed friends and family. Making it easy to be the host, or guest, with the most artfully arranged platters and plates, several local hospitality legends are lending a hand to your most impressive festive spread yet.
Ostro Traditional Christmas Feast
For an opulent festive meal with no fuss, Ostro's Traditional Christmas Feast certainly has all the trimmings you could ever need. It includes your choice of free-range Harmony ham with maple glaze, a house-cured Big Glory Bay salmon with horseradish crème fraiche, a rolled free-range porchetta stuffed with herbs, garlic and chilli, pineapple moustada and jus, or Te Mana slow-cooked lamb shoulder with olives, harissa and yoghurt. With something for everyone, the Feast serves six to eight guests and also includes a pull-apart bread with seaweed butter to start, sides of honey glazed carrots, potato gratin, seasonal greens and tomato pomegranate salad, and show-stopping brandy snaps and pavlova for dessert. The pre-prepared meal kit comes with instructions for finishing touches on the day, and is available for pick up on the 22nd, 23rd and 24th of December.
Find more information here.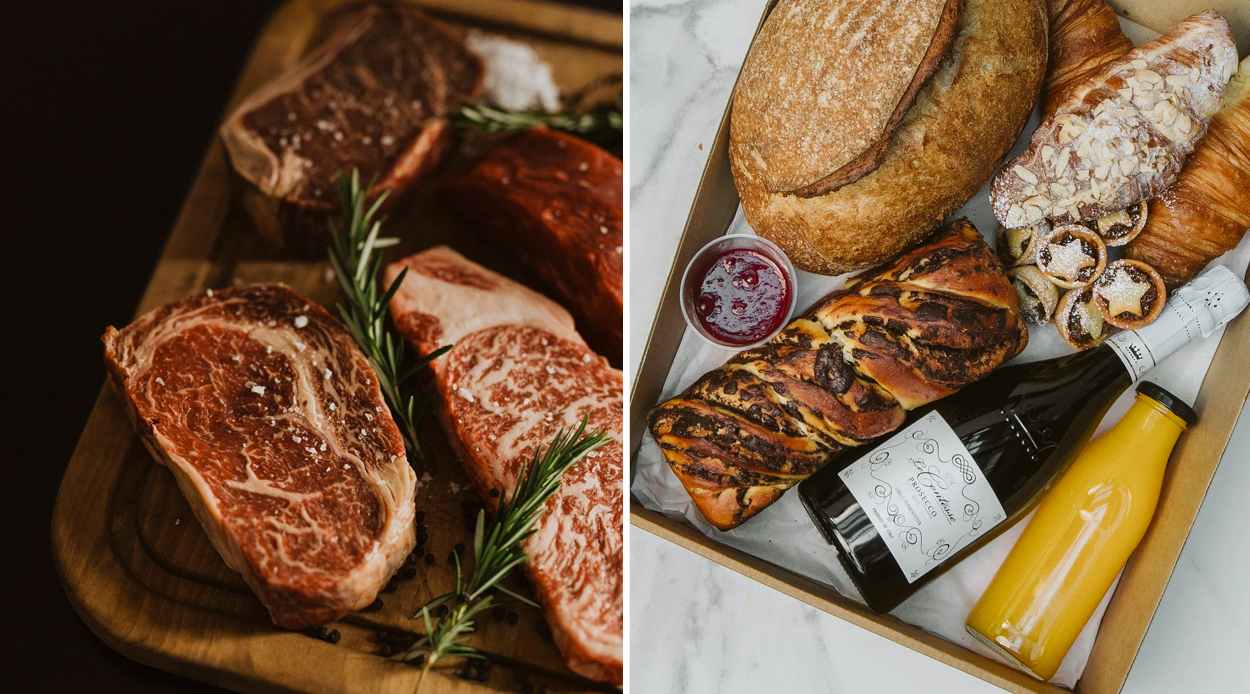 JSH BBQ Kits
Get ready to really fire up the barbecue with Jervois Steak House's infamous JSH BBQ Kits. Including a selection of premium cuts from Neat Meat and delicious marinades, spice rubs, butters and sauces, there'll be plenty of you congregating around the grill. Designed to feed four to six, for five dinners total, the cuts are comprised of Taupō scotch steaks, a butterfly free-range chicken, Speckle Park eye fillet, Harmony Pork sausages, grass-fed beef burger patties, free-range bacon, lamb racks, Wakanui rump, pork Schnitzels, Wagyu hanging tender and coastal lamb chops — salivating yet? All orders must be placed by midnight on Thursday the 16th, and will be delivered Thursday 23rd to Auckland addresses.
Find more information here.
Amano Christmas Brunch Box
If you've been busy helping Santa the night before, take it easy on Christmas morning while enjoying a Christmas Brunch Box from Amano. It includes a mouth-watering chocolate babka, traditional sourdough, two almond croissants, two plain croissants, and a pack of six mince pies as well as a freshly squeezed orange juice and a bottle of prosecco for merry mimosas.
Find more information here.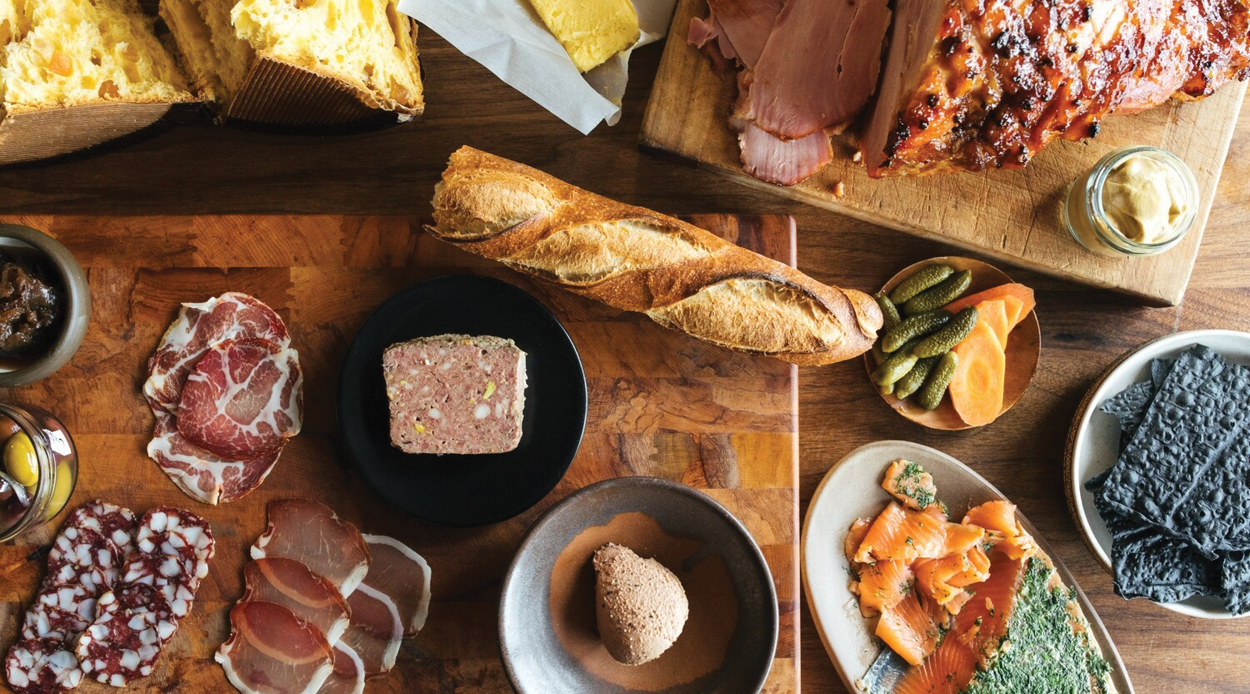 Cazador Christmas Delicatessen
Cazador's Deli offers a curated range of house-made charcuterie, cheese and condiments all year round, but in December things start to get even more delectable. While its Christmas ham is sold out, you can still order Christmas Day the Cazador Way, which includes the coveted bourbon-glazed ham as well as gin-infused Aoraki salmon. Other sustaining delicacies include duck liver parfait, game rillets, house-marinated olives and a fresh crusty breadstick and crackers. The spread will satisfy up to eight diners, with plenty of left-over ham for ensuing summer lunches.
Shop the selection here.
Homeland Christmas Hampers
Not only a multi-faceted cooking school, restaurant and community hub, Homeland has also branched out into scrumptious chef-made pantry staples, crafted in-house. Choose from a variety of Christmas hampers this year like the Sweet Box — with Lemon Yuzu Curd, Banana Miso Caramel Sauce and Vanilla Lemon Rosemary Shortbread — or the Savoury Box — with spicy, savoury snackable bits. There's also a box with the complete range, plus an Apertif Box, a Flavour Kit… You get the idea, there are options a-plenty.
Find more information here.
The Pantry at Park Hyatt Christmas Shop
While Denizen has already discovered (and devoured) The Pantry at Park Hyatt's hand-crafted Christmas offering, it's worth another mention here as there is so much to offer. The trifles are lovingly layered, the tarts truly exceptional and the dessert roulades really something. Add to this the masterful mince pies and gingerbread houses, as well as Dolce & Gabbana's traditional panettone in decorative wrapping, and there is plenty of Christmas cheer to go around.
Shop the selection here.
Bread & Butter Traditional Christmas Hamper
The Bread & Butter bakery and café has created the ultimate traditional Christmas Hamper. It includes German marzipan stollen, made with organic ingredients for the perfect Christmas-inspired fruit toast, as well as moreish mince tarts, and ginger shortbread and chocolate crinkle biscuits with spiced fruit — magic.
Find more information here.
Everybody Eats Giving Hamper
As we have already mentioned, 'tis the season of giving and this year, charities need our support more than ever. Buying one of Everybody Eats' bespoke boxes of goodies not only means you can enjoy an abundant hamper, but the proceeds from its sale provides 24 hungry Kiwis with a three-course dinner, made and served by the team. Perfect as a gift to others or yourself, it comprises a bag of Ozone's exceptional Empire French Press Blend Coffee, Fix & Fogg's Everything Butter, a Little Bird Organics treat and a No Ugly Wellness Tonic, as well as condiments from the talented Everybody Eats chefs, including Fermented Sriracha, Preserved Lemons and Christmas Spiced Apple Mustard. The gift that keeps on giving, the hampers are $120 each, and can be ordered by email: [email protected].
Sabato Gift Hampers
When you're looking for a range of festive gift hampers, fine food purveyor Sabato always has the goods. The Connoisseur Hamper includes the Gimonnet special club Champagne, Masoni chocolate panforte, Colonna Classico extra virgin olive oil and Giusti Riccardo balsamic vinegar — all beautifully presented in an oval rattan basket, tied up in a bow.
Find more information here.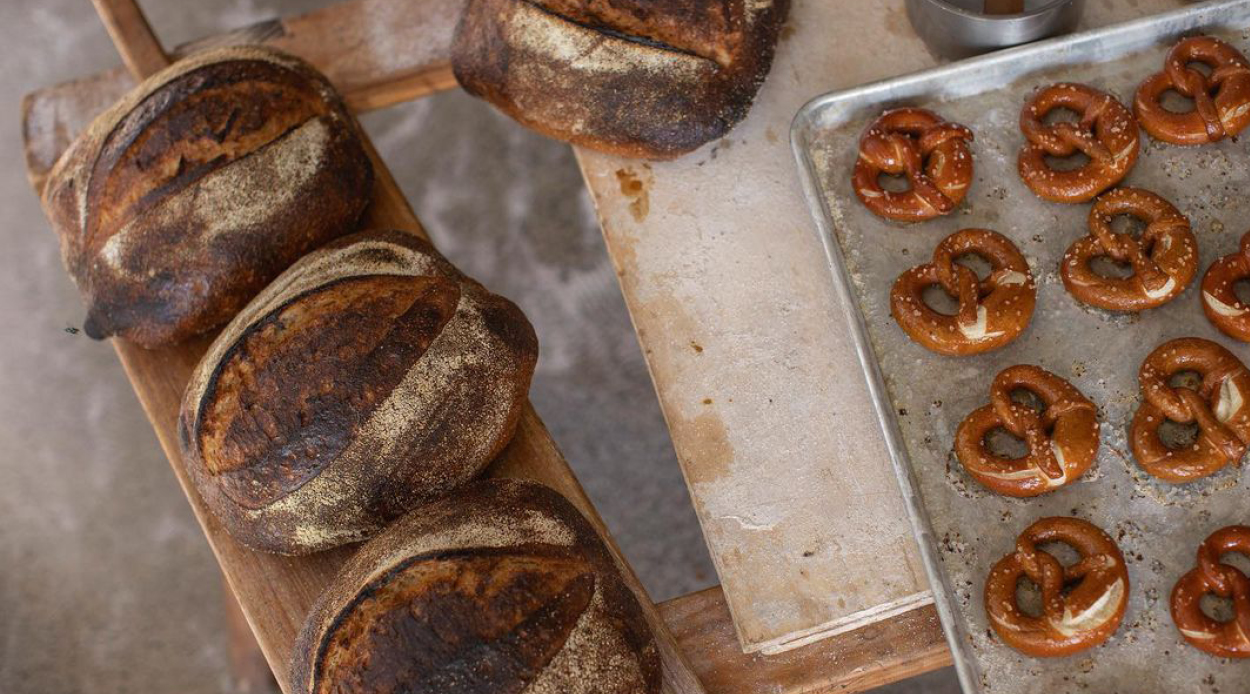 Pasture, Alpha and Boxer Hampers
Parnell fine dining restaurant Pasture, its brother bar Boxer and daytime bakery-slash-lunch spot Alpha all have sumptuous Christmas hampers that will take any spread to the next luxurious level. Start the proceedings with a cocktail from Boxer, thanks to its exclusive first release bottle of house-made Jalapeño spirit (700ml size), a pea martini for two and clear ice block to cut yourself at home. Alpha's got the baked goods down pat, with a box that contains its rye bread, 200g of house hot smoked salmon, a set of three doughnuts, salmon roe, and four pork fat pretzels. If you're wanting to go all out, Pasture's hamper will stock you up with 500g of five-month aged Wagyu mince, sourdough, 25g of Sturgeon Caviar, a dozen oysters, aged butter and, if that weren't enough, two premium crayfish. Orders can be placed via Tock for pick up on the 23rd and 24th of December.
Find more information here.