The art of the grazing platter is nuanced and far more complex than simply slapping some cheese on a chopping board and calling it a day. It takes careful curation and offers an unavoidable insight into the abilities of the host in the hot seat. Accordingly, the at-home platter has become a longstanding practice. A tradition whereby living rooms all over the country are offered up for wine and cheese nights or end-of-the-week catch ups around an indulgent mix of gouda and grapes. And despite the fact that we here at Denizen all rated our platter skills relatively highly, it wasn't until On Board Kitchen came to the office to treat us to one of their culinary experiences that we realised… we actually knew nothing.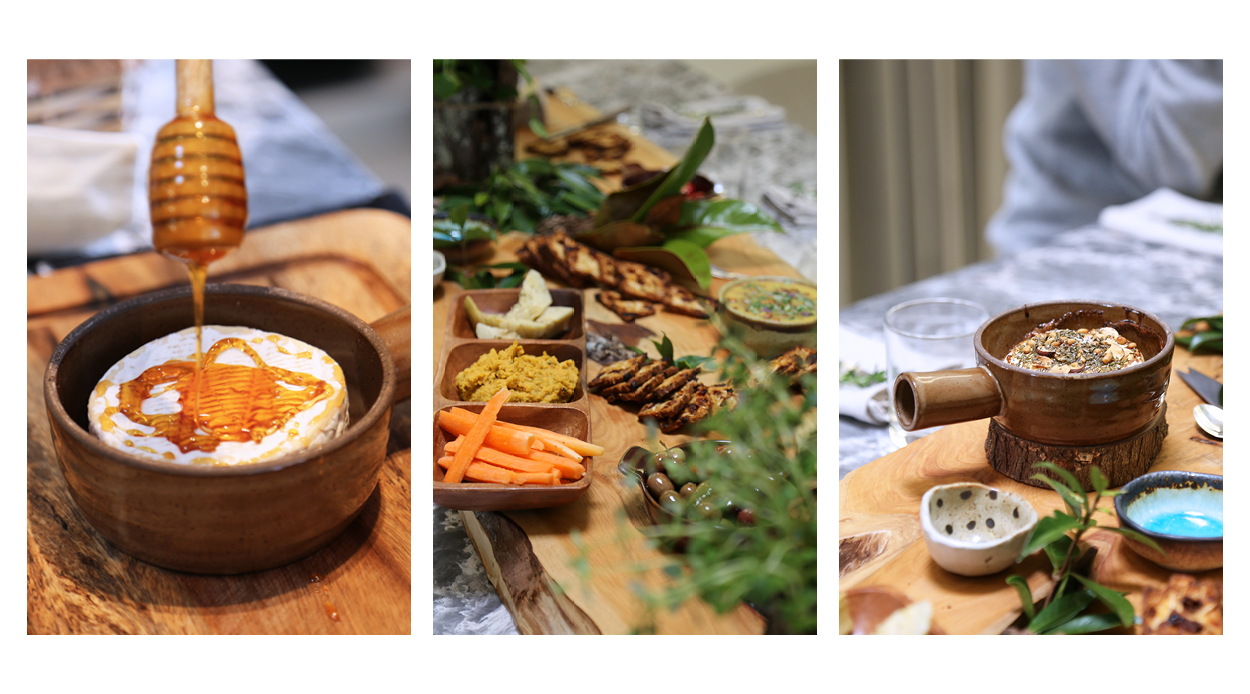 Husband-wife duo Rochelle and João met while working for an organic grocer in London, coming together with a raft of creative hospitality consulting and mixology/culinary experience between them, and a shared passion for sustainable food practices. Starting On Board Kitchen with a vision to reimagine the modern grazing platter and question what it means to get together with friends at home, the couple is endeavouring to remind people about the importance of connecting with one another over good food (read: whole food) and great drinks. "We felt that the element of connection was missing from a lot of mealtimes" Rochelle explained, going on to outline how she and João saw a widespread disconnect around food (via the consumption of highly processed meals) as well as a disconnect in peoples' relationships. "We wanted to bring people together," Rochelle says, and it's clear that with this as their guiding mission statement, On Board Kitchen is looking poised to shake up at-home hosting for good.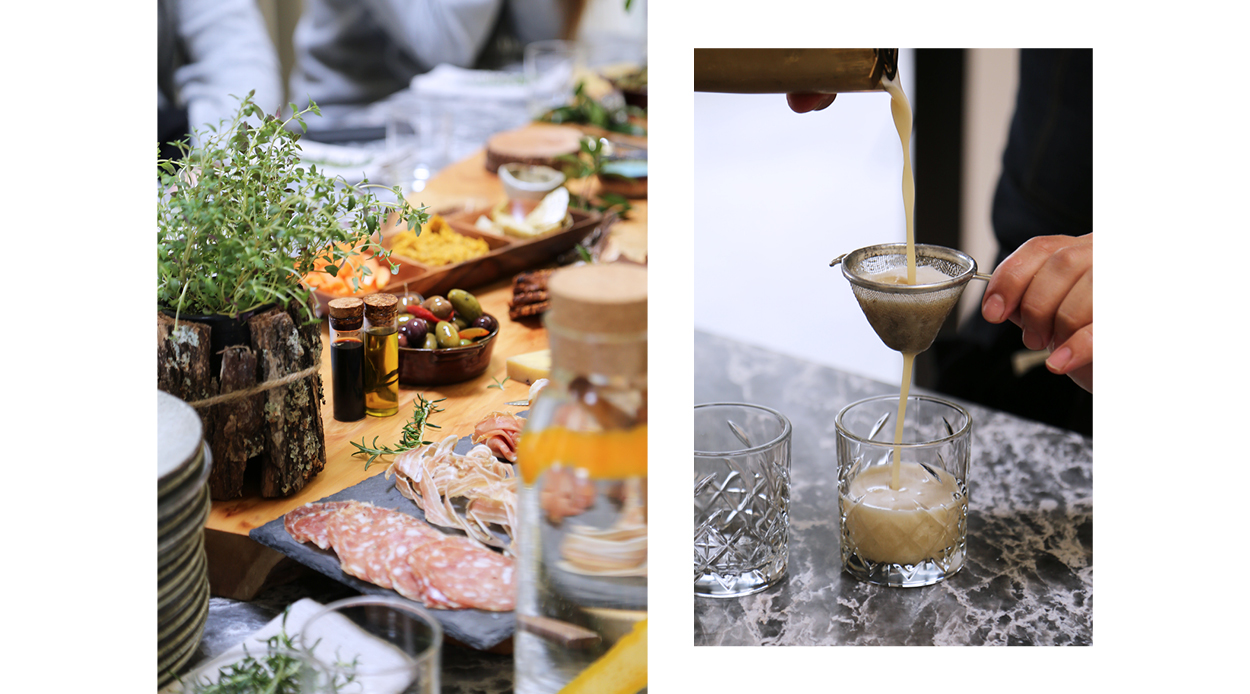 The concept is simple: Rochelle sits down with a host prior to an event they want to put on in their home. A discussion is had around mood, people (minimum 12, maximum 25), food preferences and service time (two or three hours) before the couple goes away to design a menu that fits. On the day of the event, Rochelle and João will return, bringing with them all the necessary equipment (including sustainable cleaning supplies) before preparing the food, serving the guests and cleaning up after.
When they came into the Denizen offices to treat us to one of their delicious spreads, the whole process was utterly seamless. To start, a grazing platter where cheeses (curated by James at NZ Cheese) that included a little river blue, walnut and fenugreek gouda and a mouthwatering, honey and almond baked camembert sat alongside a selection of mixed cold meats, organic chicken liver pate, olives, artichokes, pickles and homemade roasted carrot and thyme hummus. This we tucked into while João mixed up a speciality cocktail for us to wash it all down with — Woodford Reserve bourbon with pear and thyme juice, lemon juice, egg white and pear and fig spiced syrup.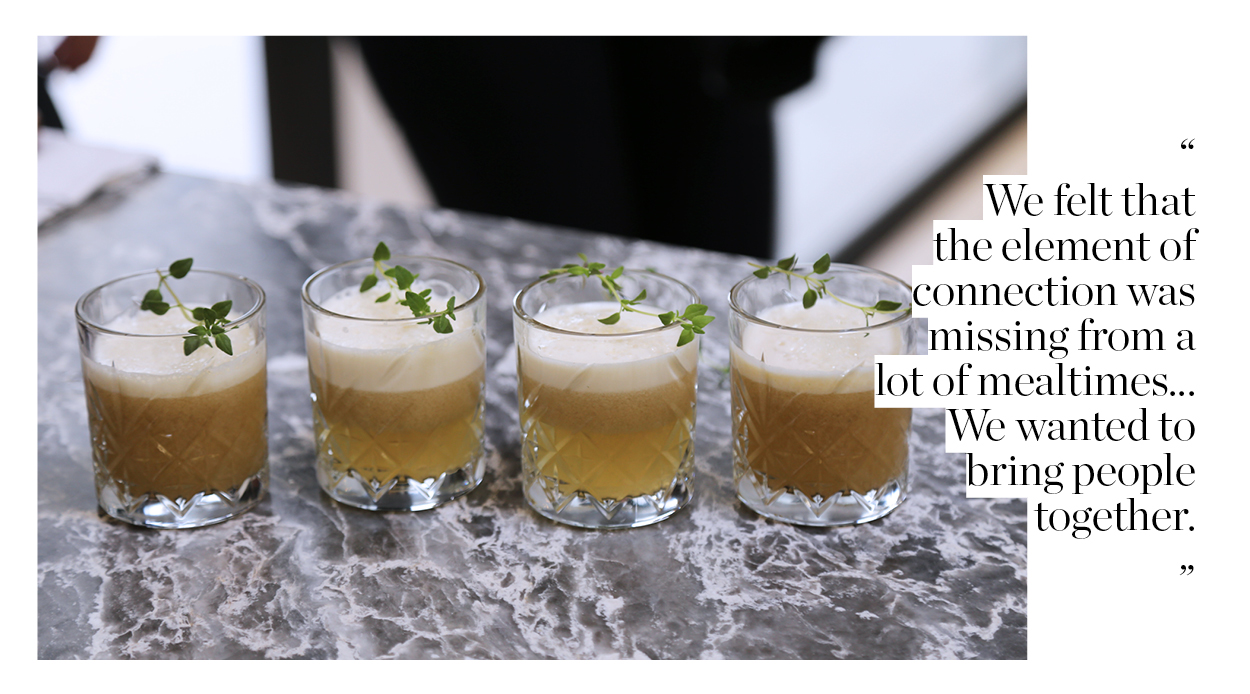 In addition to the platter, we were intermittently served a series of small 'grazing' courses which included salmon ceviche with avocado and mango on blue tortilla, flame-grilled Portuguese-style chorizo and a superb beef carpaccio with parmesan and truffle oil. Usually, these would be brought out every 20 minutes or so depending on the mood of the room (which Rochelle and João said they like to determine on the day). They are the facilitators, taking the onus away from the host and ensuring everyone is being properly attended to. Guests can ask questions about the dishes, watch the cooking process and engage with each other in an entirely stress-free environment.
"People have been responding really well," Rochelle tells me when I ask what kind of events they have been asked to do so far. "We've been getting a lot of requests from offices wanting us to come in and do this for their staff" she explains, and it makes sense. How often are we afforded the opportunity to sit in our own homes or workplaces and just catch-up without any hassle or distraction? By creating an intimate culinary experience for people, Rochelle and João are helping us tap into a very human need for genuine connection while simultaneously delivering food that is as wholesome as the ambience they promote.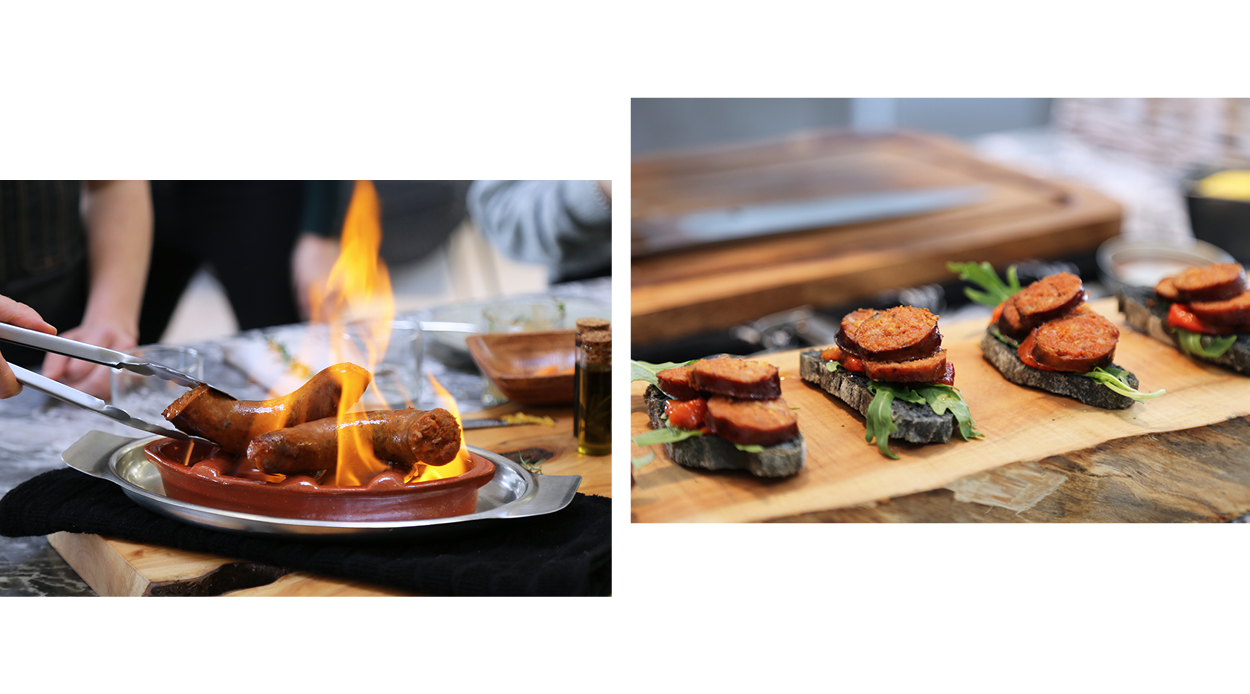 The whole, delicious affair was something new and unexpected, but it was something we could all see would work for anyone wanting to host a small occasion. Even our office dietary requirements were folded into the menu without a moment's hesitation, where the vegetarian alternatives served were as undeniably tasty as the others.
After they cleaned the entire kitchen and packed up their various boards and equipment, Rochelle and João handed us a few business cards that had been made to include actual thyme seeds as part of their texture. Rochelle explained that once we had taken down all the important information, we could grow our very own thyme plants from the cards themselves. It felt like the most appropriate way to end what had been a fulfilling experience in every way.