November is upon us and we're unsure how to feel about the year going past at such a rapid speed. What we do know, for sure, is that Auckland's dining scene is looking chocker this month. From updated menus with new dishes and newly opened eateries to pop-ups and dining events, November is going to be a busy one for the local gastronomes. Here is everything you need to know about Auckland's dining scene this month.

Pop-ups and events
November Spanish dinner at The Engine Room
This Northcote restaurant is easily one of our favourite places to dine at. After hosting a hugely successful French dinner, the team at The Engine Room have decided to host another event that was dedicated to European cuisine. This time, the chefs will be showcasing Spanish cuisine through a carefully crafted five-course menu for $110 per person. This Spanish-inspired menu is only available for two evenings and one of the nights have already sold out, so be quick and reserve your table on their website.

Natural Wine Wednesdays at Annabel's
Our go-to wine bar, Annabel's has been busy hosting special events the past few weeks and November is no exception for the local gem. Up next on the line-up is natural wine night, specially hosted by Maison Vauron's Bertrand Soalhat, in collaboration with Annabel's owner, Henry Mitchell Temple. Together, they have hand-selected the bottles that will be on pour, this Wednesday (6th November) from 5pm.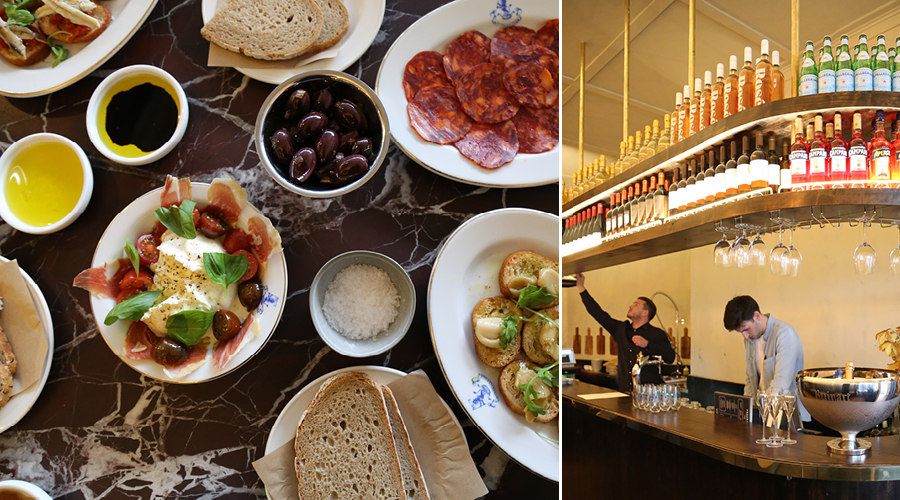 Oyster masterclasses at The Grill by Sean Connolly
Now that the days are getting warmer, the craving for a freshly shucked oyster is only getting stronger. Learn everything you need to know about the shellfish, and even how to shuck your own, at the oyster masterclass held at The Grill by Sean Connolly, every Wednesday this month. For $80, guests receive a shucking lesson with Martin Bosley from Yellow Brick Road, while Marek Przyborek (NZ Sommelier of the Year 2018) recommends wine matches for each variety. It also includes a meal which consists of eight oysters, bread, scotch fillet and seasonal roasted vegetables.
Il Buco pops up at Fitzroy Lounge Bar
Ask any Ponsonby local and they are bound to know of Il Buco. To this day, no by-the-slice store can make pizza as they did, and it was a sad day for us all when its doors closed. Luckily for its longtime fans, Fitzroy Lounge Bar recently announced that Il Buco will temporarily be serving its infamous pizzas at the Ponsonby bar. It has not yet been confirmed when this will come to an end, so we suggest you get there quick before it disappears once again.
New menus and must-try dishes
Bone marrow from Cazador
Renowned for serving the best charcuterie in town, Cazador is also about to gain the reputation for playing host to one of the most delicious bone marrow dishes in Auckland. Newly launched as part of the spring menu, this bone marrow is succulent, juicy, and rich like meat butter. It's served with chimichurri to lend some freshness and, once spread onto the toasted sourdough, is absolutely divine.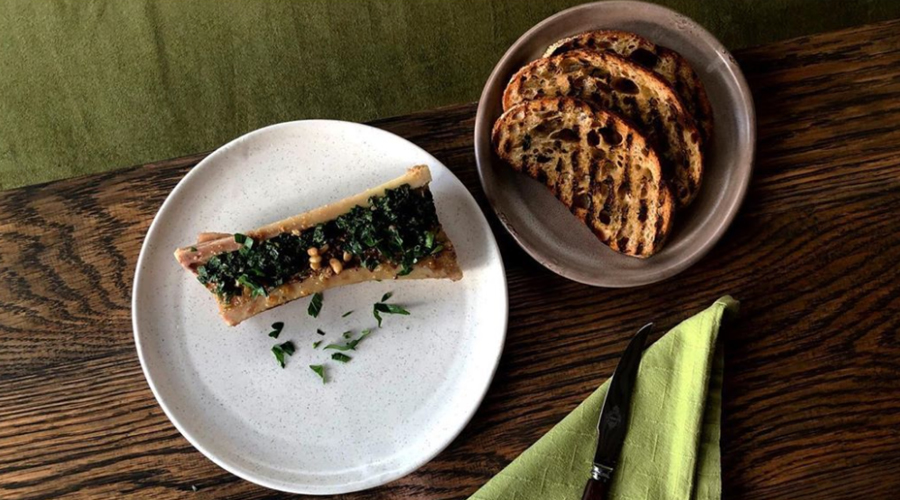 Bianca pizza from Andiamo
Organise a trip to Andiamo as soon as possible because the new Bianca pizza is one of our current obsessions. The crispy base is slathered with a creamy béchamel sauce and mascarpone. Then it's topped with gorgonzola cheese and sprinkled with salty pancetta, followed by pickled walnuts and caramelised shallots. Finished off with fresh greens, this pizza is an absolute must that you need to place high on your monthly priorities.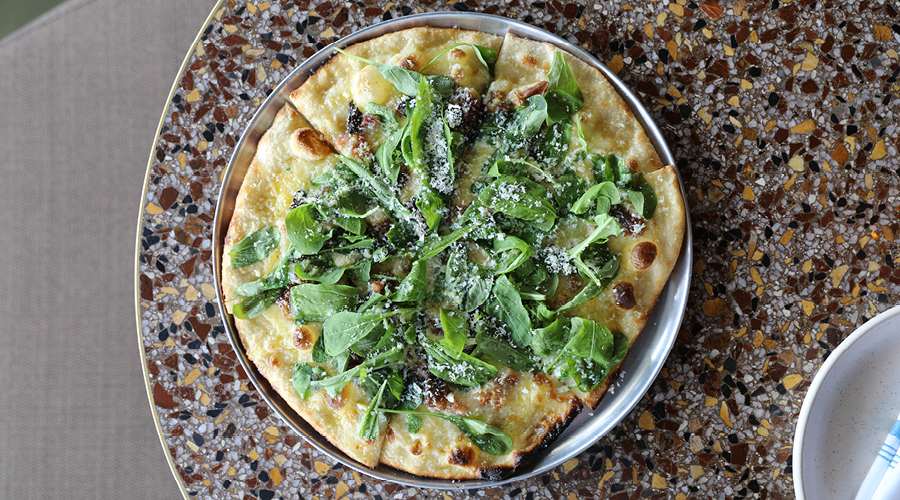 New menu at The Midnight Baker
Proving that healthy eating doesn't always have to make a sacrifice in flavour is Dominion Road's Midnight Baker. The entire menu is plant-based and goes beyond the usual vegetarian dishes found other cafes. Having just launched its spring menu, we're already planning our return, especially to get a taste of that smoked potato on toast with kelp caviar.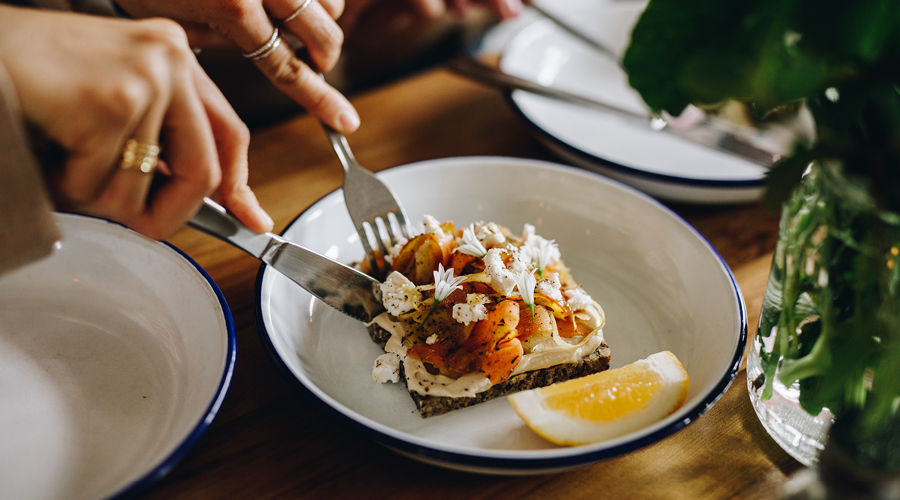 Vegan caramel choc chip cookies from Ripe Deli
It's no secret that we are already avid lovers of Ripe Deli. The sweet slices are just too good (especially the salted caramel brownie), but the bakers have really outdone themselves with their most recent creation. Meet the vegan caramel chocolate chip cookies, which boast crisp edges with an ooey-gooey centre of rich caramel and a sprinkle of sea salt — pure heaven.

New menu at Cotto
The team at Cotto never hold back when it comes to evolving and changing their menu according to the seasons, and this spring menu looks like some of their best work to date. The gorgonzola kumara gnocchi has been replaced for a fresher pea and asparagus number, and the rabbit and broad bean risotto is one dish you won't find often in Auckland. For those creatures of habit, do not fear as the goat's cheese and spinach dumplings and zucchini fritti remain on the menu.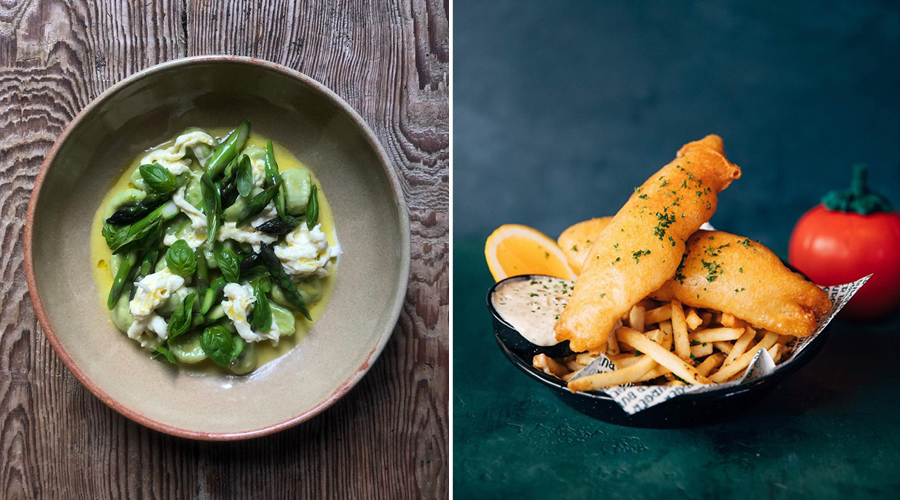 Fish and chips at Burger Burger
You know summer is around the corner when Burger Burger puts fish and chips as its monthly special. Although it's a burger restaurant, these guys know a thing or two about how to fry up an epic plate of the summer classic. For $16, you get premium quality beer-battered Tarakihi fish, shoestring fries, caper mayo and a fresh squeeze of lemon.

Woodfired marinated King Prawns from Saint Alice
People who know Saint Alice's executive chef, Maia Atvars, know very well that this man is a culinary genius. He is the mastermind behind the oyster McMuffin, and if that's not enough to prove his creativity, get amongst his latest dish — the woodfired marinated King Prawns. The plate is lined with a saffron rouille dipping sauce before a slice of toast is placed on top, alongside juicy prawns and a herbaceous green chilli and lime dressing.

$49 sashimi lunch platter from Masu
The epic $49 sashimi lunch platter is back at Masu by Nic Watt and is available from Monday to Saturdays, 12pm until 3pm. This set includes three pieces of premium quality sashimi, pacific oysters with ponzu, sashimi donburi, vegetarian maki roll and a ceviche taco, and we can guarantee that you'll leave the restaurant full and satisfied after tucking into one of these.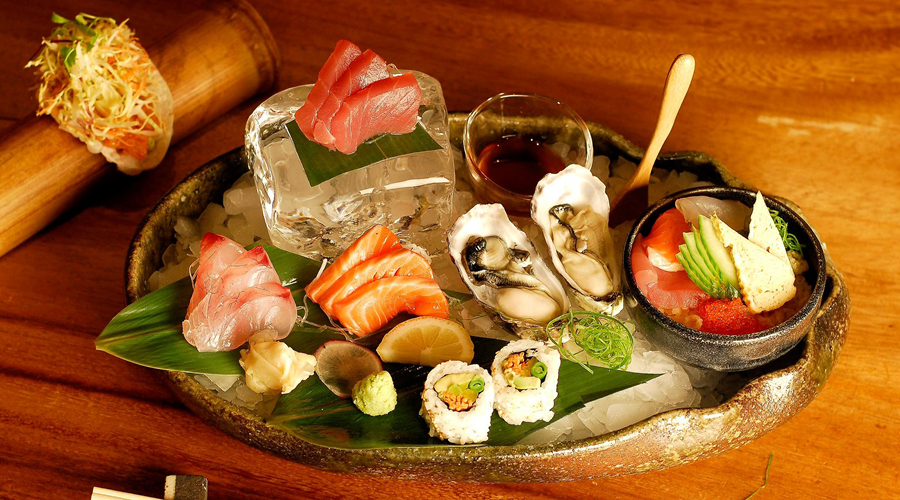 New openings
Ebisu is available on Uber Eats
Last Wednesday, the team at Ebisu announced that they were offering their menu on Uber Eats, which means eating the ebi mayo roll every single night is easier than ever before. The sushi and sashimi platters are also available on the online delivery app, ensuring catering options are sorted when it comes to big soirées.

Sumthin Dumplin opens its second outpost
This inner-city dumpling bar made waves when it opened on O'Connell St in 2018. After a year of selling out almost every day, Sumthin Dumplin has decided to open its second store on Lorne Street, which means you can get your dumpling fix no matter what side of town you're in.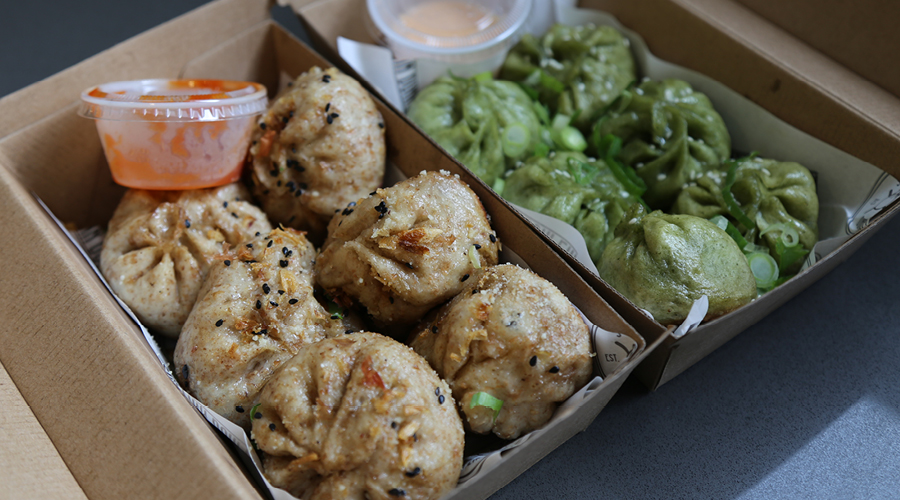 Everybody Eats is opening its permanent space in Onehunga
The pay-as-you-feel restaurant shared to the public that they were in the works of opening up a permanent space in Onehunga, and this month will see the grand opening. Former co-owner of Judge Bao, Jamie Johnson, has been given the role of executive chef, so we can trust that the food will be nothing short of amazing — especially given it's for a good cause.

Ippudo opens in Westfield Newmarket
Global ramen franchise Ippudo has made its New Zealand debut in Westfield Newmarket, and it's already the talk of the town. There's often a long queue of eager customers that wait outside, but trust us when we say that the popular ramen is well worth the wait — a dish that truly lives up to its hype.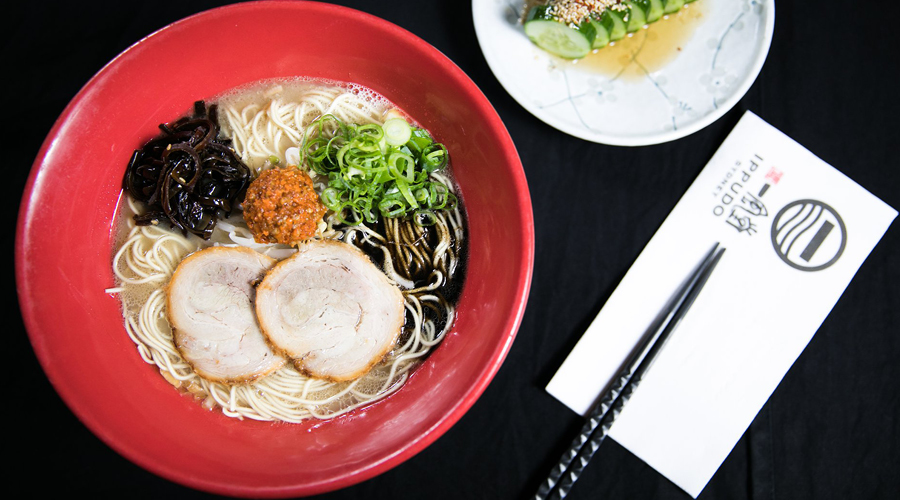 Other new openings you should check out: Little Culprit, Patch, Hello Stranger, St Anthony's Food, Wynyard Pavillion, Elmos, Copia, Céleste and Camper Coffee.