What a wild ride this year has been. With a renewed sense of (reserved) optimism as we approach the end of the year, we're ready to create enough memorable moments to make up for the last few months at home. There is something for everyone choosing to stay in our beloved Auckland for the final days of 2021. It's time to show them what this city is made of.
Onslow
Following on from the success of last year, Onslow is bringing back its New Year's Eve dinner — this time with special guests Nathan and Jaimie Haines, who will provide DJ sets to complement Josh Emett's artful menu. The early sitting includes a four-course meal with a glass of Laurent Perrier Champagne on arrival, while the late sitting ups the ante with a five-course menu and an additional flute of Laurent Perrier Champagne for when the clock strikes midnight.
Booking details are found here.
Park Hyatt Auckland
Park Hyatt is leaving 2021 well behind with sophisticated dining events that are on the up. At Onemata, the New Year's Eve early dinner experience includes seatings at 5pm, 5.30pm and 6pm with a two-hour, three-course menu, including crayfish amuse and saffron risotto, and a glass of Champagne. The late dinner offers seatings at 8.30pm, 9pm and 9.30pm with a four-course menu, which includes oysters and chicken liver pâté, and a glass of Champagne. At The Living Room, you can enjoy a four-course set menu, including a shared seafood platter and the likes of crispy pork belly, and an obligatory glass of Champagne between 7pm to 1am.
Details can be found here.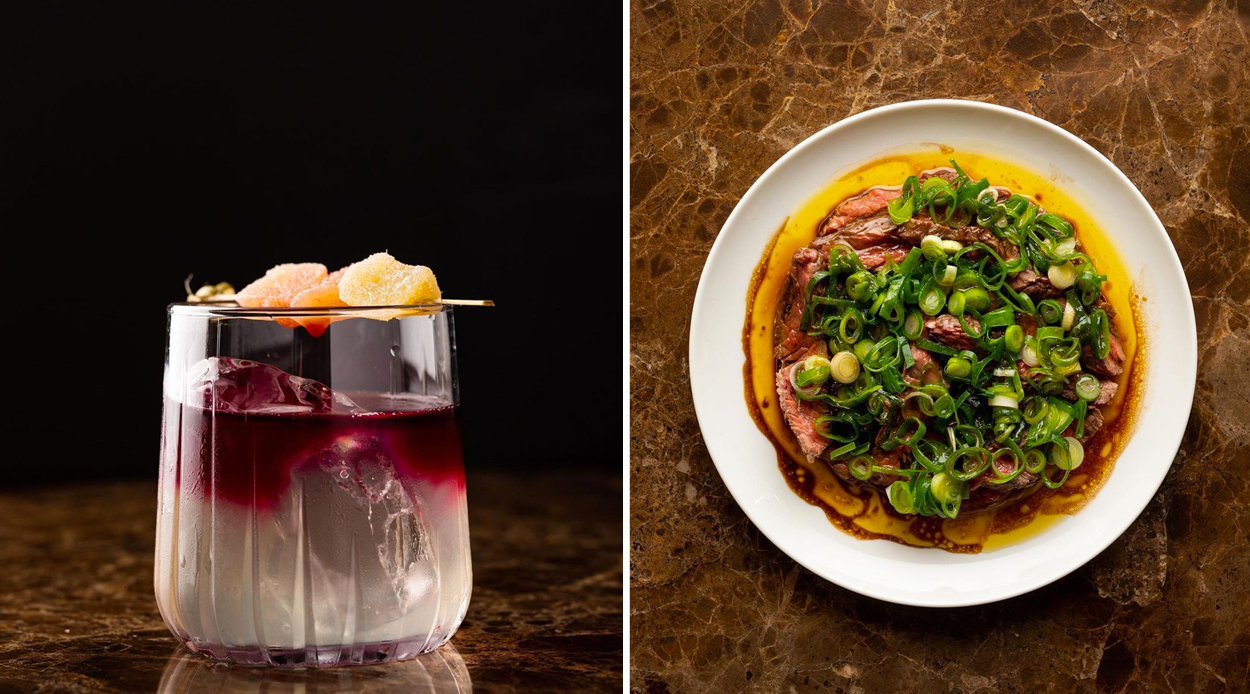 Bar Magda
Embracing a contemporary twist on the Filipino tradition of 'Medya noche', Bar Magda's New Year's Eve menu is designed for grazing and sharing — and to bring good luck and prosperity. An array of cultured dishes for groups of four or more will fill the table with the likes of crab rillette, langoustine and smokey wagyu beef short rib. Keeping the well wishes coming, there will also be a glass of Jean Milan Champagne, two wine matches and a digestif to finish.
Find out more here.
The Sugar Club
End the year on a high at The Sugar Club, where you can experience a specially-curated set menu, comprising mouth-watering dishes like Cambridge duck and coastal lamb. A refined plant-based menu is also available to take things up a notch. Whichever your preference, a glass of bubbles will be there to meet you on arrival. Booking times are available from 5pm to 9.30pm, so best be in quick.
Find details here.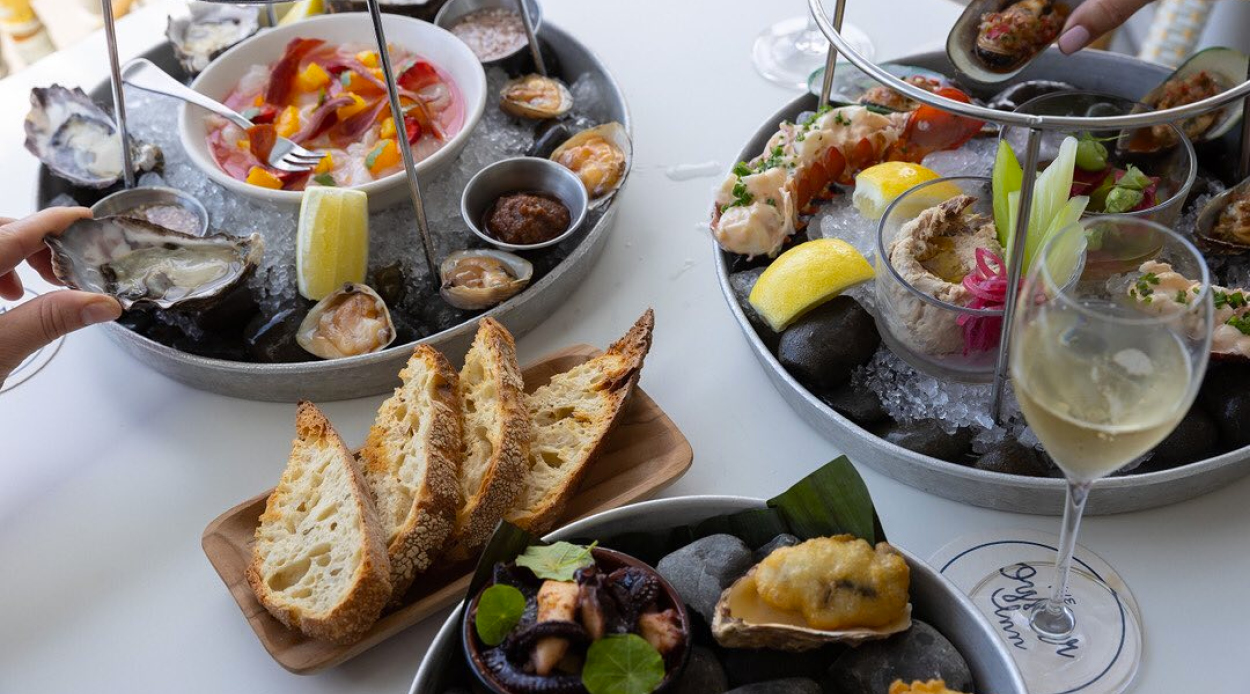 The Oyster Inn
Whether you've been long plotting your return to Waiheke or are a patient local, island institution The Oyster Inn is ringing in the new year with delicious fare, fizzing Champagne and vibrant music, played out to views of Oneroa Bay. The early sitting from 5pm indulges your nearest and dearest with a three-course menu and a glass of Veuve Clicquot on arrival. The late sitting continues to the beat of live DJ sets with a four-course menu that lasts until late.
Find more details and book here.
The Rooftop at QT
The promise of new possibilities awaits as you look across Auckland city's skyline at the Viduct's Rooftop at QT. For an elevated evening you can book an outdoor or indoor table, which comes with Mediterranean-inspired canapés by chef Sean Connolly and a four-hour beverage package from 8pm to midnight. Alongside the free-flowing drinks, music and entertainment will be provided by Playlist Project, Brydie Tong, Frank Booker, Tyler Christie and one of Auckland's favourite drag queens, Shavorna. If you don't want to worry about securing an Uber at the end of the night, the Slumber & Party package for two includes a plush QT Auckland room to retire to downstairs, with complementary, hangover-consoling, breakfast in the morning.
Find more details and book here.
Harbourside Ocean Bar Grill
Be in a prime position to experience the first day of the new year at Harbourside's Ocean Bar Grill. Enjoy a flute of G.H. Mumm Grand Cordon on arrival and an exclusive four-course à la carte menu — including oysters, Big Glory Bay Salmon and eye fillet — with a side of exceptional harbour views. Bookings are essential from 5pm.
Find more details and book here.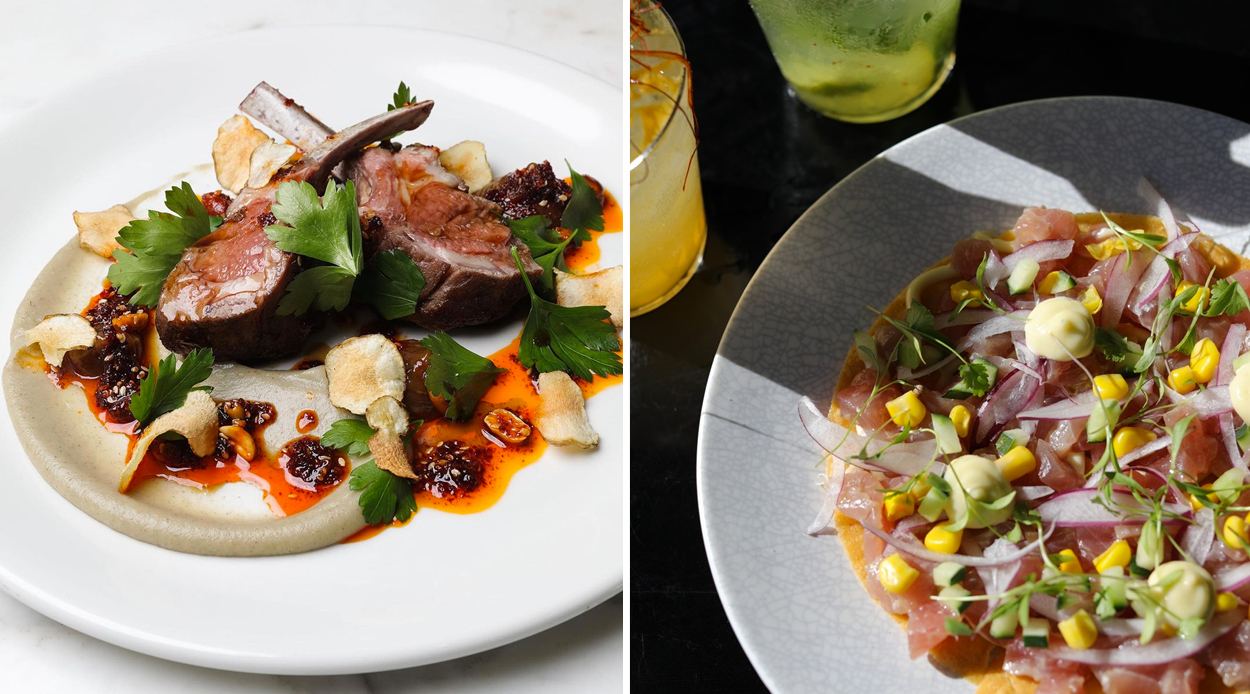 Soul Bar & Bistro
The life and 'soul' of the party, Soul Bar & Bistro is back this New Year's Eve. As many revellers will be returning to Soul after some time apart, its much-loved menu, including the tuna crudo and green goddess salad, will remain the same. Switching things up for the two-hour sittings will be DJ Andre and DJ Tom on the decks. While spots are filling up already, there are still some tables left for an outdoor lunch to get you in the spirit.
Book here.
Ostro
The Seafarers building is ready to light up, with Ostro offering an elevated way to meet the New Year. The Britomart eatery is offering an early bird three-course menu for two-hour bookings, or a four-course menu for bookings from 8pm until midnight — both come with a glass of Veuve Clicquot. Standouts from the menu selection include West Coast whitebait fritters, Hawke's Bay lamb rack and, for dessert, strawberry marquise.
Book here.
Azabu Mission Bay and Ponsonby
Whether you're an eastern suburb sider or a central city citizen, Azabu has you and your party sorted when the 31st of December comes around. Its Peruvian-Japanese favourites like tostadas, dumplings, grilled octopus and Nikkei steak all feature on the four-course set menu, with a personal pavlova and sorbet to finish. You can also enjoy a bottle of Asahi beer or flute of Champagne on arrival. Cheers to that.
Find more info and book here.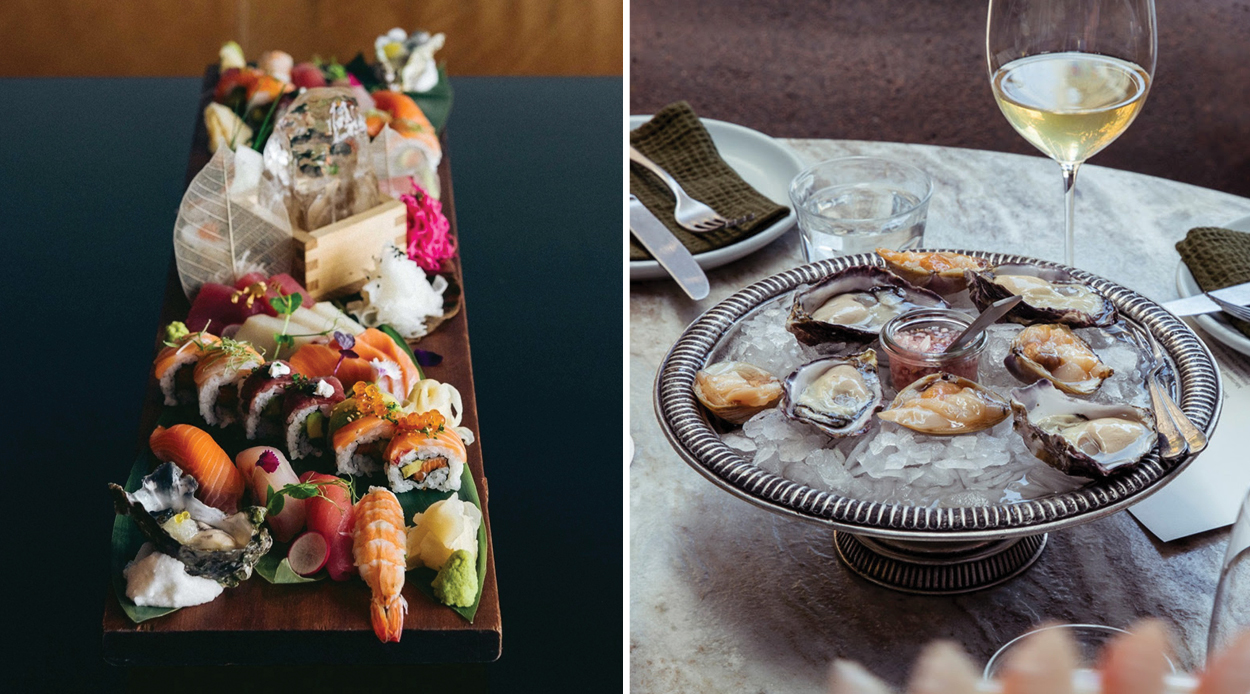 Ebisu
Take in the sparkling lights of Auckland's waterfront and start the New Year feeling fresh with a booking at Ebisu. The contemporary Japanese restaurant is preparing a four-course degustation, serving its legendary sashimi and sushi platter as well as crayfish and spanner crab dumplings and Chatham Islands paua. For dessert, options include the Ebisu eclair or signature pavlova with yuzu cream and seasonal fruit. Ensuring everyone is impressed, there is an alternative vegetarian degustation menu, as well as a beverage matching option, after a complimentary glass of Veuve Clicquot on arrival, of course.
Book here.
Kingi
Farewell 2021 with a flourish — in the form of a four-course sharing style dinner at Kingi. As well as a complimentary glass of Champagne to toast with, rejoice in a raw bar and antipasti selection. For mains, we're eyeing up the crayfish pappardelle and pan-roasted snapper, before another Kiwi-favourite-with-a-twist, pavlova with cherry and coconut yoghurt. Book in for your preference, the first sitting is from 5.30pm, while the second sitting runs from 8pm until late. Celebrating never looked so delicious.
Find more details and book here.
Ahi
Spotlighting what we can be grateful for as well as what we can look forward to, Ahi is shining a light on its new menu, which heroes produce grown at the Ahi Kitchen Garden. As part of a passion-filled project by the restaurant's award-winning chef Ben Bayly, the fresh and organic goodies grown locally feed into an exciting range of new dishes, with extra special items available on the 31st of December.
Book here.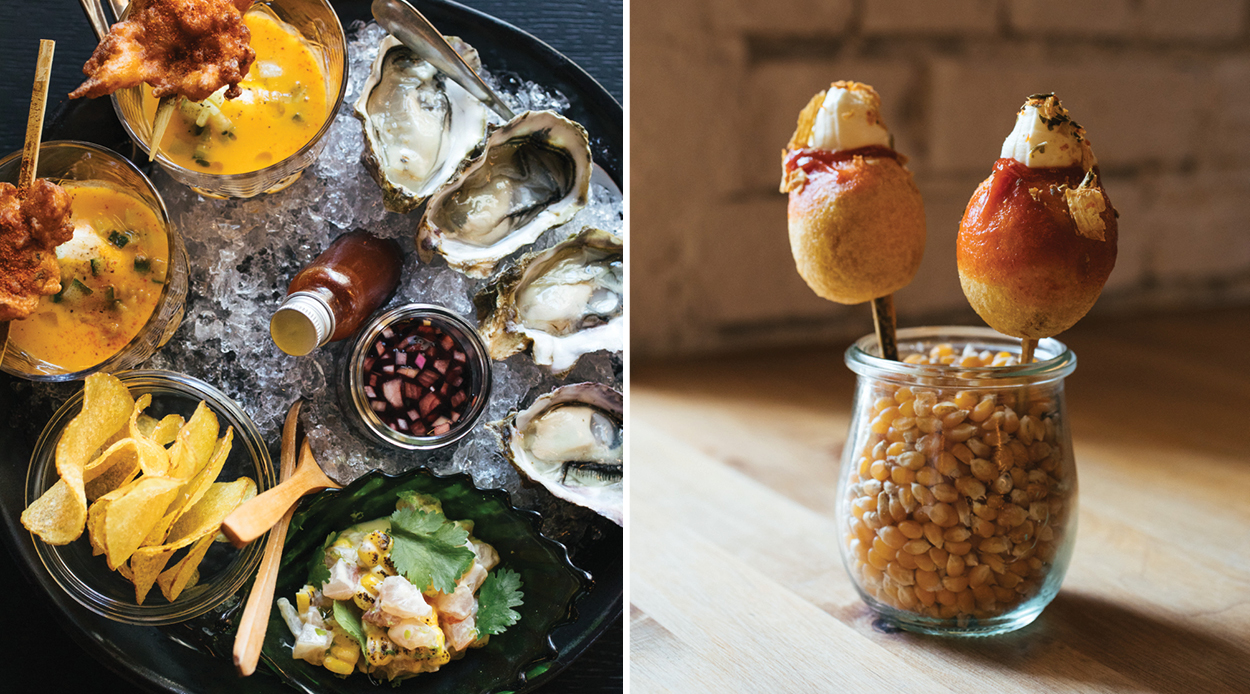 Culprit
Where great food, service and atmosphere happily collide, Culprit is a vibrant booking to ring in the new year. After a glass of Champagne Collet on arrival, the 'Epic' set menu includes kai moana options of freshly shucked oysters and kingfish ceviche, and seasonal bites of brisket pop and wild paua and pork sausage. For the main event, there is pressed lamb shoulder and wasabi sugar snap peas, while a light dessert awaits. Seating choices are from 6 to 8.15pm, or 8.30pm to late.
Find more details and book here.
The Lodge Bar & Dining
Celebrate the best of New Zealand this New Year's with The Lodge Bar & Dining. Renowned chef Matt Lambert has curated a bespoke, six-course degustation menu featuring only the best local produce, with plates including crayfish ravioli, with sauce American, basil and brandy, Greenstone Creek Black Angus beef, tongue and cheek with jus, and a summer herb and leaf salad with plum dressing. Perfection.
Find more details and book here.