Our mothers are our day ones, our ride-or-dies, our rocks. They are the people that have been there since the beginning, through thick and thin which might explain how they know us inside and out. They know exactly how to drive us completely nuts but they also know how to make us laugh and feel completely loved. Let us celebrate these superwomen, spoil them for an entire day and give them all the pampering they deserve. And while some mums prefer flowers and others prefer jewellery, all mums love a good meal and these are the best places to treat her to a special dining experience out this Mother's Day.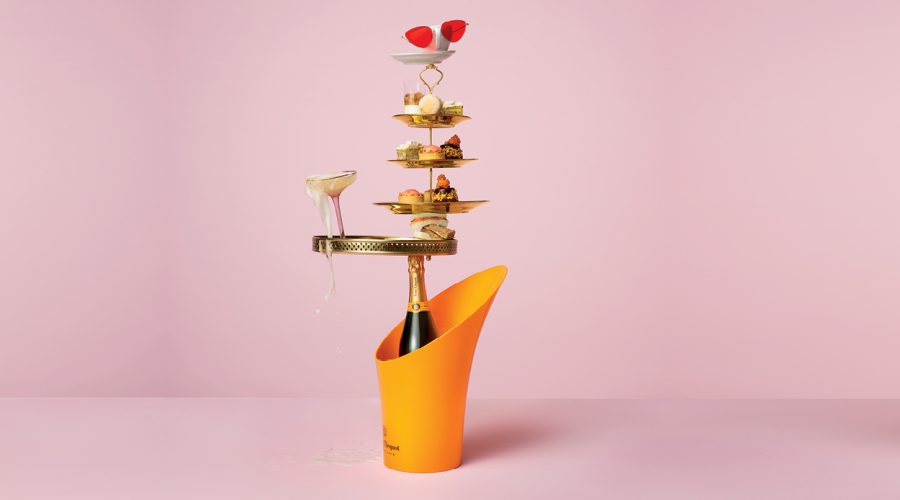 Ostro
Perched up high on the rooftop in Britomart, looking over the pristine waters of the Waitemata is one of our favourite inner-city brasseries, Ostro. Josh Emett and his team have teamed up with Veuve Cliquot to create the Veuve Cliquot High Tea menu and it will be ready just in time for Mother's Day. To celebrate the newly-modified high tea, Ostro is offering a Mother's Day high tea special in which you can swap cups of tea for glasses of premium Veuve Clicquot champagne. From a wide range of savouries, caviar, pastries, macarons and other treats, Ostro's Veuve Cliquot High Tea is the highest of them all and we are giving one lucky Denizen the chance to win a high tea experience for four people at Ostro's special Mother's Day event on Sunday the 12th of May. To enter, click here. *This competition has now closed. Congratulations to Josh O'Neill*

Soul Bar & Bistro
From the ambience to the Mother's Day special menu on offer, everything about Soul Bar & Bistro is perfect for a day out with mum. Sit underneath the floral ceilings and enjoy a long, three-course lunch while sipping on a glass of rosé. The menu includes an entrée, main and dessert for $55 per person, with the only foreseeable struggle being deciding which dishes you and your mum want to feast on. With three options for both entrées and mains and some mouth-watering desserts to finish off, whether it's the classic salt and pepper squid, tuna tartare or newer dishes like the truffle chitarra, your mum is bound to feel treated.

Han
If intimacy is what you're after this Mother's Day, head on over to Han in Parnell. This modern Korean restaurant has a strong reputation for being one of the most enticing restaurants in Auckland (Al Brown recently stated hailed Han as offering some of "the best food I've eaten in a long while.") The space of the restaurant is dimly lit and cosy and the combination of the stunning flavours and the hands-on Korean BBQ experience is one that your mum will remember forever. The grade 9 wagyu beef is an absolute must when dining at Han, where the rich, marbled fat of the meat makes it melt in the mouth. There really is nothing else like it.
Culprit
The contemporary restaurant, Culprit has a specially curated two Mother's Day long lunch menus this year, both including a complimentary glass of Collet champagne for your mum. For first timers, the Taste of Culprit menu is the one we'd recommend as it features their infamous classics such as the chicken liver parfait doughnuts and flat iron steak. The Kaimoana menu is designed for those that are not strangers to the creative dishes at Culprit and also for the lovers of seafood. With dishes such as the wild paua fritter and Orongo Bay oysters, the Kaimoana is bound to impress.
Euro Bar and Restaurant
Give your mum a Mumm Champagne lunch at the iconic waterfront restaurant, Euro. The three-course set menu, at $89 per person, includes a glass of one of the most prestigious champagnes in the world — which is exactly what mum deserves. The featured dishes are also nothing short of spectacular either including an Atlantic scallop entrée, sweetcorn risotto with pork crackling and a sure-to-be-delicious feijoa cheesecake (among many others).

Mudbrick Vineyard & Restaurant
Take your mother on a journey across the water this Mother's Day, with a trip to Waiheke Island. Mudbrick Vineyard & Restaurant provides panoramic, scenic views of the island's renowned vistas and the quality of the food matches the luxurious ambience of the space. Whether it's for a long lunch or degustation dinner, Mudbrick's menus feature nothing but the best produce and ingredients. Opting for wine pairings with a meal are obviously highly recommended when dining at this establishment.

Grand Harbour Restaurant
Mix up your Mother's Day brunch by taking her out to yum cha. It's an entirely new experience with trolley carts of steamed dumplings, buns and offal being pushed out on trolleys left, right and centre. One of our favourite yum cha restaurants is Grand Harbour in Viaduct Harbour. It has been around for almost 20 years and has become a stalwart of sorts for those in search of a perfectly parcelled dumpling or some delightfully moreish Asian fare. If it's your first visit, the experience can be daunting, so here are some tips. Green tea is the beverage of house, water must be specially requested and the foolproof dishes are the har gow dumplings, shu mai, BBQ pork buns and egg custard tarts.

MASU by Nic Watt
If your mum is a lover of Japanese cuisine and seafood, look no further than a meal at MASU by Nic Watt. Auckland's top Japanese fine dining restaurant, is holding its Sunday Nichiyo Brunch on Mother's Day and it's offering up an endless quantity of high-quality, fresh sashimi, maki rolls and other small Japanese dishes. After this, main dishes can be chosen from the robata grill or kitchen, a decision that is certainly not easy considering choices must be made between the like of grilled chashu pork belly and kagoshima wagyu beef.