I seldom have reason to visit Ellerslie proper, but if I did, Mint Cakery would almost certainly be my go-to coffee spot. There's a bubbly, but not saccharine, sentiment emanating from behind the counter of the relatively simplistic space, where the owner and chief baker Michelle Bevan, along with her adept barista, happily look after the steady stream of customers at 9am on a Friday morning, her second day operating at the new Marua Road address.
And I'd be happy too if, at 25, I had achieved my goal of opening my own baking business as Bevan has done. Not only that, she also has a loyal patronage who will no doubt seek her out at the new digs. Bevan speaks matter-of-factly about her journey so far. She was based in Point Chevalier on the suburb's eponymous road, but the premises were simply too small. After two and a half years, she found herself limited, by volume, in what she could make. Especially as her sensational doughnut offering really started to pop-off (if you haven't tried her Boston Cream variety, you simply haven't lived).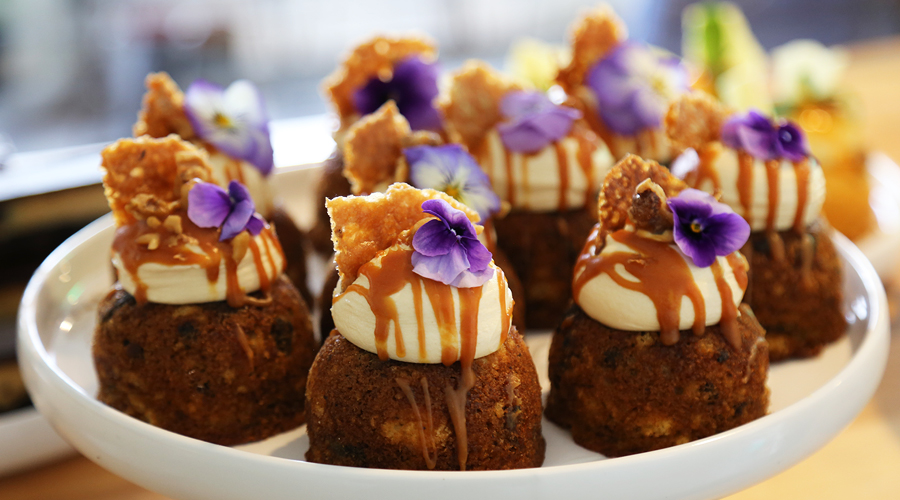 So, with that in mind she signed the lease for the Ellerslie locale, a former antique bookshop located cheek by jowl with the famous Mexican Specialties restaurant. Here, the space has been rendered fresh and minimalist with only a neon sign and few bits of greenery to detract from the cabinet of goodies. A pecan caramel cheesecake, apricot and caramelised white chocolate bowl cakes, and lemon and raspberry meringue doughnuts entice from within, rearranged at a steady pace as various customers are plated up their treat of fancy.
Open from Monday through Saturday, "we'll be using the space for cake decorating classes on Sundays," says Bevan, letting us know that the first of which will be held on October 14th. She's also opening her doors for private events like baby showers and hens do's. When I ask about the fate of her Pt Chev clientele, she says all is not lost. Her partner, who runs Remuera's Table Talk, has opened a second outpost where the old Mint Cakery used to be.
As she sets about expanding her horizons in a moderate and genuine way, we wholly suggest dropping by and saying hello to this new Ellerslie resident. With something for everyone, unless, of course, you don't have a sweet tooth, Mint Cakery is the friendly new neighbour you didn't know you needed.
Opening hours:
Monday to Saturday, 8am to 3.30pm
Mint Cakery
92D Marua Road
Ellerslie
Auckland