Renowned for its various health benefits and ability to naturally detoxify the body, there is no reason, really, to dislike matcha (especially when it tastes so delicious). The antioxidant-rich powder has a unique flavour of pleasing bitterness and a distinctly earthy aroma and when paired with sugar, it's flavour takes on a dimension that is an absolute treat for the palate. As such, we thought it high time we divulged some of the best places to go in Auckland to get your hands on some matcha delights.

Tsujiri matcha parfait from TSUJIRI
Founded in Kyoto, Japan in 1860, TSUJIRI, is internationally recognised as one of the top matcha producers in the entire world. Late last year, TSUJIRI opened its first New Zealand store on Lorne St and has quickly garnered a reputation for being the quintessential place for any and all matcha-related cravings. The TSUJIRI parfait is the signature item on the menu and it consists of a soft serve that is potent in matcha flavour, over layers of toasted brown rice and sweet red bean, and garnished with chewy rice balls and a cherry-blossom-shaped wafer.

Matcha Oreo baked cheesecake from Coffee Pen
If you're after a harmonious medley of flavours, Coffee Pen's matcha Oreo baked cheesecake is the one for you. The owners and operators — Yasuji and Fumi have found a way to achieve the perfect balance between the sweet and slightly bitter cocoa flavours of the Oreo base, the tartness from the cheesecake and the earthy matcha. The texture of the cake is unbelievably dense and yet, melts beautifully in the mouth. Be sure to go early as this Eden Terrace cafe sells out of most of its treats before the afternoon on most days.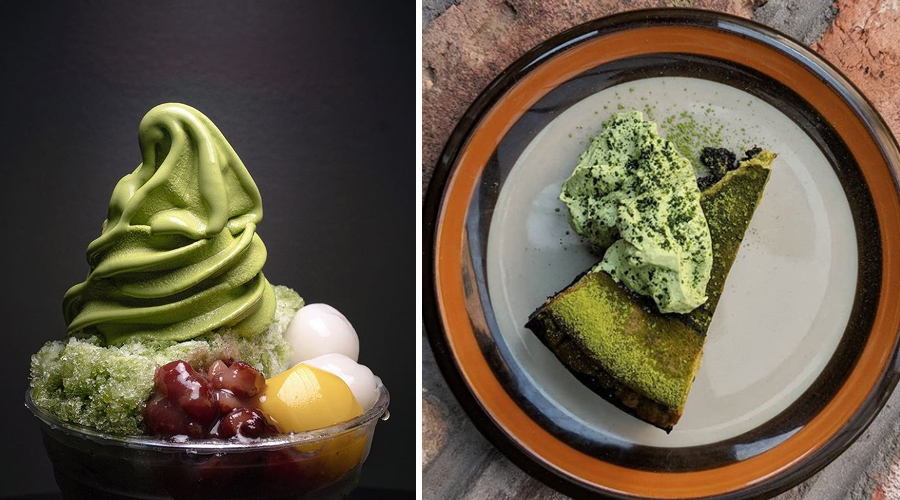 Matcha latte from The Candy Shop
For those who have not yet been exposed to the world of matcha, the best way to start your obsession is a warm matcha latte. The Candy Shop in Newmarket brews up a delightfully sweet and vibrant concoction by mixing a generous scoop of matcha powder into frothy, creamy milk. No clumps are present in the beverage and it goes down an absolute treat with The Candy Shop's house-baked cabinet goods, like the spiced carrot cake.

Matcha milk tea with pearls from Gong Cha
Tapioca pearls are perfect in any liquid as they add a chewy texture as well as some subtle sweetness. Whether you call this concoction a bubble tea, pearl tea or boba, everyone comes to the mutual agreement that it's a delectable drink and Gong Cha is one of the best places to go to get your fix.

Matcha sour cherry cake The Caker
Matcha can become so addictive that some people want it over everything sweet, including their birthday cake. Owner of The Caker, Jordan Rondel was inspired after a trip to LA (where the matcha hype has reached a whole new level) and created a limited-edition flavour as soon as she came back to Auckland. Due to its immense popularity, she decided to make it a permanent item on the menu and after tasting a slice, we understood why. The moist cake boasts smooth and creamy matcha icing and is peppered with delicious bursts of sourness from the cherries that are dotted on top.

Matcha cookie from Moustache Milk & Cookie Bar
While cookies are a delicacy we're all familiar with, matcha is something that is relatively new to most. Moustache Milk & Cookie Bar has married the two together and created a cookie that is truly a one of a kind. From the soft and chewy texture to the buttery but intriguingly bitter flavours, this cookie has us hooked.