Auckland's dining scene is fast-paced and it seems as though new openings and events are popping up every week. Not looking set to slow down any time soon, staying in the know can be a struggle. In a bid to help you keep on top of everything, we have searched high and low for the latest and most exciting foodie finds around Auckland. Here is what we've gathered so far.
La Pêche and Annabel's Wine Bar present La Cave
Straight from the streets of Paris, after 5 years of being away from home, Emma and Nick came back to Auckland and changed the game for pop-up restaurants. The couple has taken over Lovebucket, Dear Jervois, Simon & Lee, even done a stint in a garage and are now partnering with Annabel's Wine Bar for their next, highly-anticipated pop-up. The upcoming collaborative project, La Cave (meaning 'The Cellar' in French) is taking place in the private courtyard out the back of Annabel's. Look forward to La Pêche and Annabel's joining forces to serve their signature, premium-quality food, freshly-shucked oysters, natural wine and an eclectic mix of vendors and installations showcasing their own wares. The event will commence on February 16th and tickets are available here.
K'Road has a new sandwich pop-up
Thursday dinners are sorted thanks to the Club Red pop-up located at Egg & Spoon in St. Kevin's Arcade. Owned and operated by just one man, James Corlett takes the universal delicacy and puts his own twist on things to take the humble sammie to the next level. It's the fried chicken sandwich that really put Club Red on the map but people have recently been discovering that James' other creations are just as good, if not better. The Magic Mushroom Sando consists of sautéed mushrooms, roast garlic aioli, goat milk feta, creamed honey and curried onions pressed together with slices of sourdough baked by The Dusty Apron — the former baker at Amano who now provides the bread for Ostro, La Pêche, Saint Alice and Te Whau Eatery.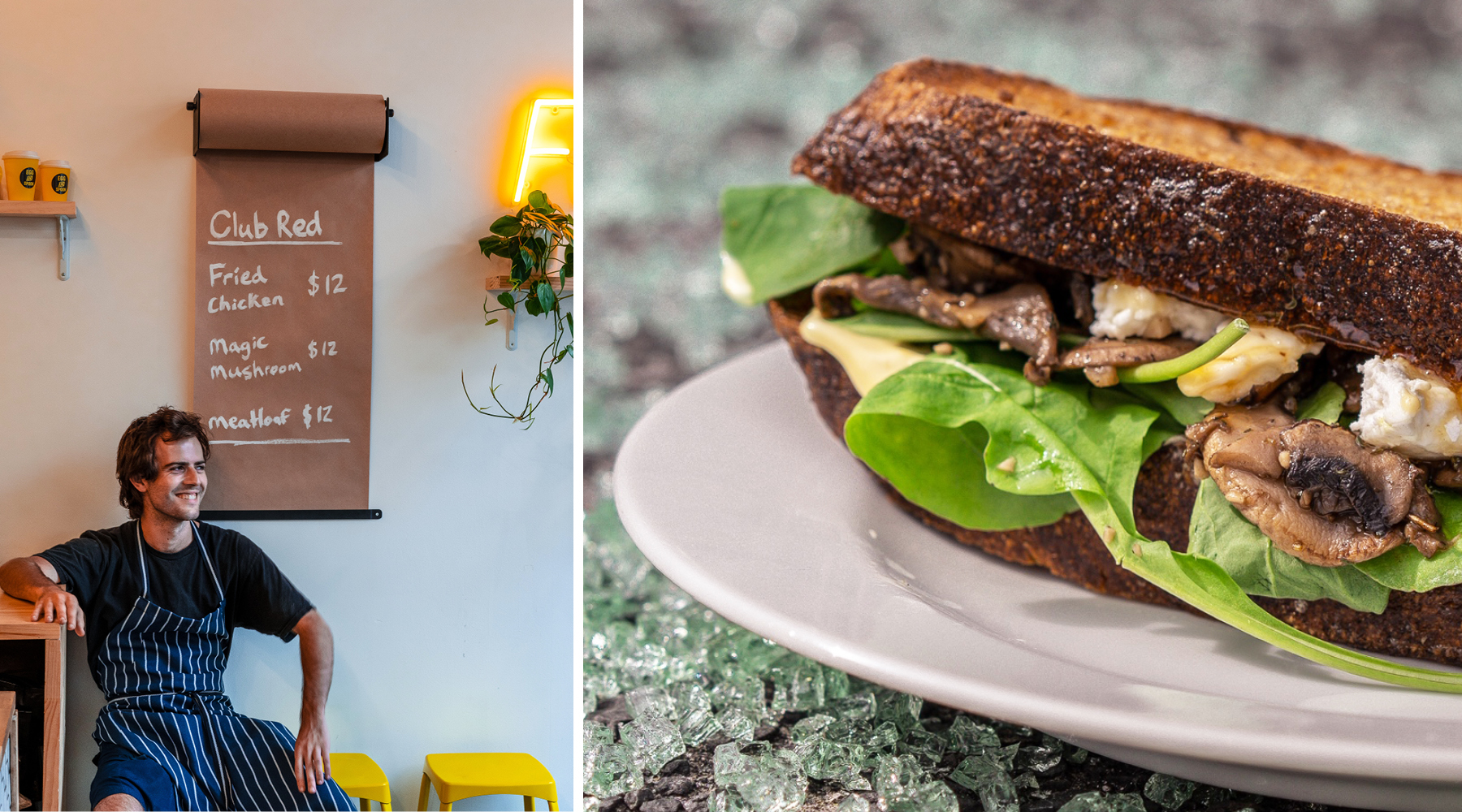 Little & Friday is taking on the CBD
Eighthirty's High Street store is being treated out by Little & Friday for the next few weeks. The collaboration not only offers a number of the cult bakery's sweets like the classic custard and raspberry filled doughnuts but also its savouries, including sausage rolls, pies, sandwiches and seasonal salads. This temporary takeover is set to be the ideal lunch spot for the people in the CBD where they can sit down, slice into a warm, buttery scroll filled with sundried tomatoes, feta, spinach and basil and sip on a cup of freshly-brewed, organic Eighthirty coffee.
Baby has a new toasty menu
The younger sibling of K'Road's Bestie Cafe, Baby, is expanding from cabinet food to an exclusive menu dedicated to toast. With kitchen experience at Little & Friday, Small Fry, Ceremony and Judge Bao up her sleeve, Head Baker, Ashleigh has dedicated months to refining her sourdough-making skills and evolving her baking concepts. Expect seasonal jams, housemade ricotta and vegan tofu cream as some of many toppings on offer as well as a special, thick-cut brioche toast for those with a sweet tooth.
A new coffee shop has arrived in Grey Lynn
Just on the outskirts of Ponsonby, tucked away on Vinegar Lane is a brand new coffee shop — It's Java. Serving speciality coffee and freshly-made sandwiches, It's Java is Grey Lynn's new go-to lunch spot. The cosy cafe is also stocking pastries by the former head baker of Amano and the creator of the cube croissant, Daniel Cruden. His buttery, flaky morsels make the perfect pairing with a morning cup of joe.