Named after the Latin word for purity, the fine food at play fits the nomenclature.
"All my career I've been told what to do. Now, I'm able to do everything the way I haven't been allowed to," is how local chef Fraser McCarthy explains the feeling of finally opening his own restaurant, Lillius, with partner and fellow chef Shannon Vandy. He means this in a good way, of course. But having paid his dues in the revered kitchens of The Grove, Molten (under Michael Van de Elzen's rule) and more recently, Merediths, it must be a good feeling standing at the helm of an eatery as shiny as the new one that now graces upper-Khyber Pass.
The pair has long dreamt of running a dining institution of their own. Both together and apart, their aspirations have had a culinary focus. Vandy also cut her teeth working at Michael Dearth's The Grove (as well as Baduzzi), but long before that, each party debuted in the hospitality industry during their malleable, early teen years, working at various cafes around town. Reading between the lines, it pays not to be wary of the fresh faces you'll be met with; this is a team that knows high expectations and you can rest assured that Lillius will meet them.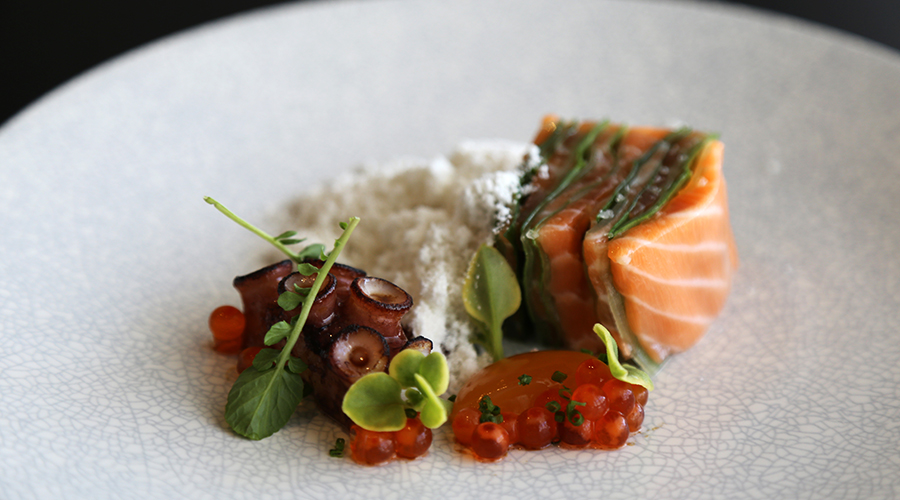 Named after the Latin word for purity, the fine food at play fits the nomenclature. Diners can select either a three-course option where they pick each plate or leave it with the chef to take them on a five-course journey. With a focus on the sheer beauty of a few substantive ingredients, the amuse-bouches (all complimentary) come out in full force, featuring asparagus dipped in kawakawa cream and sprinkled with shaved, cured duck egg yolk, alongside some fancy crudités. Once your appetite is piqued, more substantial courses might feature the incredible king salmon and octopus, harmonised with coconut, cucumber and horseradish (pictured).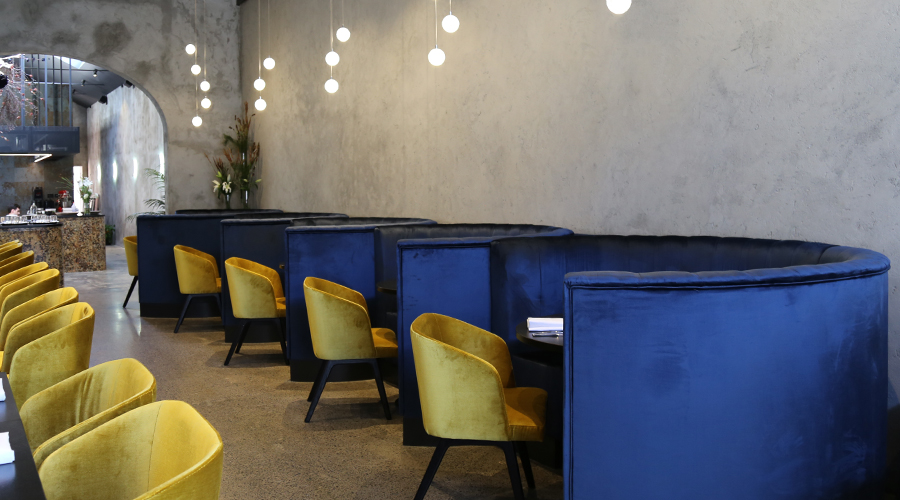 The fare is refined and worthy of Auckland's haute dining echelon. That said, Lillius' interior ambience is decidedly calm and, in a way, homely — as though you could be in someone's opulent dining room. Formerly a Tandoori restaurant that been operating for close to 30 years, it would be a grand understatement to say the place needed a bit of TLC. The arch that defines the space was once an outline of the Taj Mahal, and the smoke-soaked walls have been ground back to expose textured concrete. Plush chartreuse and royal blue upholstery counterbalance the more stark aspect of the design, the overall of which has been the couple's vision, achieved with the help of acclaimed studio Pennant & Triumph.
As the doors to Lillius officially open today (22nd November), Auckland can embrace a promising new addition to the fine dining fold. And if it's an entirely new dining experience you seek, we are quite sure you'll find it here.
Opening hours: 
Wednesday-Thursday, from 6pm till late (dinner service only)
Friday & Saturday, from midday, then 6pm till late (lunch and dinner service) 
Sunday, from midday (long lunch service only) 
Lillius
19 Khyber Pass
Grafton
Auckland

(09) 217 4069