"Where Crave makes the community feel more connected, Kind is designed to make the community greener and more healthy..."
When Cathie and Nigel Cottle relocated from Kumeu to Morningside, they noticed there wasn't the same sense of a close-knit community. Such is the common narrative of moving from the provinces to the city. But as opposed to sitting back and doing nothing about it, they joined forces with a few locals to establish Crave, a cafe and socialise enterprise designed to bring the suburb's people together. That was almost 10 years ago and now the pair, alongside 16 other co-owners, can lay claim to not one, but two great cafes in Morningside with the second being the newly opened Kind Cafe.
"Where Crave makes the community feel more connected, Kind is designed to make the community greener and more healthy," Cathie explains when asked about how the two eateries will coexist given they are located only a stone's throw from one another. Crave, which moved into its impressive new premises on the corner of Morningside Drive two years ago has more or less been absorbed by the newly established Morningside Precinct, a slick development that will bring a number of new eateries to the back streets of the borough including Miann, Electric Chicken, Morningcider and Morningside Tavern.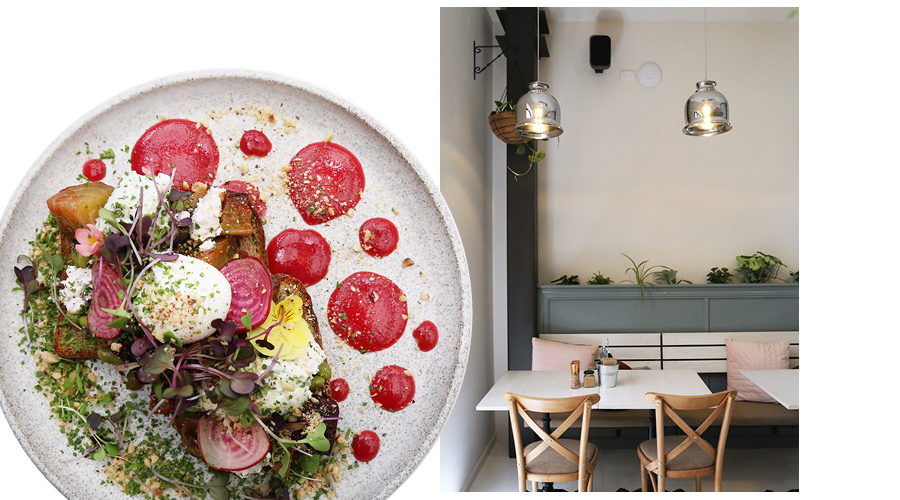 Kind, however, is something quite different from the rest. The aim of the eatery is to shine a light on plant-based food without being too obvious and its name alludes to how we should be treating not only our bodies but our neighbours and our environment too. It's an all-encompassing approach that carries over from the collective's original venture, going beyond food to propound an ethos based in community and sustainability.
When Cathie describes the difference between 'vegan' and 'plant-based', she alludes to the latter being relatively less strict. As such, Kind's menu is 70 percent plant-based and the remainder vegetarian — these exceptions include a smattering of dairy here and there, and a side of bacon available if so desired. Executive Chef James Wheeler-Gorringe admits to being an enthusiastic meat eater, so the challenge of creating a meat-free menu made him think long and hard about what would satiate his taste buds. As a result, each dish is a colourful, wholesome and substantial medley of flavours and textures that have you forgetting what you thought you would miss.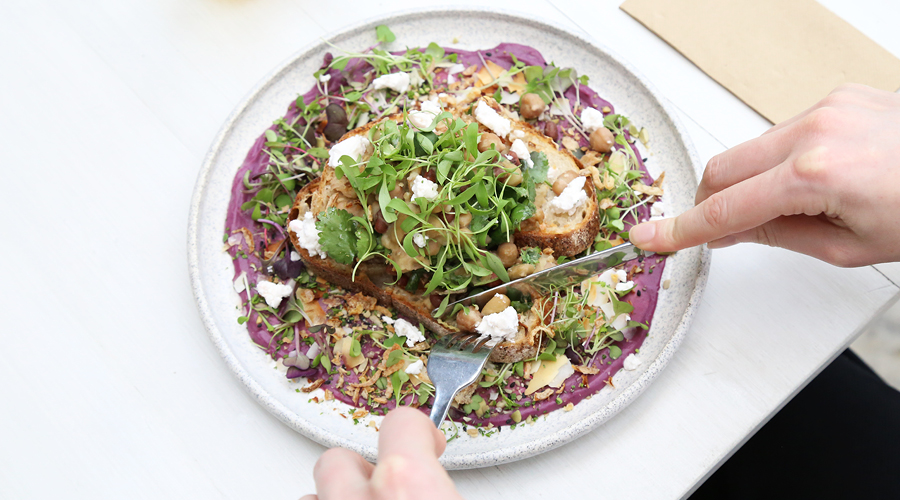 Spicy, homemade peanut butter is slathered onto Midnight Baker bread and served with avocado, pistachio dukkah and heirloom tomatoes macerated in balsamic. The 'whipped goat's cheese' comes with beetroot three ways; salt baked, cured and smoked with a poached egg, edamame and elements of coconut and hazelnut for depth and crunch. The walnut granola is somewhere between a bircher and a muesli where homemade feijoa and mango coconut yoghurt is combined with fresh fruit for a sublime start to the day. Edible flowers are used liberally, but not to disguise a lack of taste that lies beneath.
To park up in Kind's light-filled, plant-shrouded courtyard (the combined work of Nat Cheshire and architect Dan Smith) and experience this food is to feel like a 'better person' by osmosis. When thinking about how the team behind the eatery has embarked on the project simply to make Morningside a better place, with community-minded recycling efforts and sustainability talks etc, one is left wondering, slightly embarrassed, as to why the rest of Auckland can't do the same?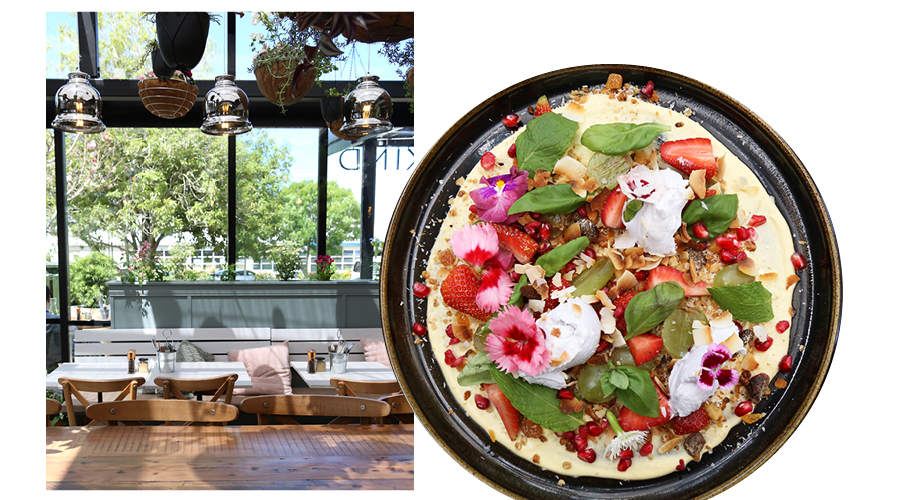 As they ease into a dinner service later this week — they're fully licenced with an extensive, plant-based drinks list — we expect more than just Morningsiders to get amongst this game-changing new eatery.
Kind will be open 7 days, with hours subject to change in the first few weeks:
Monday, 7:30am – 4:30pm
Tuesday to Friday, 7:30am – 10:30pm
Saturday, 8am – 10:30pm
Sunday, 8am – 4:30pm
Kind Cafe
14-18 McDonald St
Morningside
Auckland