It's half-way through the year and although we're on the cusp of a change in seasons, it's more than just the weather we're watching. Winter's arrival is seeing a number of eateries tweaking their menus to offer dishes that are warm and hearty and here at Denizen, we have been paying close attention to the new ones worth noting. Here is everything you need to know about the Auckland dining scene this June.

New menu at The Culpeper
Renowned for its duck corndogs, The Culpeper has stepped its game up even further with a brand new menu. The duck corndogs have been replaced with lamb merguez served with hazelnut dukkah spice, date and whipped feta dressing. But this is only one example of the new creations by The Culpeper – other dishes include a crispy pork cheek scrumpet, a Big Glory Bay salmon dish that is complemented with smoked mussels for the ultimate seafood experience and a Hawke's Bay lamb shoulder which, we have to admit, we're looking forward to the most.

The new winter menu at Red Wall 1939
The Chinese fine-dining restaurant, Red Wall 1939 is going into the winter season with brand new winter degustation and à la carte menus. The most highly-anticipated addition is the signature braised pork belly. This was allegedly Chairman Mao's favourite dish after he was served by Kevin Liu's (the executive chef of Red Wall 1939) grandfather 20 years ago. The recipe has been passed down to Liu and he has recently added the dish into his new-season degustation menu. Other dishes to take note of include the Sichuan spicy shredded chicken which is served with sautéed leek and Liu's special crystal chilli oil, and the fresh seasonal persimmon with vanilla parfait and premium vanilla ice cream.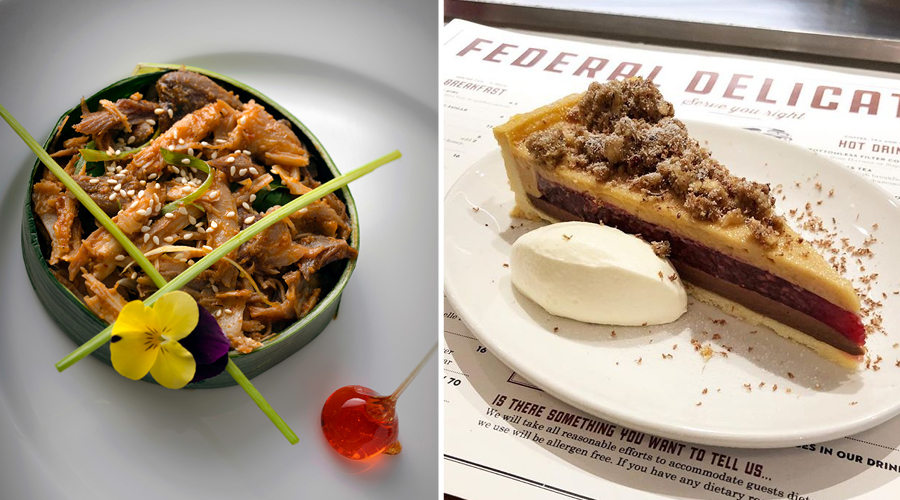 New pie at Federal Delicatessen
Pie has always been a staple dish at The Fed. And while the banoffee with caramel popcorn, the lemon meringue and the NY baked cheesecake are all longstanding favourites, it was about time that The Fed added a new pie to its menu. Introducing Jenny's PB&J Pie, a triple layer slice consisting of a golden, buttery crust, sweet berry jelly, rich peanut butter mousse and a sprinkling of toasted hazelnut crunch. Although only recently released, these pies have been selling out fast, so the earlier you go to get a slice, the better.
The Jucy Lucy at Sneaky Snacky
It seems as though the folks at Sneaky Snacky are on a roll, having added fish and chips to their menu only a month ago and now a brand new burger. And just when you thought you couldn't get any more indulgent than the infamous doughnut burger filled with a Wagyu patty and kimchi fritter, think again. The Jucy Lucy features a succulent Wagyu patty, American cheese, rich bone marrow sauce, crispy shallots and crushed Cheetos, and is now available at the Sneaky Snacky store inside Lim Chhour Food Court on K'Road.
New risotto and dinner service at Te Whau Eatery
It has been just over a week since Te Whau Eatery has put this new dish on its menu, but it's already one of the most popular. It's a chargrilled sumac corn risotto that is paired with plump and juicy prawns. To make things even more exciting, the folks at Te Whau have also announced that they will be trialling dinner service, so keep your eyes on the Te Whau Instagram as they will occasionally be opening their doors in the evenings throughout the month.
McClure's Bread and Butter Pickles from Cook & Nelson
Thanks to Cook & Nelson, New Zealanders are now able to get their hands on McClure's Bread and Butter pickles. The tasty morsels are sweetened with pure cane sugar and infused in dill and garlic, lending a sweet, aromatic and tangy flavour which is unlike any pickle we've ever tasted before. You can pick up one of these jars for yourself here.

Tonkotsu ramen at Azabu at Auckland Fish Market
Although the rainbow roll and ceviche from Azabu at Auckland Fish Market are dishes that we adore no matter what the season, our intensifying cravings for warmer meals over the course of the middle of the year cannot be ignored. Azabu at AFM is clearly on the same page, having just introduced new dishes to the menu including a soul-warming tonkotsu ramen which comes with tender slices of pork, rich broth, shiitake mushrooms, spring onions and a soft-boiled egg.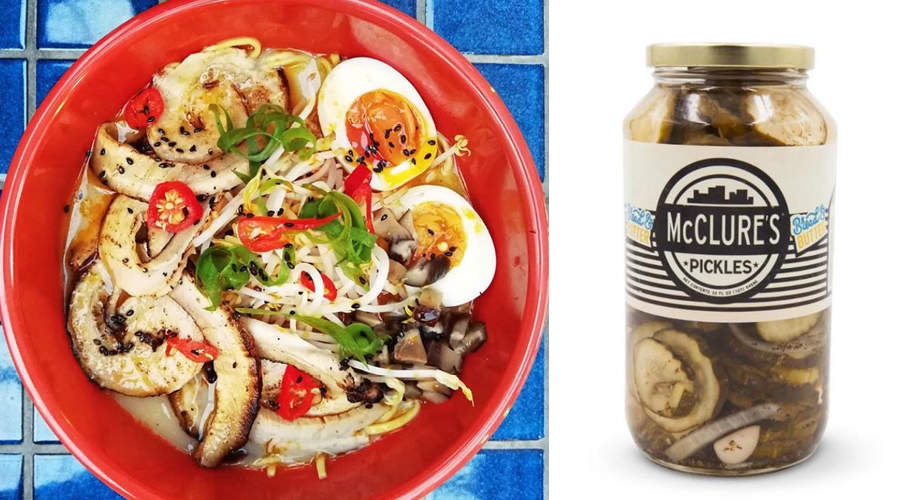 Pho at Mr. T's
Mr. T's has already become one of the most popular cafes in town after word got around that the Vietnamese family that owned it were also behind Rad in Mount Eden a couple of years back. Renowned for its beef and vermicelli noodle salad, Mr. T's is now offering a more winter-friendly noodle dish — Vietnamese pho. The broth is brewed for eight hours (at least) to ensure maximum flavour and is topped with tender cuts of beef and fresh, aromatic herbs.
SKYCITY Variety of Chefs
Back for its seventh instalment, the fine dining charity event of the year — Variety of Chefs is back and better than ever before. Star chefs such as Jonathan Granada from Otium in Los Angeles and our very own Nick Watt, executive chef at MASU, are taking people on a culinary journey where the funds raised from the evening will go towards the Beds for Kids program, helping disadvantaged Kiwi children gain access to comfortable and safe places to rest their heads at night — a very worthy cause.
Eighthirty's refurbishment on K'Road
This renowned, Auckland coffee roastery has been providing us with full-flavoured, premium quality espresso for a decade now and has grown to operate five espresso bars across the region. The K'Road outpost, which was previously the main roastery, has undergone its very first makeover since it opened, and the space has been totally transformed. Alongside the walls being repainted, additional seating has been added, allowing more patrons to sit and enjoy their warm brews. Eighthirty, it seems, is entering its second decade renewed and refreshed.