Indulging in delicious food is a universal way of practising self-care, so in these interesting times eating Hot Cross Buns is more important than ever. Like you needed an excuse anyway?
There is nothing like filling the air of your kitchen with the comforting aroma of spices, right before applying lashings of butter that melt and seep through the juicy currants.
After trialling more than 20 different buns from bakeries around Auckland, we compiled a list of 10 favourites as well as our Supreme Winner.
The Sophisticated One — 4&20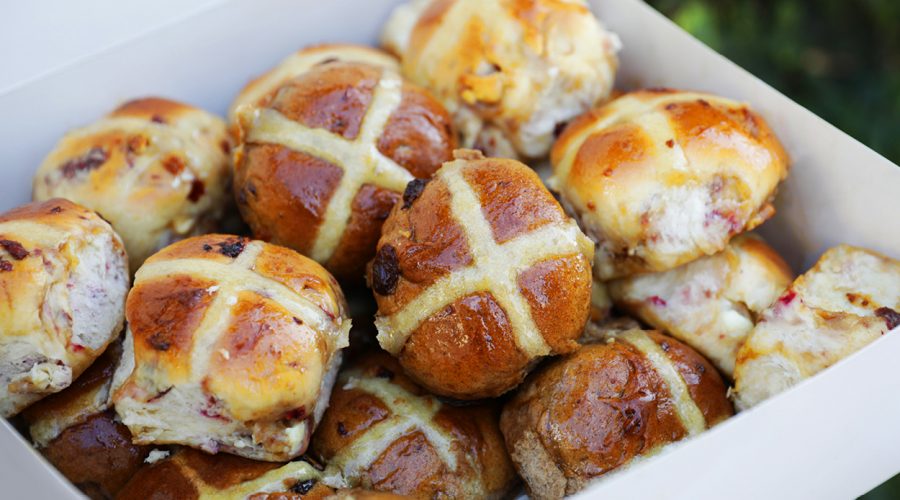 Heavily spiced with cardamom, 4&20 Bakery's hot cross buns have a complex profile of citrus and mint notes. Along with being fragrant, it has an incredibly fluffy texture with deliciously juicy raisins. Coated with an espresso glaze for a bittersweet finish and served with vanilla bean butter, this bun takes 'aromatic' to new heights. For those who can't get around raisins, the team at 4&20 have made a special cranberry white chocolate bun, so nobody misses out this Easter holiday.
The Fluffy One — Daily Bread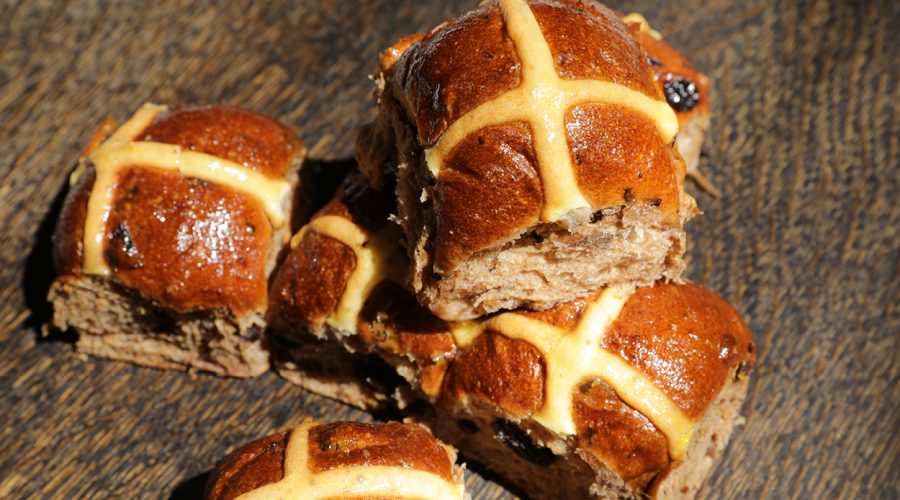 Fluffy, spicy, fruity and uncomplicated — Daily Bread's hot cross buns are light enough for a mid-morning treat. The coconut sugar syrup glaze lends a subtle sweetness and glossiness to the bun, without overpowering the rich aroma of spices while the sourdough rye base makes for a lighter texture. They taste equally good, toasted or fresh.
The Rustic One — The Real Bread Project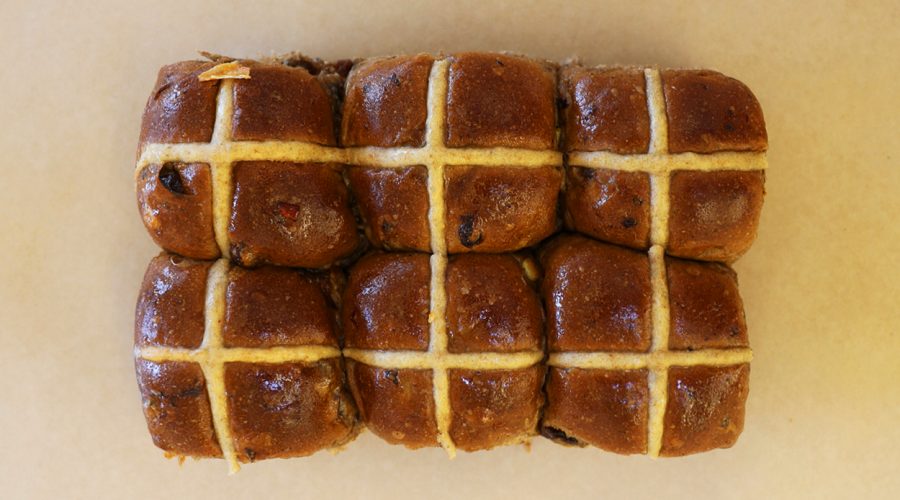 The former head baker of Amano, Daniel Cruden (aka Dan the Baker Down Under) continues to make some of our town's finest pastries from his Helensville bakery The Real Bread Project. These hot cross buns incorporate house-brewed stout, achieving a deep, wheaty flavour and enhancing the spicy fragrance. So much air is incorporated into the spicy creations, that even after being toasted, they hold bounce while the exterior turns crispy. (Also available from Pastrami & Rye on Fridays and Saturdays and Crumb on Saturdays only)
The Zesty One — Fort Greene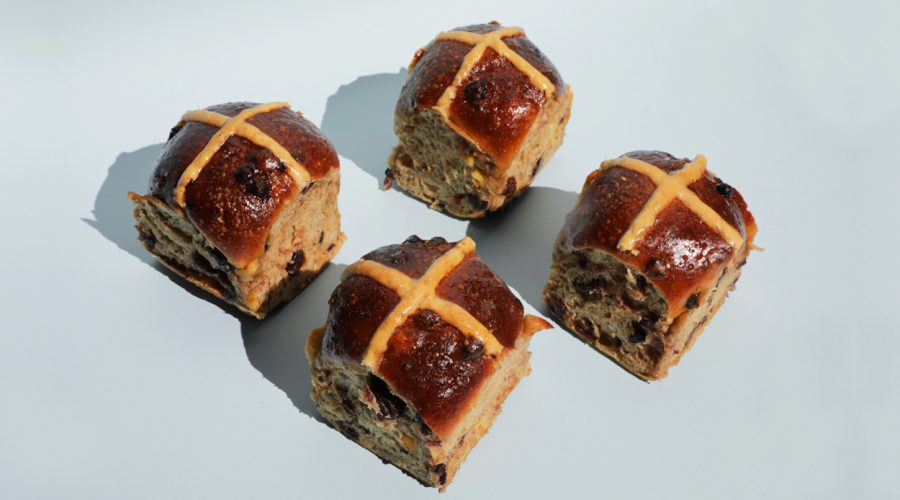 Home to our favourite almond croissants and sourdough loaves, it comes as no surprise that Fort Greene is in our top 10. Made for the spice-lovers rather than the sweet tooths, these hot cross buns take on a zestier approach with a sourdough base and candied orange peel that's woven through. Generously packed with raisins and a thin glaze, we suggest toasting this one so the dried fruit and sugary layer caramelises.
The Decadent One — Ima Cuisine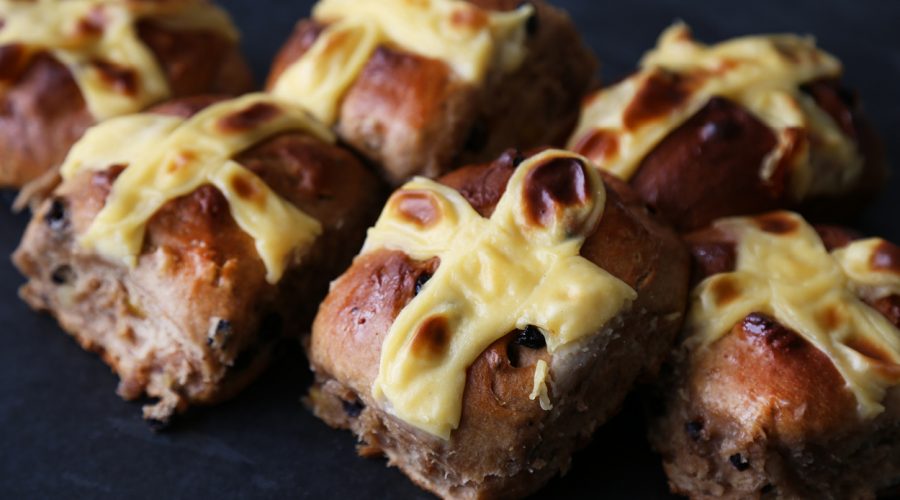 Weighing in at triple the amount of a typical hot cross bun, Ima Cuisine's rendition of the fruit bun is by far the most decadent in this list. The brioche bun is stuffed with currants, candied lemon and orange rind with a thick, vanilla bean custard cross. Toasting this one is mandatory and make sure the butter you use is salted, counteracting the sweetness of the topping, offering balance and an experience that's more enjoyable overall.
The Fruity One — Little & Friday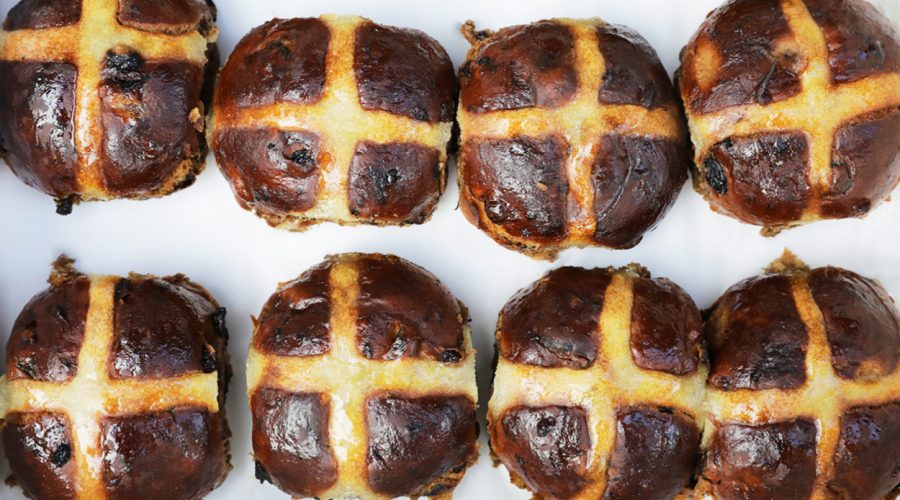 If you're seeking a dense, doughy bun rather than a wispy one and Ima's is too intense for your liking, Little & Friday is where you should be heading.These buns had more fruit loaded in them compared to the others we tried, making the Easter delicacy resonate with a Christmas fruit cake. We also suggest putting these in the toaster before smothering them in butter as the raisins become even juicier after being warmed up.
The Traditional One — Olaf's Artisan Bakery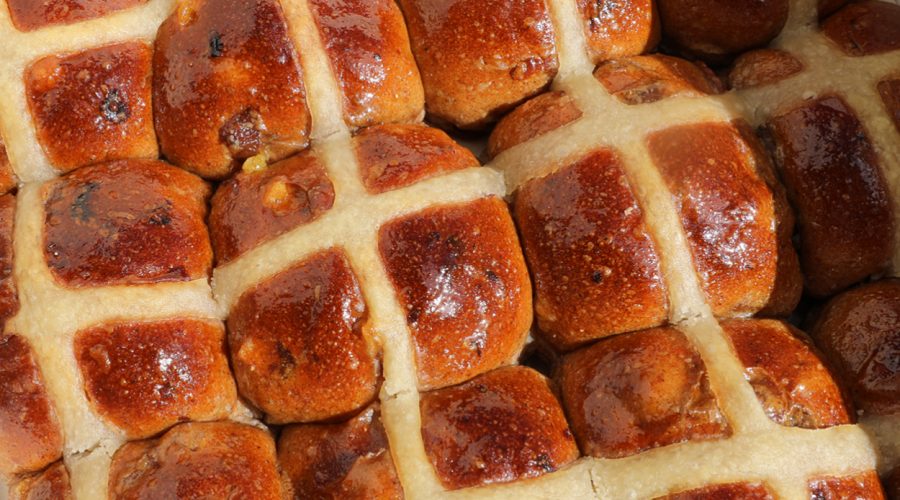 Olaf's hot cross buns take on the textbook traditional form and flavour of the Easter treat. Slightly bready but not the slightest bit dry, with just enough glaze on top to deliver a shiny finish and the tiniest amount of sweetness. It's the hot cross bun that brings nostalgia in spades and takes us back to the times before sourdough became mainstream and the rise of the brioche dough trend. This has a special place in all of our hearts.
The Dessert One — Ripe Deli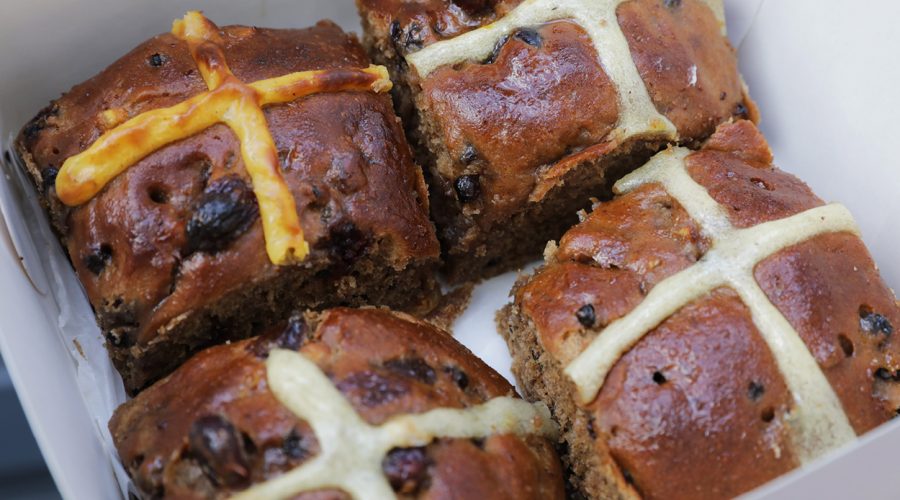 A medley of currants, sultanas, cranberries and orange peels are featured in Ripe Deli's hot cross buns, topped with a burnt butter glaze for a deep, slightly charred flavour that comes alive after spending some time in the toaster. The consistency is like banana bread or cake rather than a fluffy bun and soaks up the maple orange butter for a deliciously moist texture.
The Pretty One — Wild Wheat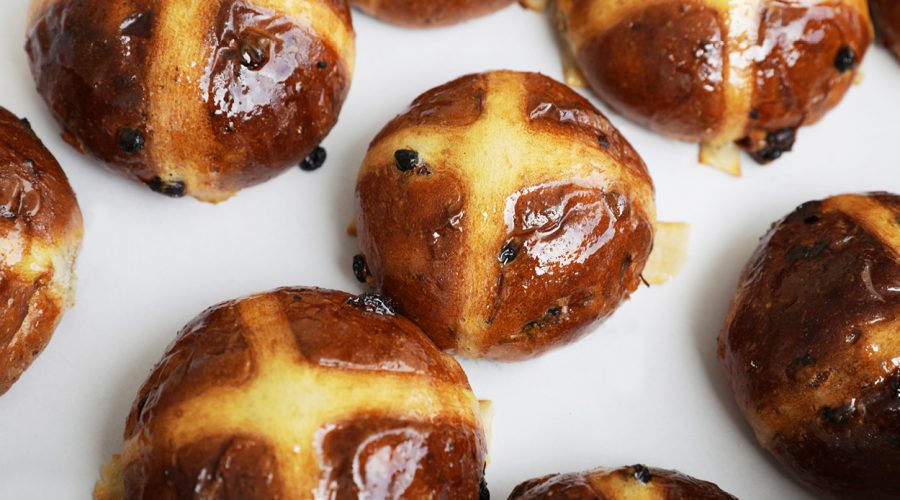 Arguably the most aesthetically pleasing out of the bunch, Wild Wheat's hot cross buns boast a perfect circle shape and the cross has been oh-so carefully piped on top. The outer casing is thick, giving the bun a slight chewiness while protecting the soft centre. The cloudy texture makes these buns just as enjoyable fresh as they are toasted with lashings of butter.
The Supreme Winner — Miann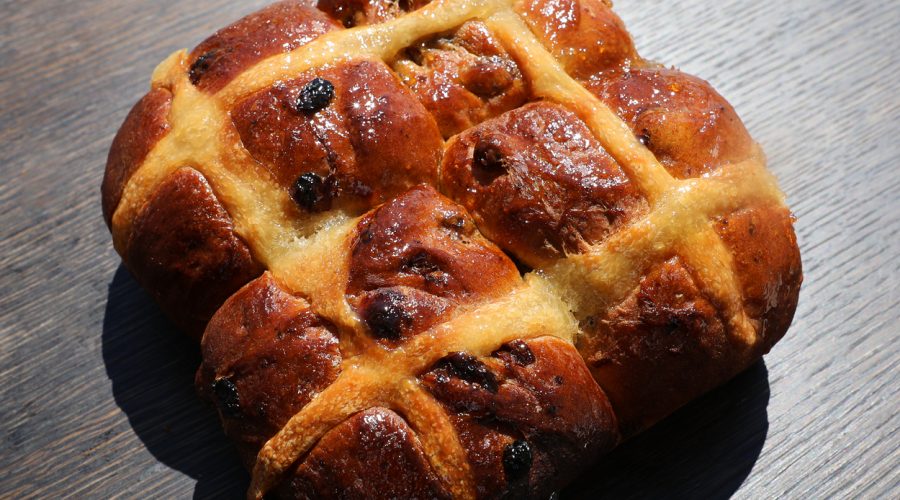 Embodying everything we want and more, Miann's hot cross buns are the sticky delight that we chose as our favourite this year. Unbelievably squishy, perfectly spicy and subtly sweet, these buns, almost double the size of traditional offerings, somehow feel weightless thanks to the airiness of the plushie dough.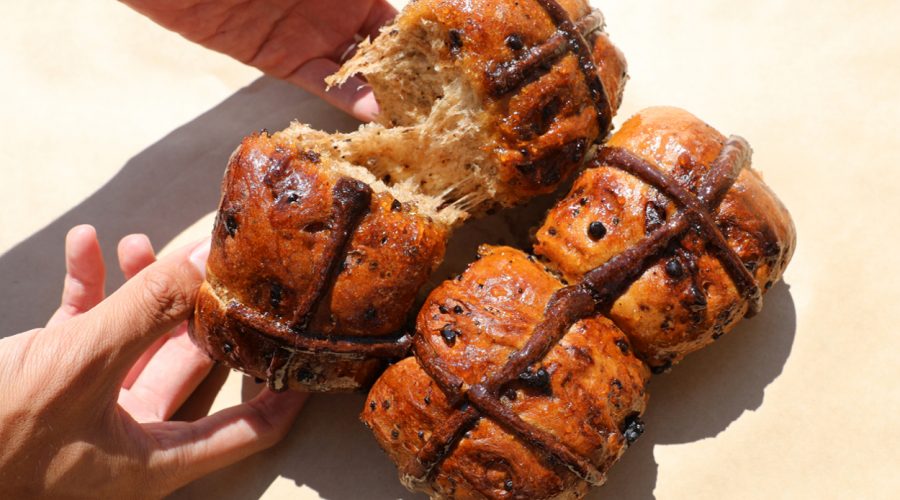 Dotted with just the right amount of fruit to lend some sweetness to each bite, even someone who was anti-raisins could get around these buns. However, Miann also makes the best chocolate hot cross buns, utilising premium bean-to-bar dark chocolate from their factory in Morningside. Whether you like yours fresh or toasted, we recommend you taking two and indulge in both styles as they're equally enjoyable and too good to not be experienced.