Identifying a need for healthy food options in Auckland and aiming to provide those options in the most convenient way possible, Health Nut Kitchen is delivering delicious, wholesome fare to those who don't want to compromise on time or quality.
The eggshell-blue exterior, standing out from the dense shopfronts and parked cars of Chancery Street, is a breath of fresh air in the midst of the inner-city bustle. It's calm interior, offering air-conditioned respite from Auckland's humidity, is an intimate, modern space with soft blue touches comprising the overarching colour scheme. Owners Brogan and Luke (with backgrounds in nutrition and personal training respectively) wanted to create an interior that connected people to the food, deciding to aim for ultimate transparency by keeping all the meal preparation in plain sight. With help from the team at Wonder Group, the result is an eatery that embodies and reflects its simple but visually arresting food.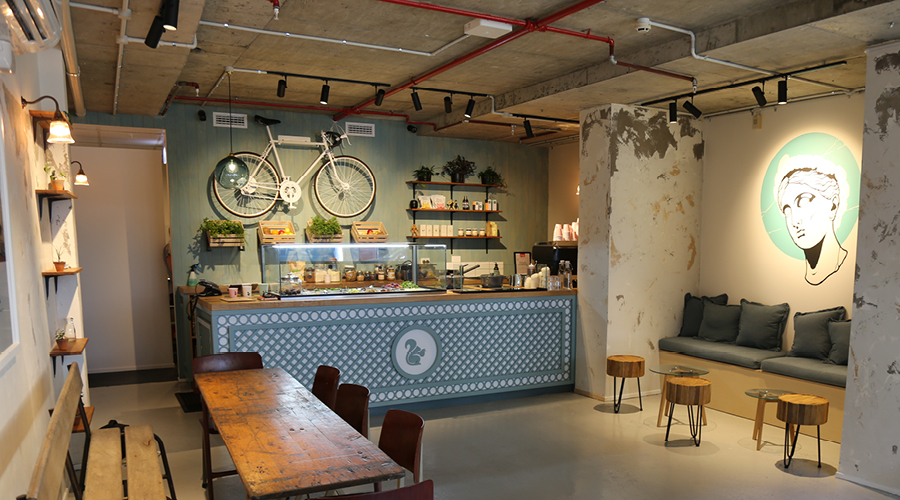 The entirely vegetarian menu is a well-balanced mix of both indulgent options such as the wholemeal chocolate waffles with homemade cashew cream, fresh fruit and a drizzle of pure maple syrup, as well as classically healthy, nutrient-dense veggie bowls. We would recommend the smoothies if you're short on time, which can also be made into bowls with added toppings including sprinkled buckwheat and crunchy popcorn, perfect for those who want to sit and savour
With Peoples Coffee providing punters with delightfully fair-trade caffeine, and vegan alternatives for those who want to take it one step further, Health Nut Kitchen is providing guilt-free breakfast and lunch for health enthusiasts and wholefood laymen alike. 
Opening hours:
Monday to Friday, 7am—3pm
Saturday and Sunday, closed
Health Nut Kitchen
19/37 Chancery Street
Auckland