Recently opening its doors as one of Auckland's most distinctive, luxury hotels, SO/ Hotel is fast establishing itself as the place to be in the CBD. With a strong focus on design — WORLD was brought on board to lend its unique sensibility to the finer details such as staff uniforms, while the interiors were finished by Space Studio — the hotel is endeavouring to challenge convention and promote individuality. Rising up in the space formerly occupied by the Reserve Bank, the building towers above its surrounds to offer sweeping, panoramic views of the Waitemata Harbour — a tableau best experienced from the hotel's new restaurant, Harbour Society.
Located on the 15th floor, Harbour Society immediately welcomes you into its warm dining room, where large windows frame views over the Downtown rooftops and across to Rangitoto. The natural light augments the space's gold accents, which glisten between the Moooi furniture and lighting installations (from ECC). Two private rooms, one for up to 22 people, the other for up to eight, provide the perfect spaces for those extra special occasions, while the rest of the dining area is open and inclusive — we're even offered a glimpse at the kitchen staff as they plate up.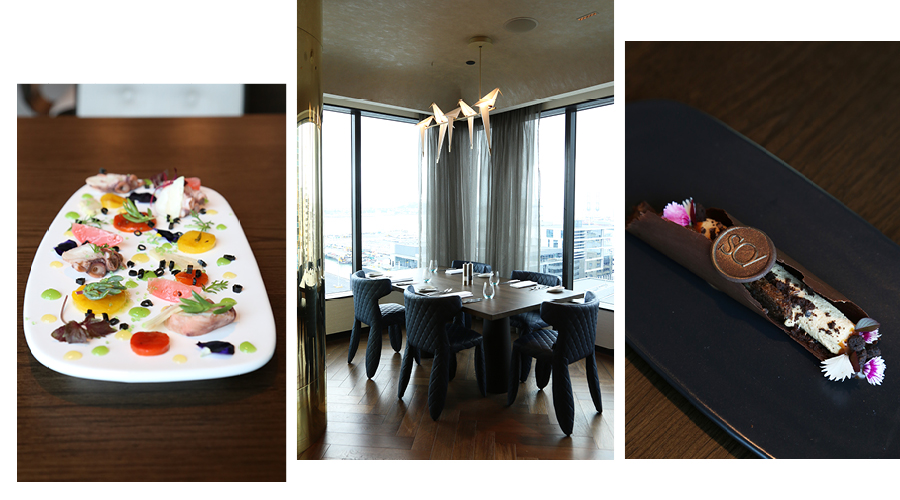 But a large part of what sets Harbour Society apart, is its Head Chef, Marc de Passorio. Recently moving to New Zealand from France where he owned the Michelin-starred L'Esprit de la Violette, de Passorio has a passion for New Zealand's clean environment and natural produce, which has led to his creating a menu that is distinctly fresh and strictly seasonal. "Nature is alive, I want my kitchen to be the same," he tells me, explaining how every dish is subject to change according to the produce in season. This approach sees vibrant fruits and vegetables used generously and expertly throughout the menu, which is a fresh, European affair featuring New Zealand seafood, hearty game and poised desserts.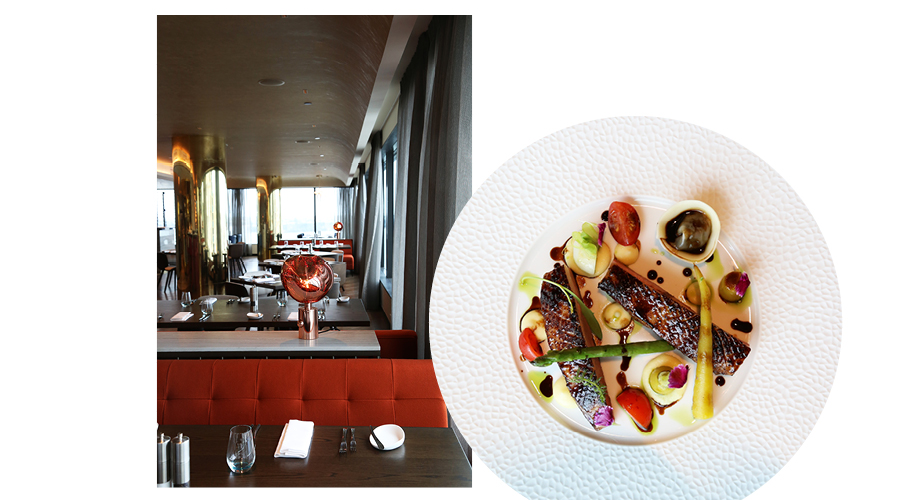 One of de Passorio's signatures, the lobster (a dish he said he first cooked for a certain, prominent Russian leader) sees the crustacean cooked in vodka (which he mentioned he may switch for New Zealand gin) in order to imbue the meat with hints of vanilla. Another dish features octopus prepared in water that has had a cork added to it, an old trick the chef learnt from his great-grandfather, and apparently, a way to ensure a perfect result, every time. With other dishes like the skillfully poached duck breast surrounded by an artistic melange of vegetables and mushroom ravioli, and desserts like the Bailey's parfait with brownie and grue de cacao, the menu finds a nice balance between fine-dining and accessible fare, sitting in a happy medium that will draw punters for every occasion from date nights to work lunches to meals where there's really something to celebrate.
That in mind, the hotel's impressive bar HI-SO, can be accessed directly from the restaurant via an atmospheric, dimly lit staircase that leads up to the next level. With views to rival those downstairs and booths that are available to book for a night, it's a set-up that lends itself well to an evening of impressive food and indulgent drinks, without really having to move anywhere at all.
SO/ Hotel
67 Customs Street
Auckland Central
09 379 1860