Renowned for its creative menu which features an array of one-of-a-kind dishes that are unlike anything else in Auckland, Han is continuously pushing the boundaries to showcase Korean flavours in delightfully unexpected ways. Raising the bar once again, Owner and Executive Chef, Min and Sous Chef, Kevin Lee have recently added a number of delicious new creations to their menu, the likes of which we guarantee you have never tried before.

Karbonara
You might not know this, but Italian cuisine has been a hugely popular delicacy in South Korea for a long time. Over the years, traditional Italian flavours have been re-shaped and moulded to appeal more to Korean palates, leading to the creation of a kind of hybrid Italian-Korean cuisine — very different from the pasta you would find in Rome. Chef Min and Chef Lee have adopted Korea's approach to Italian food and introduced their version of Carbonara to the new lunch and dinner menus. Employing a simple cream and cheese reduction, the dish is served on a bed of thick sauce, eschewing the traditional Italian method of dousing the pasta in an egg-based mixture. Kumara noodles replace the usual spaghetti, which lends the dish more bounce while a sprinkling of quinoa and taro stems add extra depth and texture. Instead of pancetta, Min and Lee have opted for big, juicy slices of smoked pork belly and crispy fried chicken, topping everything off with chopped Hawkes Bay walnuts to give the dish a nutty aroma while elevating the richness.

Soften Grains and Brie Free Range Chicken Roulade
Roulades are a staple in European cuisine and actually boast quite a few similarities to the traditional Korean dish, stuffed chicken soup, otherwise known as samgyetang. Min and Lee have married the two cuisines to create a special chicken roulade for their dinner menu, and it's a dish not to be missed. The chicken layer is thick while remaining succulent and juicy. The filling consists of elements which reflect both European and Korean takes on the roulade by utilising a hearty and mix of grains, kimchi and indulgent brie cheese. It's served with smoked eggplant purée to enhance the charred flavours of the chicken while a gochujang sauce elevates the spice of the kimchi in the stuffing. The side of roasted and glazed kumara along with the finishing touches of salty, crispy kale creates a medley of sweet and savoury, giving the roulade a perfectly balanced profile.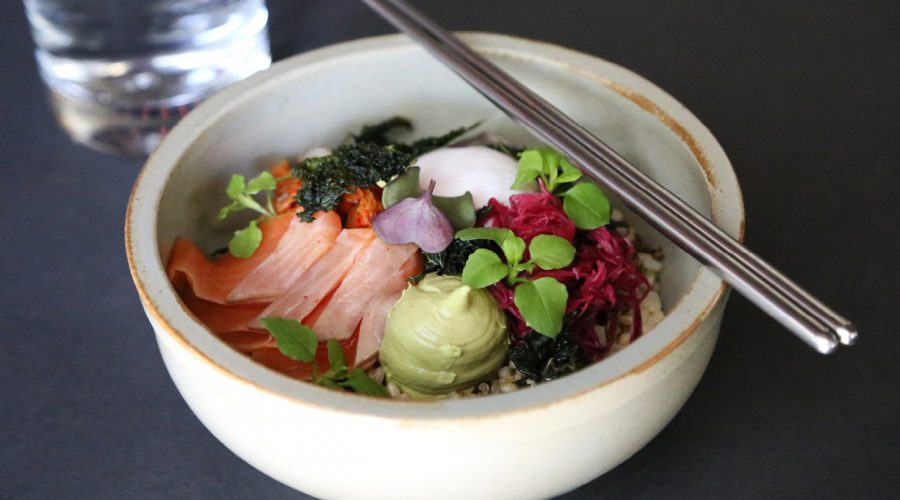 K-Bowl
When you think about Korean cuisine, it's likely that the bibimbap will be the first of a few dishes that come to mind. The bowl of rice with mixed vegetables, minced meat and gochujang sauce is no stranger to the dining scene in Auckland which led to Min and Lee deciding to get extra creative and innovative with their take on the dish. Han's K-Bowl (featured on its lunch menu) consists of a mix of four different grains — quinoa, brown rice, black rice and buckwheat to create a melange of flavours and textures. Topped with a twice-cooked, slow poached egg, the yolk is vibrant and runny, acting as a sauce that mixes through the grains for a creamier texture. Tender slices of gravlax salmon which have been infused with kimchi are gently placed on top, adding a touch of freshness, while a dollop of avocado purée enhances the creaminess of the egg yolk.

Han Restaurant
Unit G04a,
100 Parnell Road (inside 'The Rise'),
Parnell,
Auckland

09 377 0977