Greek food often brings to mind the delicious (and sometimes guilt-inducing) souvlaki/gyros found on the streets of cities around the world. The difference between the two kinds of delicacy is hotly debated, but both terms essentially refer to meat or vegetables that have been cut up, put on a skewer, then grilled to hot, tender perfection before being served up on flatbread with sauce to devour. It has come to our attention that local purveyor of mouth-watering Greek fare, Gerome, is proffering this adored food in a speedy and sophisticated way via its daily 'Souvlaki Sessions'.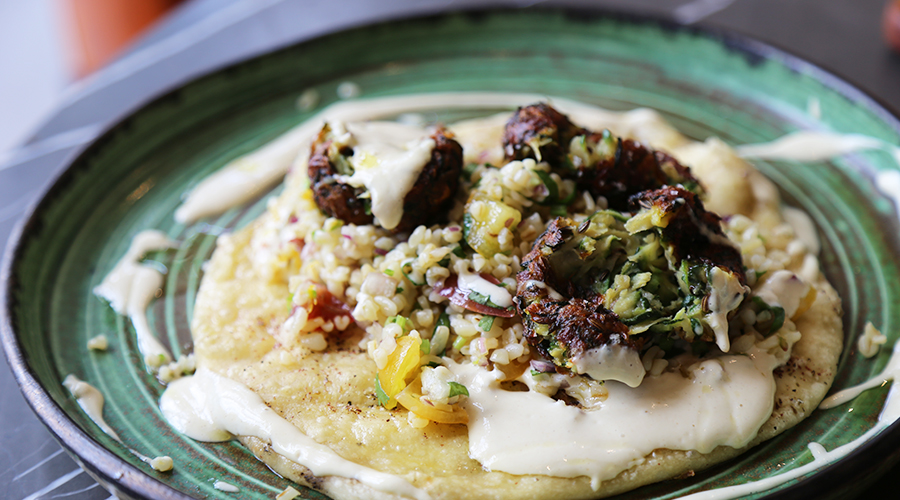 Featuring on the restaurant's express lunch menu every day from 11:30am-3pm are six different souvlakis starting from $15 a piece. Of all the equally enticing options, we tried the one with courgette keftedes (pulled apart vegetarian meatballs) and can confirm that it was nothing less than hedonistic. Saucy, bready and gratifying, the rest of the line-up is much in the same vein; the pulled lamb shoulder comes with feta and fries in an elevated version of the classic; flavoursome chicken thighs are married with iceberg lettuce, mayonnaise and lemon; and the burnt eggplant is a show-stopper with cauliflower purée, pine nuts, white raisins and tahini.
This straightforward and seriously satisfying bite has made a memorable entrée into our lunch repertoire. May we advise you to follow suit.
Gerome
269 Parnell Rd
Parnell
Auckland
(09) 373 3883