Next time you're taking a lunchtime stroll down Wakefield Street be sure to keep your eyes peeled because there's a new 'blink and you'll miss it' spot that's worth looking out for. In an unassuming, hole in the wall location neighbouring the Korean supermarket I-Mart, the freshly opened Freaky is on its way to becoming the dark horse of the CBD's cafe scene.
Blurring the lines between fast food takeaway joint and cutesy cafe, owners Diva Giles and Logan Birch have created a captivating hybrid, delivering on-the-go food of a delicious, restaurant quality. The menu is short but sweet, comprising just five options. The fruit granola concoction is perfect for a morning bite, while their lunchtime offerings consist of tender, crispy fried chicken and cumin and coriander falafel, served separately or alongside the rotating daily salad. The Croque Monsieur is an equally enticing contender; think stringy, melted cheese, thick harmony ham and a slick of mornay sauce sandwiched between two slabs of sourdough, before being fried to perfection — a comforting winter bite if there ever was one.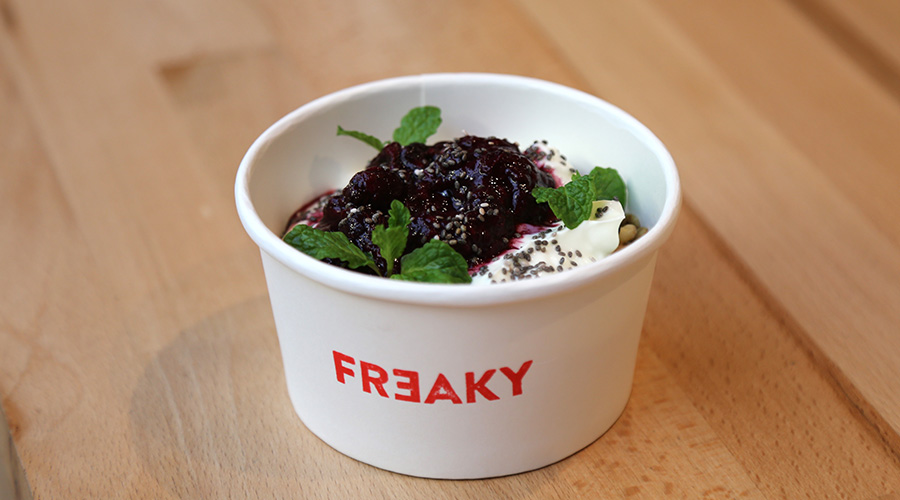 With a pastel pink and cherry red colour scheme combined with charming little ornaments — a vase of flourishing pink flowers here, a stack of colourful, coffee table book spines there —  this humble little place has been turned into an appealing lunchtime hotspot. Combining a delightful aesthetic with delicious, well-presented fare and piping hot Flight coffee, Freaky is set to switch up our expectations for fast food.
Opening hours:
Monday – Friday, 7am – 3pm
Freaky
15 Wakefield Street
Auckland CBD
(09) 379 9342