Once the sole domain of artisanal bakers, a quick scroll of your instagram feed will tell you that in these unprecedented times, the art of baking bread has fast become a daily delight for all. It may have something to do with the strongly reduced sense of control over our lives. The simple act of being self reliant can manifest a feeling of order, so the act of baking bread — or at least trying to — gives us a sense of control at a time when we're feeling particularly helpless.
Your first step to taking control is tracking down flour but Pandora Panetteria have come to the rescue, with their High Quality Baker's Flour available online (you can also order the bread if you're not the kitchen apron type).
But what is it that makes sourdough so universally appealing? We consulted two experts on the matter; Thomas Hishon (Daily Bread and Orphans Kitchen) and Paul Leaming-White, The Dusty Apron (former baker at Amano and now supplier to Auckland's top restaurants including Ostro and Saint Alice).
The process of making sourdough has been around for thousands of years. The mass production of bread 150 years ago led to the commercialisation of bread where the usual 'starter' for sourdough fermentation was replaced by the more convenient, store-bought yeast and sugar. This resulted in the spongy slices we have become so familiar with now, and which, even Hishon admits he has a soft spot for.
A good sourdough begins with a good starter. Leaming-White describes his as a member of the family and when he isn't looking after his daughter, he's looking after his starter. He has named it Obi and it has been with him for 20 years. Similarly, the bakers at Daily Bread work day-in, day-out (sometimes 16 hour days) to ensure their five different starters are getting the attention they need to stay alive — without them, there can be no sourdough. Beyond the crucial starter, it's the process of fermentation that gives this bread its tangy, complex flavour, soft and juicy crumb and blistered aesthetic. Hishon particularly emphasises the fact that this process also breaks down gluten, which is great for people like him who are intolerant to wheat. Turns out, it's not just any old bread that makes you bloat, it's just bad bread.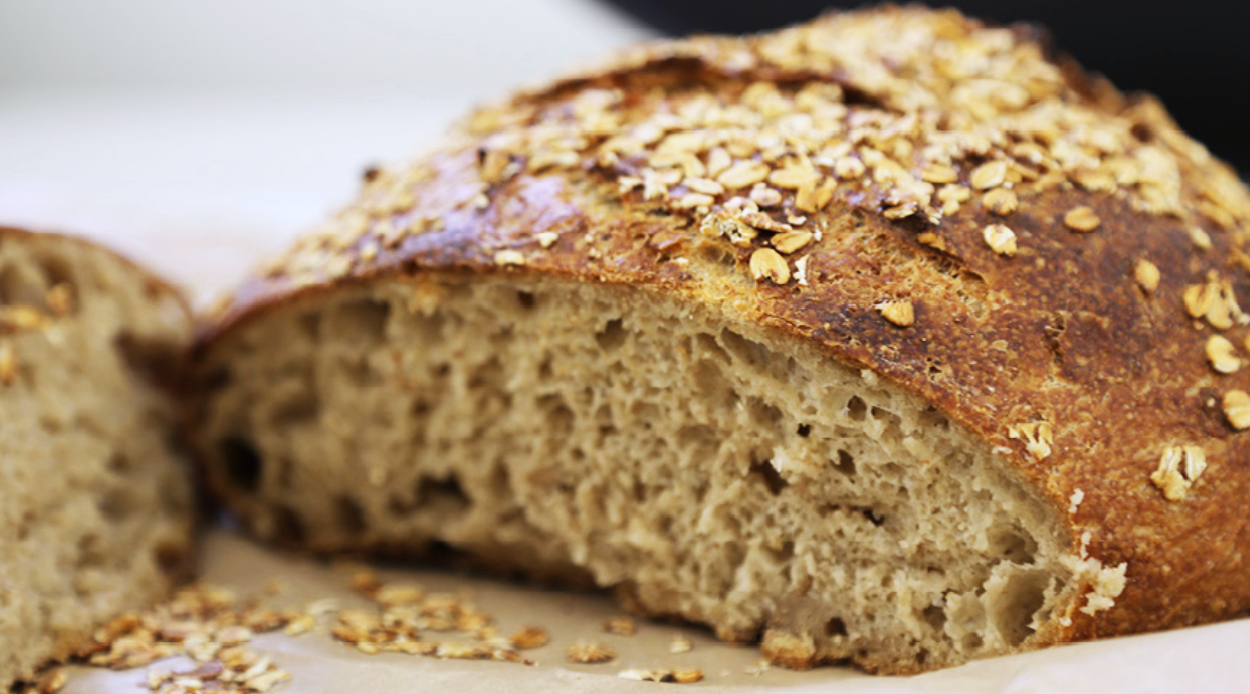 Hishon and Leaming-White both make it clear that not all sourdough is the same, however. Sourdough has been the subject of some misleading marketing and is commonly mislabeled. A sourdough loaf (the proper kind) should only have three ingredients — flour, water and salt. Many commercial loaves include potato starch and various number codes in their ingredients which are additives that disrupt the fermentation process and ultimately detract from the loaf being an authentic sourdough.
So it would seem that the process of making sourdough requires an immense amount of care, integrity and attachment. A technique that can be "learnt but never mastered," as Leaming-White explains. Which tends to leave us thinking that we should stick to the specialists on this one and order a freshly baked loaf from the professionals.
Sourdough Bread and how to make a Sourdough Starter
Ingredients
500g flour (20% Wholemeal Spelt, 80% Baker's)
400ml water
10g salt
20g semolina, for dusting
50g refreshed starter
Method
For your Sourdough Starter

1. Combine 20g Wholemeal Spelt Flour and 20ml Water. Cover and ferment at room temperature to 30℃ for 48 hours.
2. Take 40g Starter and stir in 20g Flour (20% Wholemeal Spelt, 80% Baker's) and 20ml Water into the mixture. Cover and ferment at room temperature to 30℃ for 24 hours.
3. Take 80g Starter and stir in 20g Flour (20% Wholemeal Spelt, 80% Baker's) and 20ml Water into the mixture. Cover and ferment at room temperature to 30℃ for 24 hours.
4. Take 120g Starter and stir in 20g Flour (20% Wholemeal Spelt, 80% Baker's) and 20ml Water into the mixture. Cover and ferment at room temperature to 30℃ for 24 hours.

By now your sourdough has bubbled up, subsided and smells fruity. You have your sourdough starter. Discard all but 20g of your starter. Mix in the fresh ingredients, 50g Flour and 50ml Water cover and allow to rest for 2-3 hours at room temperature. The more you wait the more acidic the bread will be. If you leave it for too long it will collapse into a batter-type consistency and will require this process to be repeated.
No-knead Sourdough
1. In a medium bowl, mix flour and salt together.
2. In a separate bowl dilute your starter with the water, mixing with the back of a spoon until dissolved.
3. Pour liquid mixture into dry mixture and combine with your hand for 15-20 seconds until it forms a shaggy dough with no lumps of flour.
4. Scrape down sides of your bowl into the mixture.
5. Cover with glad wrap and set aside at room temperature for 12 hours. Dough should double in size during rest period.
6. After 12 hours, flour your bench top and scrape the dough out of the bowl onto the bench.
7. Gently fold your dough over on itself from each side to make a roundish shape. Dust your tea towel with semolina and drop your dough onto it with folded side facing down.
8. Fold the tea towel over the dough to retain shape and allow to rest for a further 3 hours at room temperature.
9. Preheat the oven with dutch oven or similar inside at 250C for a minimum of 30 minutes prior to baking.
10. Once your bread has rested for 3 hours, remove your pot from the oven. Unwrap your dough and place in the pot with the seam facing up. This will produce the desired crack in your bread.
11. Replace lid and place the pot back in the oven baking for 30 minutes.
12. Remove lid and bake for a further 15-20 minutes until desired golden crust achieved.
13. Place bread on a wire rack and allow to cool before slicing and serving.
Note: Looking after your sourdough starter – Always set aside 20g of your starter before baking. – To maintain your starter for regular bread baking, feed your starter daily as per Day 6 process. – To save your starter with less maintenance, store in the fridge and bring to room temperature once a week repeating Day 6 process. – Recipe Shannon Bennett, Burnham Beeches