Growing up in New Zealand, I've had a few experiences with paua (eating it that is). But it wasn't until sitting down with Euro's Executive Chef, Gareth Stewart, to talk through his new paua-centric menu that I fully grasped the scope of this shellfish's culinary potential.
Stewart has created a special menu for Euro for the month of October, where, for $29.95 diners can pop into the waterfront restaurant for a three-course lunch of dishes that have been created specifically to showcase paua. Also known as abalone, this meaty shellfish is considered a delicacy both here and overseas. It can only be acquired by free diving, and as Gareth pointed out, in the South Island you have to fight off a few great whites to get to it.
Despite the fact that we've all probably chewed our way through some particularly tough iterations of this protein before, Gareth's own bad experiences with this species weren't going to get in the way of his aim to showcase paua as something delicate and flavoursome. "It was always going to be a bit of a challenge," he said, "but when you're scared of something, you've got to tackle it head-on." And thank god he did.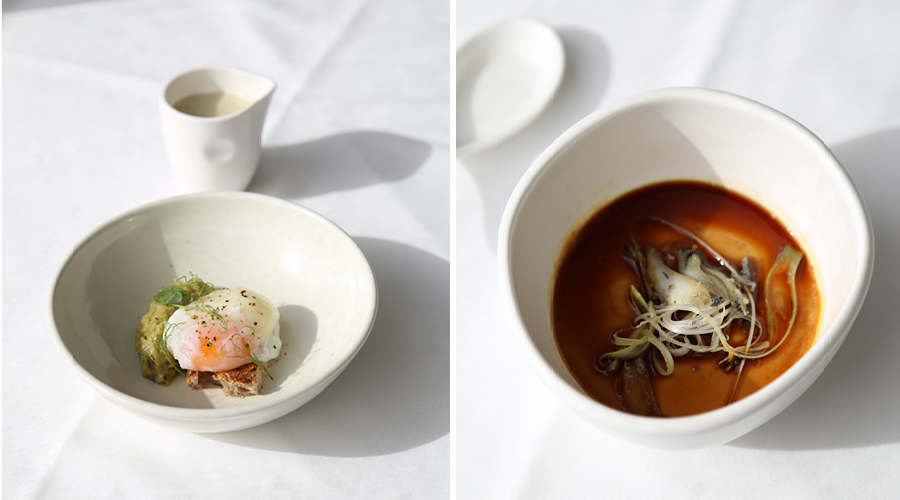 With a menu that includes paua sesame toast with smoked mussels and miso butter, wild-caught paua paired with Taupo beef and potato terrine and a paua agnolotti with bonito broth, Euro is offering a variety of ways to experience the delicacy. Having sampled three of the dishes — a paua carbonara, an impossibly soft 63-degree egg with creamed leeks and paua soup and a delicious umami chawanmushi dish made from a bonito and kombu (type of seaweed) stock which is set with egg, soy and mirin and topped with spring onion and paua — I was blown away by the subtle way the seafood tied into each dish. "We've tried to keep it simple and true to the products" Gareth explained, going on to talk about how this particular species lends itself naturally to more garlic and umami flavours.
In telling me about the first person who introduced him to the classic Kiwi creamed paua, Gareth explained how he had taken the "throw it in with some onions and wine and cream" recipe and refined it. The paua used at Euro is sustainably farmed and sourced from Ruakaka and instead of being treated to a bashing (as is often thought to be the best method of tenderising the meat). Gareth explored lightly shucking the paua out of the shell and cooking it sous vide — a two-hour, 75-degree slow cook in a bag with garlic butter — to result in a texture that is soft, not chewy.
This paua extravaganza will last only for the month of October with the prix-fixe lunch menu available between 12pm and 4pm, seven days a week. So as the days get longer and the hope of more sun on the horizon, what better excuse to head to this waterfront stalwart for a lunchtime escape? Bookings are recommended. To book a table, click here.
Euro Bar and Restaurant
Shed 22
Princes Wharf
Auckland
09 309 9866