Who'd have known that perfecting the humble hot chip required such dedication and attention to detail? Well, clearly Timothy van der Werff did, and he has spent the last few years doing exactly that.
Starting Double Dutch fries with nothing more than a passion for the crispy delicacy — "I just really love fries" — and a head full of dreams, van der Werff has taken his boutique business from markets and food trucks to a permanent storefront, recently opening in Takapuna's Fortieth & Hurstmere laneway. The dedicated new "chip bar" is serving up delightfully crunchy morsels that have been hand-cut, double fried in a specifically-chosen strand of sunflower oil (that renders the final product delicious even without sauce) and finished in the authentic, Dutch style that's proven to be van der Werff's crucial point of difference.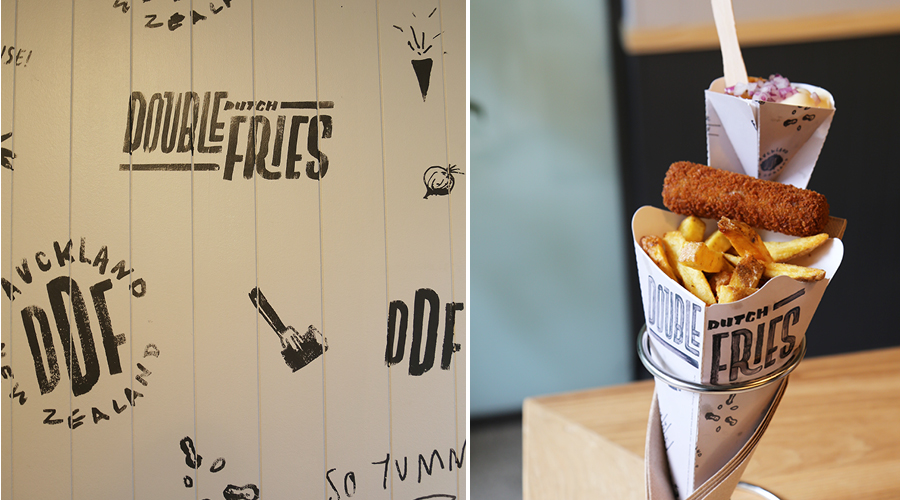 Traditional treats like Stroopwafels (thin, circular Dutch waffles with caramel in between) and krokets (similar to a croquette but filled with meat ragout) feature on the menu alongside the undisputed highlight, the Patatje Oorlong, that combines fries with generous dollops of Dutch mayonnaise (imported from the Netherlands no less), satay sauce and finely chopped onions. "It's the biggest compliment when we have Dutch customers give us their approval," says van der Werff, but it isn't just the Dutch who have given these chip experts the thumbs up. Off the back of a food truck that has been extremely well received on Auckland's market circuit — apparently going through an impressive one tonne of potatoes in high season — it's clear that Double Dutch has an appeal that transcends the tastes of its countrymen only.
It's the perfect place to drop in for a delicious lunch, where punters can watch the cutting and frying process from their seats at the bar. "We love spinning a yarn with our customers," exclaims van der Werff, going on to say, "we wanted to make sure we were always connected to the people who visit the new store."  Whether you're a fry fanatic or simply in the mood to indulge, these crunchy creations are undoubtedly some of the best of their kind in Auckland, and it looks like they're here to stay.
Opening hours:
Sunday to Thursday, 11am – 9pm
Friday and Saturday, 11am – 9:30pm
Double Dutch Fries
40 Hurstmere Road
Takapuna
Auckland