Viaduct Harbour has long been a favourite location of Aucklanders. Its idyllic waterfront views are envied by people around the globe and although the number of eateries isn't as overwhelming as places such as Dominion Road, the combination of the scenic lookouts and delicious food makes spending an entire day in this precinct a no-brainer. The only struggle you may face is deciding on a place to spend your long lunches that could potentially stretch into the dinner hours. As such, we have curated a list of our favourite restaurants in Viaduct Harbour and the dishes you simply must order at them.

Saint Alice
From the moment we first bit into the oyster McMuffin at Saint Alice, this all-day rooftop eatery immediately became a strong favourite. No matter what day of the week or time of the day, Saint Alice always makes for an enjoyable experience. During the weekdays, get amongst the lunch express menu which comprises delectable dishes like the fish tacos, a fried chicken burger and the Caesar salad. Our go-to dish, however, is the new croque madame. Boasting four different kinds of cheese and a stack of ham slices, this is a dish of pure indulgence. A poached egg sits atop the mountain of cheese, while the runny yolk enriches the dish even further. If it's a long Saturday lunch or dinner that you're after, the sharing plates are no less impressive. Oysters from the raw bar are a given, and be sure to order the smoked bone marrow and woodfired lamb rump, served with a white bean cassoulet, fire tomato vinaigrette and green olive, parsley and preserved lemon salad. Pro tip: stay until the clock hits 10pm for some $10 espresso martinis.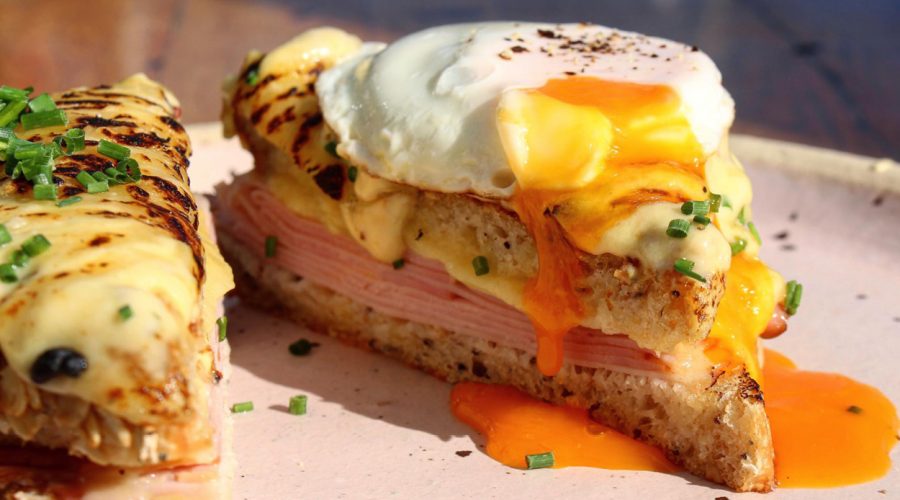 Grand Harbour Chinese & Seafood Restaurant
If you have a craving for dumplings, look no further than Grand Harbour Chinese & Seafood Restaurant. This place is an institution and has been doing a service, not only for introducing yum cha to the mainstream but also for providing the Chinese-New Zealanders with an authentic taste of local Chinese cuisine. Grand Harbour is renowned for the freshness of its dim sum. The trolley carts that circulate the room are emptied by hungry patrons after just a single round which ensures that the dim sum dishes are always at its optimal level of tastiness. Although it's tempting to say yes to every dish that comes your way, remember to spare some stomach space for the lo ma gai — sticky rice that is wrapped in lotus leaf and, of course, the pineapple buns filled with apple custard for dessert. Grand Harbour also serves an epic lobster dish with noodles in the dinner time which is large enough to feed a village, making it a popular restaurant for large family gatherings.
Soul Bar & Bistro
With a wide selection to choose from its menu, it only makes sense to extend your lunch through to dinner so you can make the most out of your stay at Soul Bar & Bistro. The mac and cheese with pulled ham hock and truffle oil is a dish that is suited to any time of the day. A dish that pairs perfectly with a starter of the salt and pepper squid, which sits on a plate smeared with almond skordalia. As you wait for your food to digest, sit back and take a peek at the cocktail menu, as Soul's concoctions are ones that cannot be found anywhere else. The Mile High Club is a mixture of gin, maraschino, creme de mure, blueberry, lavender, lemon and egg whites — a one of a kind drop that has floral notes to complement the fruity sweetness, while the egg whites give it a delightful frothiness. As you sip on your beverage, order a bowl of shoestring fries — which will stay crispy for hours on end — and some slices of the smoked trevally toast. For dinner, go for something heartier such as the pork belly or our current favourite, duck breast served with pascal, black garlic and sour cherry jus. The duck is unbelievably succulent and juicy and goes down a treat with another one of their special cocktails. Perhaps something fresher and slightly more sour, such as the Dear Olivia, a mix of pink grapefruit vodka, lemon, mint, orange marmalade and ginger beer.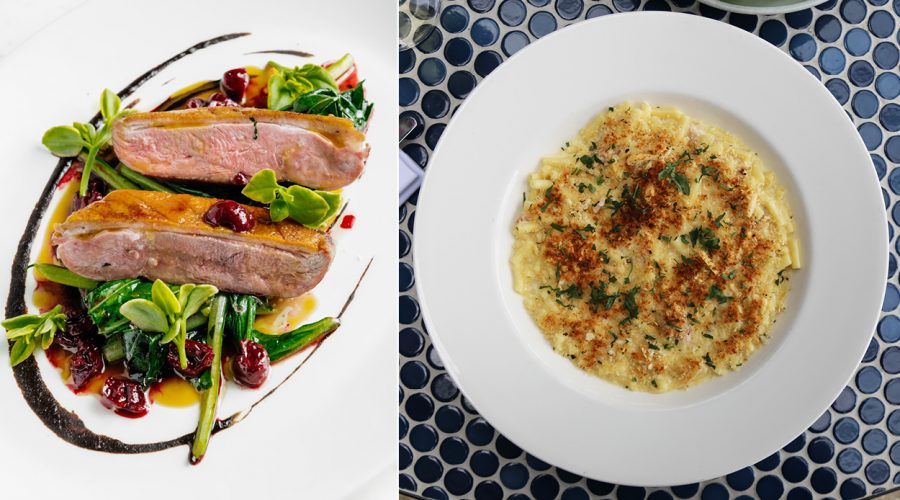 Giraffe
Open from as early as 7am on weekdays and 8am on weekends, Giraffe is a restaurant that has you covered from breakfast, lunch, dinner to dessert. The selection of breakfast items goes beyond the traditional eggs bene that you would find at other cafes. Executive chef Simon Gault has created an enticing menu of creativity by adding his own spin to breakfast classics, like the Giraffe Benedict with Indian kumara, but it's the smashed truffle peas on sourdough that really steals the show. For lunch, you can't go wrong with the trevally crudo. The fresh slices of fish are adorned with the pickled plum known as umeboshi, salted yuzu marinated shiitake mushrooms, rich salami, and goji berries that deliver bursts of sweetness in the mouth. Dinner and dessert is when Giraffe shines the most. The meals are hearty, soulful and deliciously comforting, especially the suckling pig which is so tender and soft that it can be sliced with the edge of a plate. Remember to save room for dessert as you don't want to miss out of the sticky date pudding, served with a sweet and decadent butterscotch sauce, crunchy candied walnuts and vanilla ice cream. Complement the sweetness with a glass of one of their ten dessert wines on offer, which includes a variety of stickies, ports and sherries.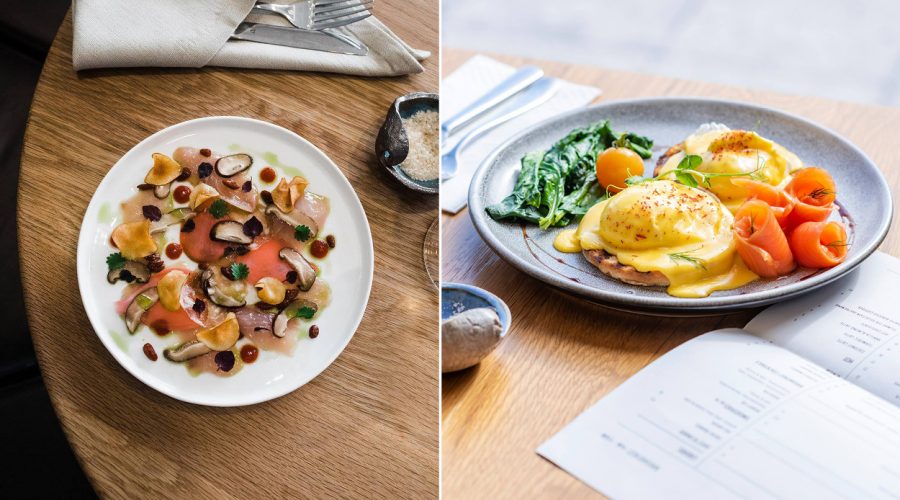 Dr. Rudi's Rooftop Brewing Co.
The rooftop brewery, bowling alley and restaurant has all the resources for a fun-filled day, you'll never want to leave. Although the chef's at Rudi's serve up classic breakfast meals on the weekdays, this rooftop eatery and bar shines its brightest on the weekend. With 18 beers on tap, plenty more stocked in the fridges and an elaborate cocktail menu, sitting at Dr. Rudi's never results in a 'quick drink.' Not only does this place have an extensive drinks list, but the food offerings are just as grand. They are mostly known for the pizzas sold by the foot, and for good reason too, as they are undeniably delicious. Our favourite variation is The Mexican, with toppings that comprise spiced ground beef, jalapenos, chilli beans, mozzarella, sour cream, guacamole and house-made corn chips, offering a party of flavours in the mouth. The beer-battered McClure's pickles also cannot go amiss, especially when the chefs have gone the extra mile by marinating the crispy, juicy morsels in buffalo cheese. When you're feeling slightly weighed down from the carbo-loading, pick up a bowling ball and play a few rounds before ordering another round of brews.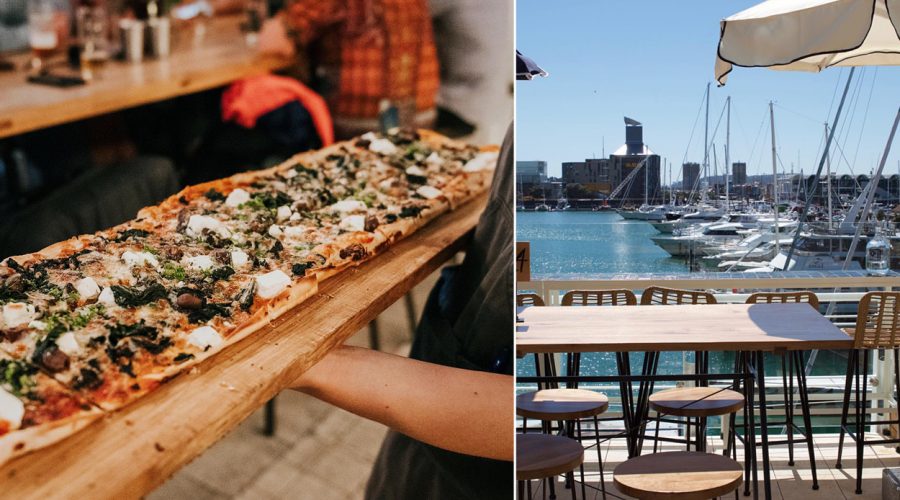 Hello Beasty
Drawing inspiration from Korean, Japanese and Chinese cuisine, Hello Beasty is where you go when you want your tastebuds to be stimulated and taken on a journey. Each dish offers a complex medley of flavours which are influenced from all across Asia, with a few exciting vegetarian options thrown in there, too. Raw seafood and sashimi aside, it's the spinach, charred-corn and tofu dumplings that you must order at this restaurant. The aromatic and juicy dumplings burst with sweetness from the corn, which then contrasts with the Japanese black vinegar. In the daytime, we recommend you stick to the lighter share plates, like the many dumplings and baos on offer, as you want to save yourself for the hearty larger plates. The barbequed eggplant makes diners rethink the vegetable as it's packed with savoury umami flavour and crispy furikake. The slow-cooked lamb shoulder is marinated with Sichuan pepper for a mouth-numbing effect and is also one of Hello Beasty's most popular items. Dessert should always be in the equation when visiting this restaurant, as the kkwabaegi can only be found at this establishment. The freshly fried braided doughnuts are inspired by the Korean street food, but these have been elevated with a drizzle of chocolate and miso caramel, making the fluffy pieces of sugar-coated dough all the more indulgent.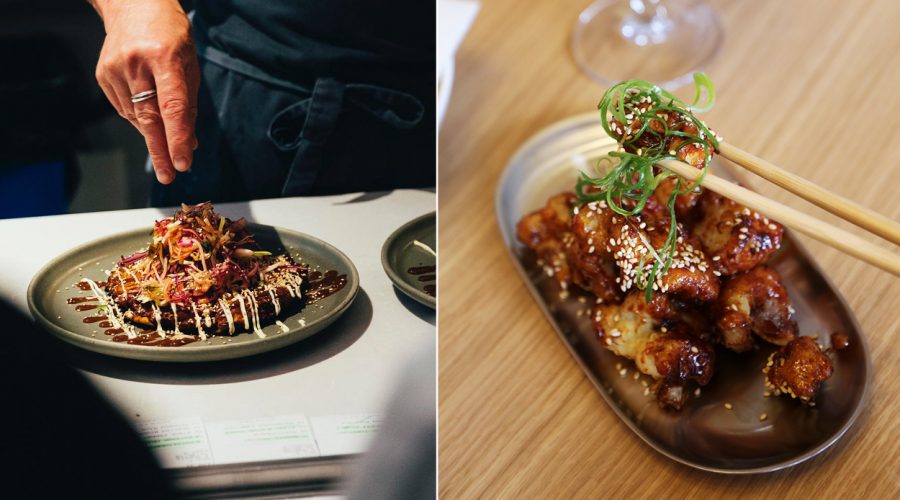 Boracay Garden Restaurant
Filipino food may not be the most popular in Auckland, but we predict that it will be the next cuisine to go viral in our city. The bold, distinct flavours are unique to anything we have tasted before and Boracay Garden Restaurant does the cuisine justice. The restaurant is open from Tuesday to Sunday for lunch and dinner and the daytime offerings have been portioned down to individual meals as the nighttime menu is designed as a feast to be shared with a crowd. For lunch, we suggest the pancit canton, a noodle dish that comprises prawns, chicken and mixed vegetables that been tossed in an oyster sauce and soy mixture. Dinner is when you invite as many people you know to join as you will need as many hungry stomachs as you can get. The crispy pata is an absolute must when you're dining at Boracay and is also a rare find in restaurants around Auckland. The pork hock which weighs in at over 2 kilos is deep-fried for an unbelievable crisp and succulence. To counteract the richness, the pork is served with a vinegarette, giving it a moreish flavour that keeps people going back.