It's a tough job, but someone has got to do it. We've eaten our way through a thorough selection of some of the best hot cross buns in town in order to determine the specific composition of each one and, in turn, guide you to choose the best bun for your tastes. From fruit ratio to texture; crust thickness to whether we think the bun is better toasted or untoasted, we've made sure to meticulously chart the strengths of each.
Now, without further ado, we present our comprehensive hot cross bun findings: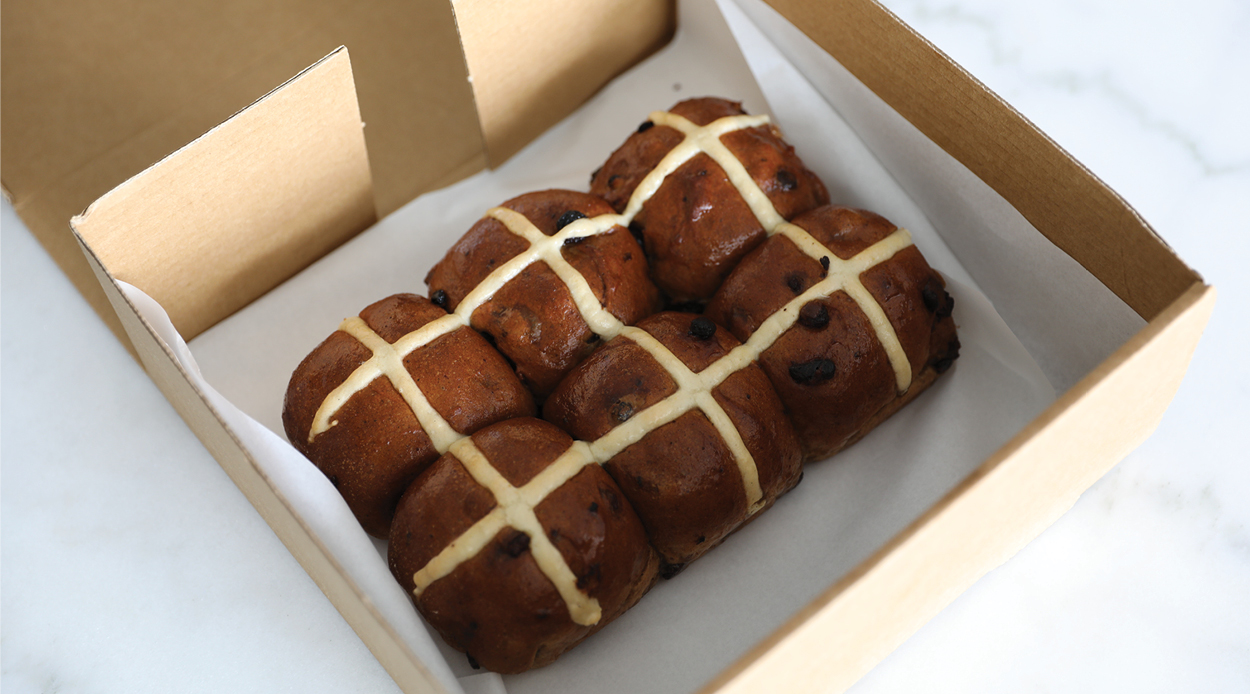 Knead on Benson
Like all of Knead's delicious cabinet offerings, these Hot Cross Buns are baked fresh daily. They get extra points for presentation thanks to their enticingly glazed sheen and perfectly piped crosses. Bite inside and the texture is soft and doughy, with a generous sprinkling of fruit and — as a nice surprise — some hints of chocolate too. Knead on Benson will be open throughout the Easter break and serving an Easter-themed danish too, so if you're in town over the long weekend, it's worth a visit.
Fruit ratio: 50 percent
Texture: Soft and a little fluffy
Crust: Soft and sticky
Serving suggestion: Untoasted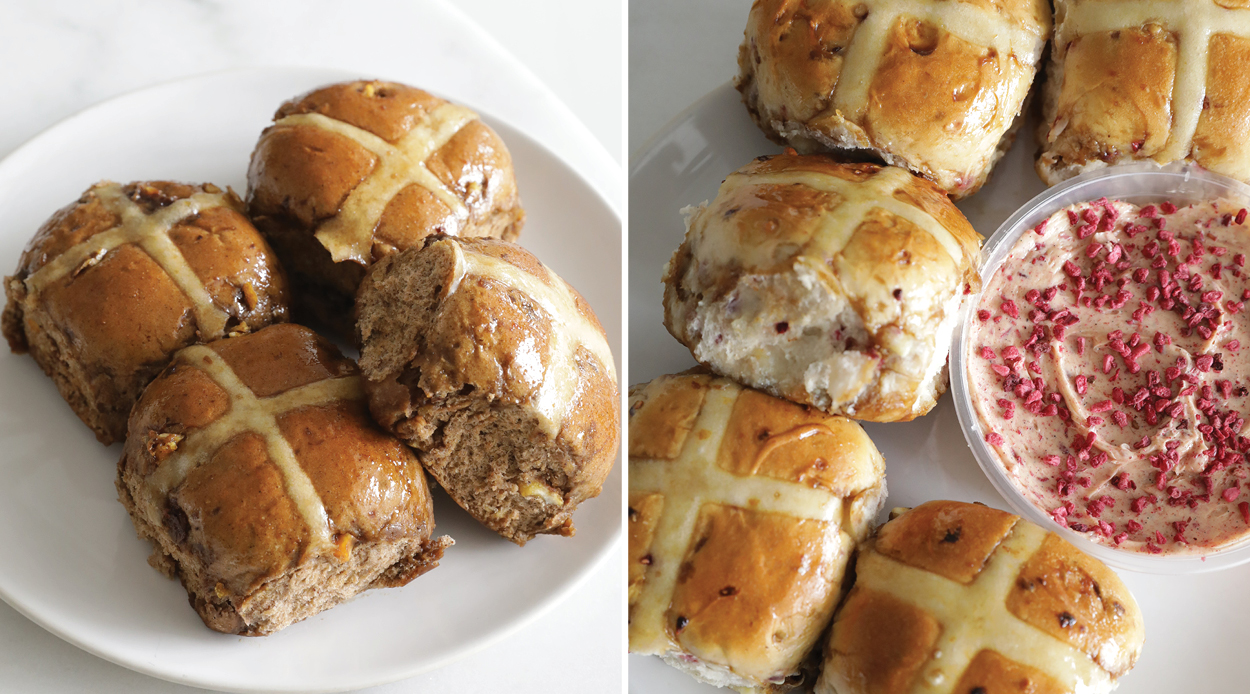 4&20 Bakery
This Remuera bakery's buns are ultra-soft, fluffy and sticky, and the traditional flavour is heavily spiced with cardamom, citrus and mint notes. While the dough is quite sweet, they are coated with an espresso glaze leaving an aromatic, bittersweet finish. If raisins aren't your cup of tea, 4&20's white chocolate and raspberry buns are a sweet-tooth's dream, minus the dried fruit. Try either bun with the bakery's vanilla bean or raspberry butter, which has a pleasant icing-like finish.
Traditional flavour fruit ratio: 40 percent
Texture: Soft and fluffy but not super light
Crust: Soft
Serving suggestion: Untoasted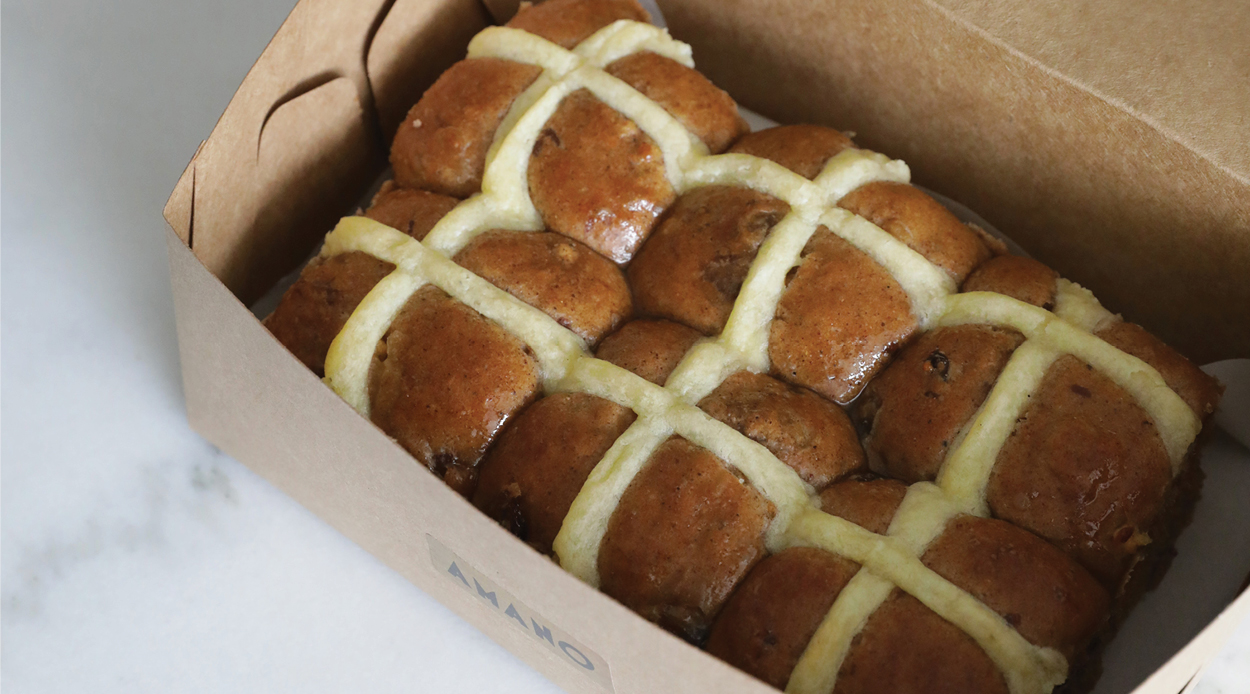 Amano
Amano bakery's hot cross buns are generously-sized and well-risen, and the sourdough lends them a dark, almost brown bread quality. They are perfect for those who love a fairly dense bun with a generous amount of fruit, and are not overly sweet or glazed, instead drawing a wholesome sweetness from the raisins and citrus peel. Because of their sturdy texture, we love these buns toasted with (of course) a hearty spreading of salted butter.
Fruit ratio: 40 percent
Texture: Dense
Crust: Slightly firm
Serving suggestion: Toasted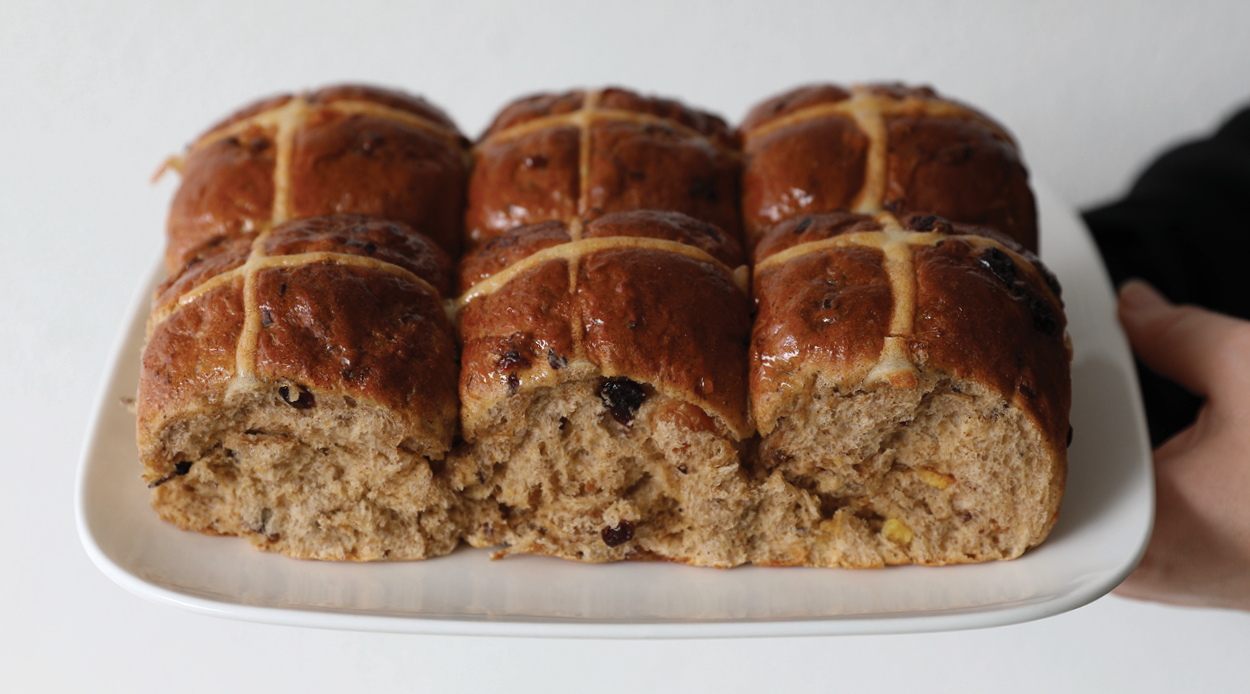 Vaniyé Patisserie
From Parnell's Patisserie, these batches of hot cross buns are so hot, they are selling out as quickly as they come out of the oven. Baked by owner Sonia Haumonté and her team, the old fashioned-style buns are made with rye flour and care, for a dense and full of flavour mouthful. A group of six buns are sealed in packaging to be able to be kept at room temperature — and to continue to bring joy — for four days.
Fruit ratio: 40 percent
Texture: Dense and heavy
Crust: Light with a glaze
Serving suggestion: Toasted with butter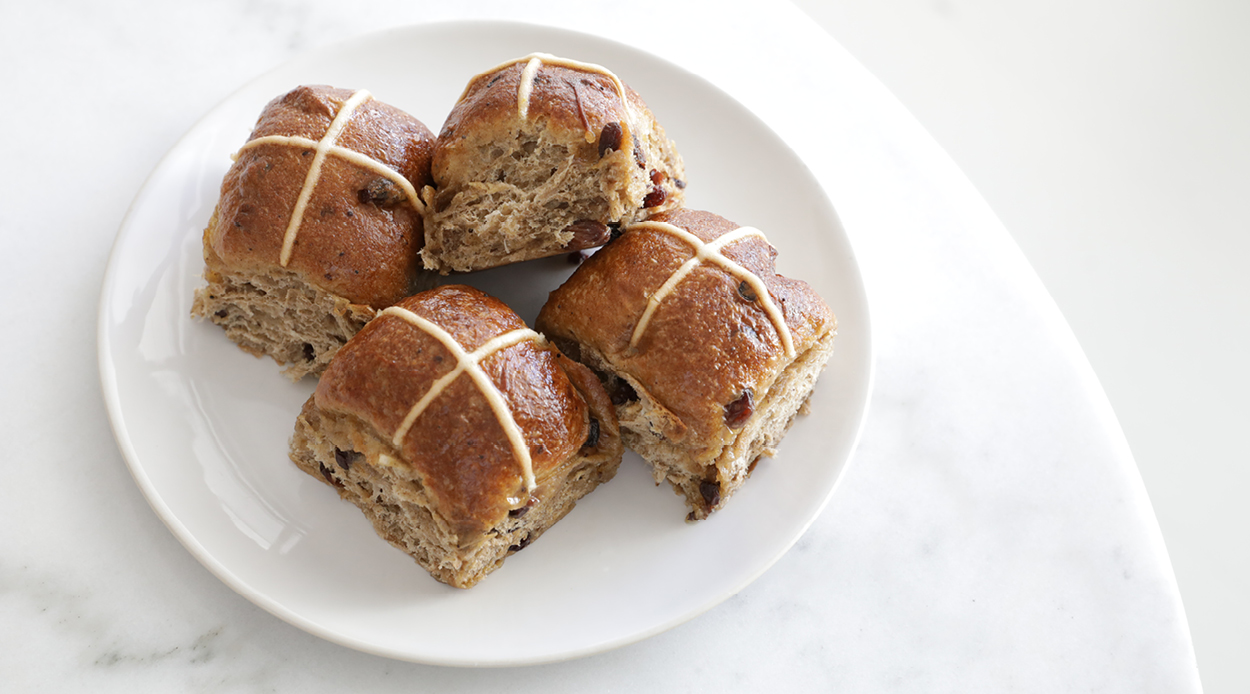 Daily Bread
While Daily Bread's buns are also made with sourdough, they are light and fluffy while still retaining the lovely complexity of flavour that sourdough brings. The team has perfected a technique called Lievito Madre, a sourdough process similar to that used for a panettone loaf, which gives that lightness without any additives. With every little detail made from scratch, the spice mix is ground fresh and the fruit is soaked in-house. The glaze is even made with freshly juiced oranges from Gisborne, lending a lovely glossiness and sweetness that's not overpowering.
Fruit ratio: 20 percent
Texture: Light and fluffy
Crust: Slightly firm
Serving suggestion: Untoasted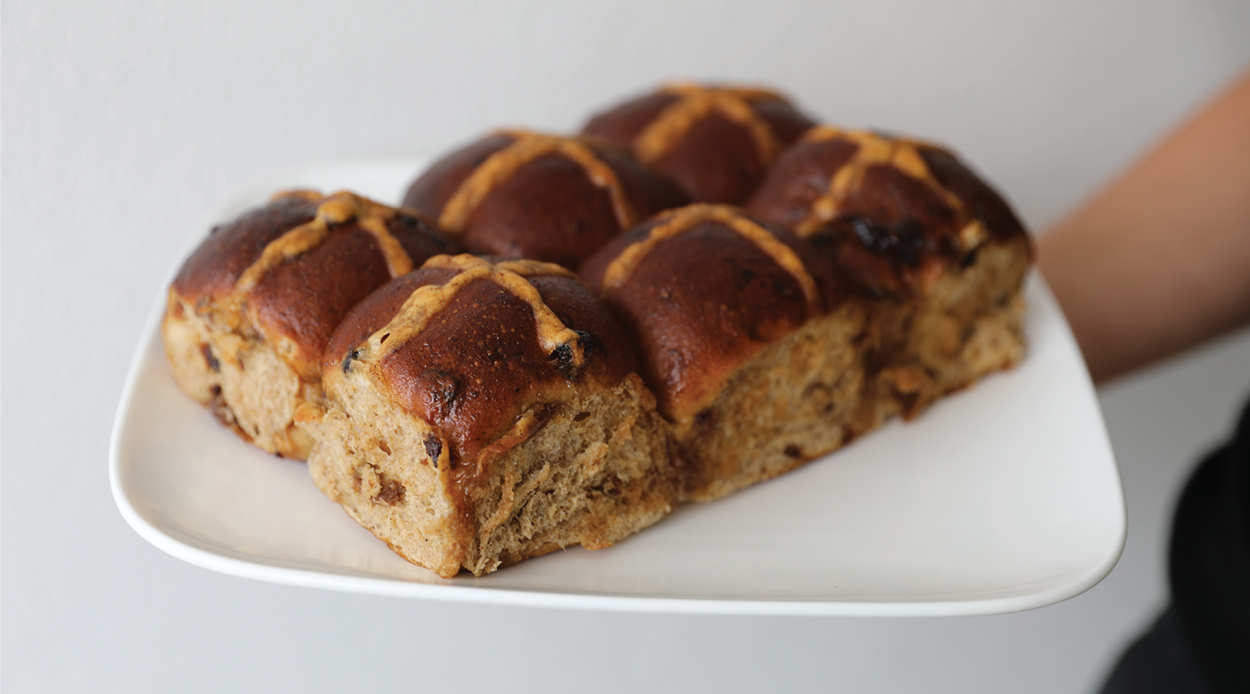 Bread & Butter
Bread & Butter's hot cross buns are organic, and made with a long fermentation time, which results in a deliciously subtle flavour and moist texture. Studded with a dried fruit medley that includes raisins, apricots, currants and cranberries, these buns are delicious yet not overly complicated, making them all the more addictive both fresh and toasted. Bonus: Bread & Butter has made its first-ever chocolate hot cross buns this year — indulgent, sticky and available for a limited time only.
Fruit ratio: 25 percent
Texture: Bready and soft
Crust: More soft than firm
Serving suggestion: Toasted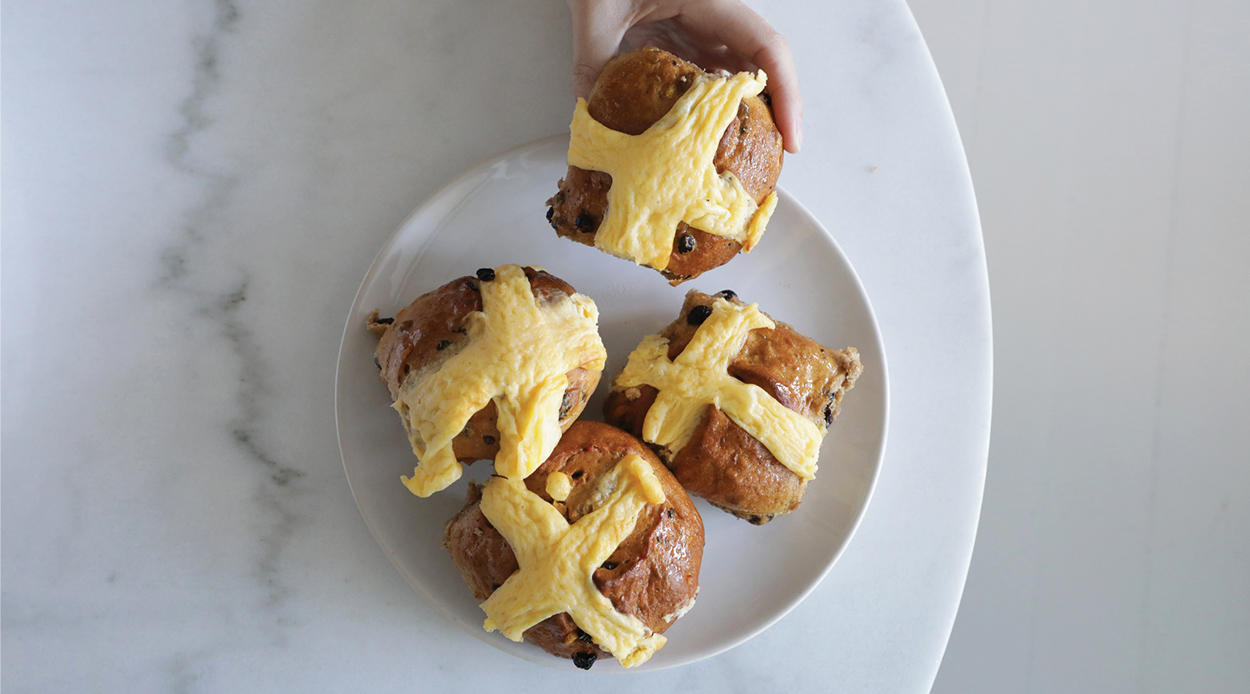 Ima
Yael Schochat's buns are famous in Auckland for their heavy, dense consistency and indulgent custard cross. The Ima team haven't changed a thing this year, and why fix something if it ain't broke? Jam-packed with candied fruit-peel, currants and sultanas, these buns should always be enjoyed toasted so the butter seeps into the dense bread and the custard is warmed and caramelised.
Fruit ratio: 45 percent
Texture: Dense
Crust: Custard-laden
Serving suggestion: Toasted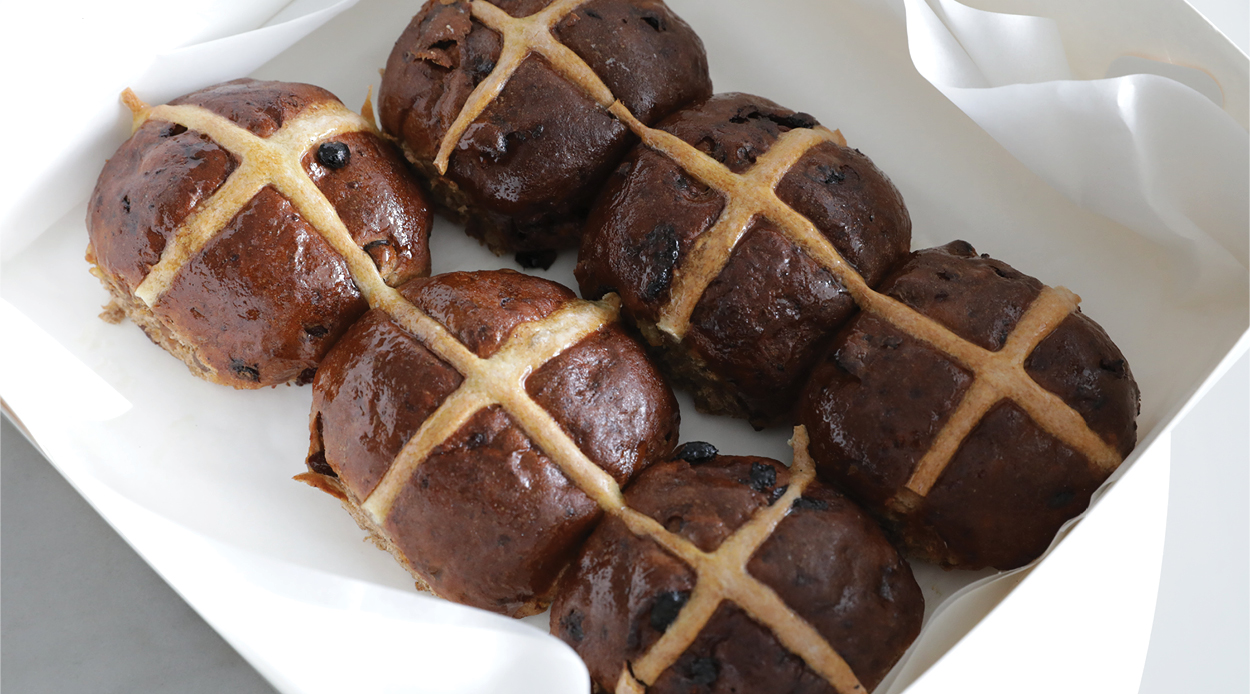 Little & Friday
Little & Friday's buns are also quite dense and filling, arriving as a generously-sized disc that sits somewhere between very risen and flat. These beauties have a high rind content among the raisins and sultanas, a more spiced dough than some others we tried and while they look nice and shiny they aren't overly sticky on top. The crust is thick and the cross is crunchy, giving these a nice chew.
Fruit ratio: 45 percent
Texture: Dense
Crust: Firm
Serving suggestion: Toasted
Olaf's
Olaf's hot cross buns are a must for lovers of a traditional hot cross bun with not too many bells and whistles. Deliciously light when fresh, they have a good amount of sweetness in the both the dough and glaze but it's not overpowering. Lightly spiced and studded with raisins, you can't go wrong with a classic. They also do a chocolate version (sans fruit) which is more moist and doughy, and the chocolate has a slight bitterness which means they're not too sweet. Olaf's cranberry bun is slightly more fruit-forward than the traditional, but with the same dough.
Fruit ratio: 24 percent
Texture: Soft
Crust: More soft than firm
Serving suggestion: Untoasted
Fort Greene
Fort Greene also uses a sourdough starter for its Easter morsels, which makes sense as the bakery is renowned for its loaves. Fort Greene's rendition tastes somewhat more rustic rather than saccharine with stronger flavours of yeast and a mix of spices, and sweetness derived mainly from a dense packing of fruit. The thick crust has an extra crunch (similar to an actual loaf of sourdough), and the addition of candied rind lends a zesty and citrusy element.
Fruit ratio: 30-35 percent
Texture: Soft
Crust: Firm
Serving suggestion: Untoasted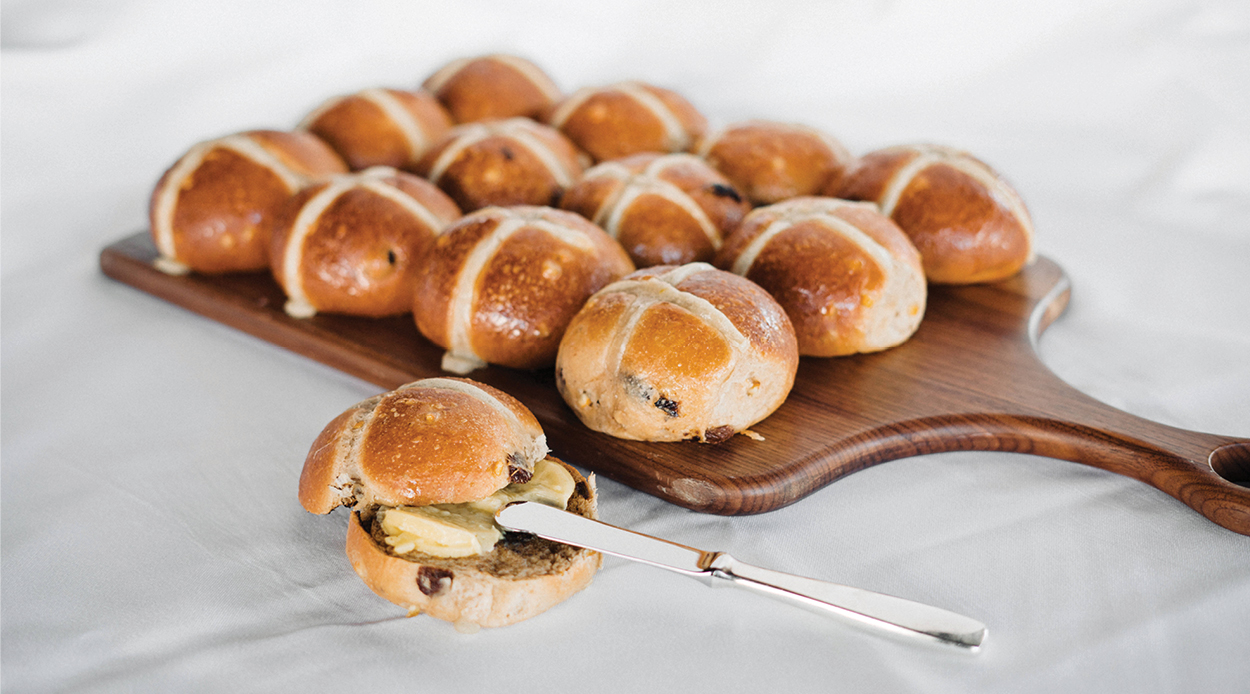 The Pantry at Park Hyatt Auckland
We've already waxed lyrical on pastry chef Callum Liddicoat's Easter creations for Park Hyatt Auckland's The Pantry, and we'd do it all again. The traditional hot cross buns are gourmet without being over-the-top, combining a brioche with a soft milk roll, and currants and sultanas that have been soaked in earl grey tea. There is a rather low fruit ratio that is made up of quite a bit of rind, before a sticky syrup of lemon, orange and cinnamon is poured on top. Put simply, these buns are some of the best we've tried. Liddicoat has also whipped up a pecan, dulcey chocolate and caramel hot cross buns, for something a little different and delectable. This version is just as well-crafted, brushed in a sticky caramel sauce straight out of the oven.
Fruit ratio: 15 percent
Texture: Bready yet light
Crust: More soft than firm
Serving suggestion: Toasted, sprinkled with a pinch of sea salt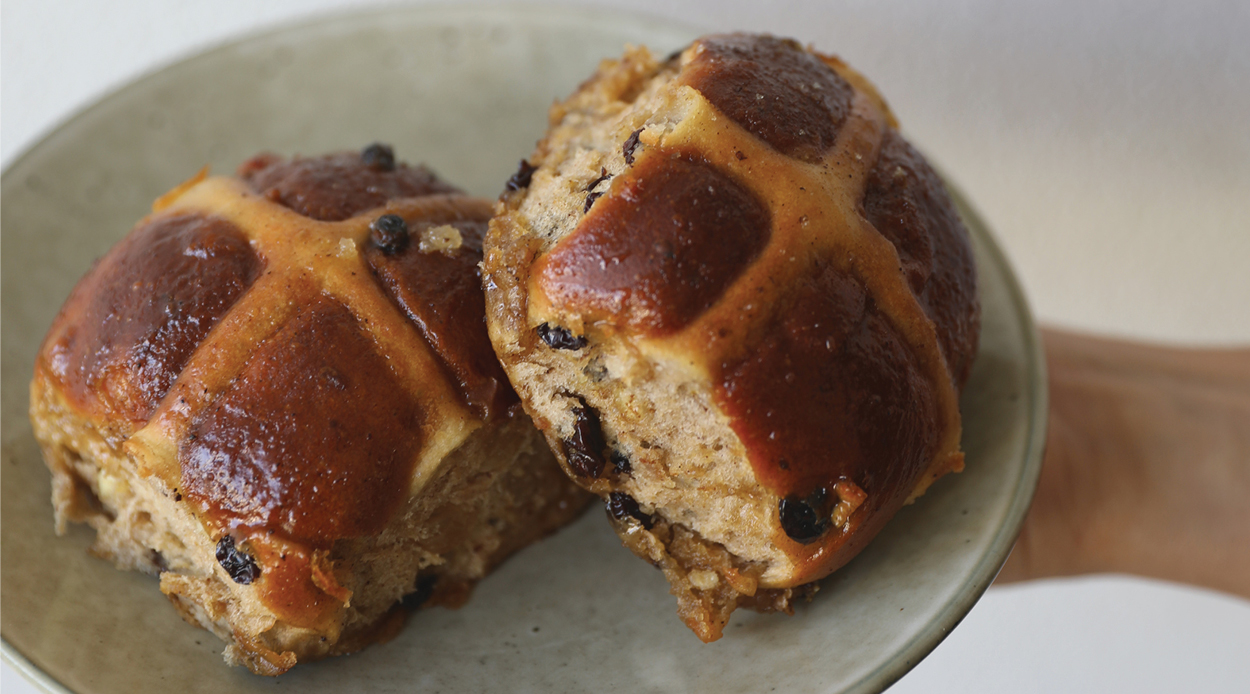 Ripe Deli
Fans of orange and spice (and all things nice), Ripe Deli's sweet, moist buns are for you. Pleasingly doughy and quite weighty, these buns still manage to not be too gluggy or dense and have golden raisins within and a dusting of sweet spices on top. We suggest topping with Ripe's brunt orange butter, which is practically made for the buns and has a deliciously indulgent icing-on-the-cake effect.
Fruit ratio: 15 percent
Texture: Moist and doughy
Crust: More soft than firm
Serving suggestion: Untoasted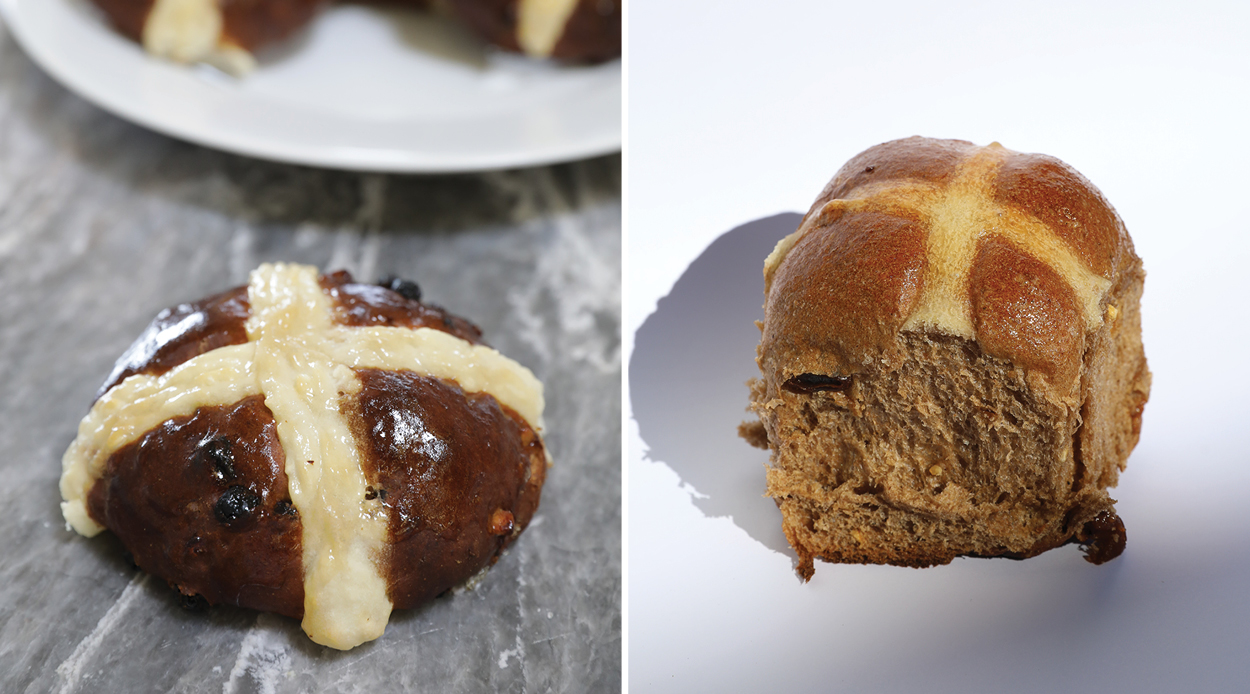 Tart Bakery
Vegan bakery Tart is an impressive contender in its own right, with a generous fruit ratio and wide yet light structure. The crust was something special, nice and caramelised on the top and bottom with a good amount of chew, and the buns had a nice level of sweetness with a little saltiness. These are a great option for plant-based eaters, and those who are dabbling.
Fruit ratio: 30 percent
Texture: Light with a nice chew
Crust: Firm
Serving suggestion: Untoasted
Real Bread Project
Daniel Cruden, AKA Dan The Baker has done it again this year with his infamous, stout-infused bready buns. Rustic and quite dark, these sourdough buns are perfect for those who don't like their crossies overly sweet, with sweetness derived from the fruit and not too much of a glaze. They are extremely risen and puffy, and the sourdough takes on an addictive crunch when toasted.
Fruit ratio: 15 percent
Texture: Bready
Crust: Slightly firm
Serving suggestion: Toasted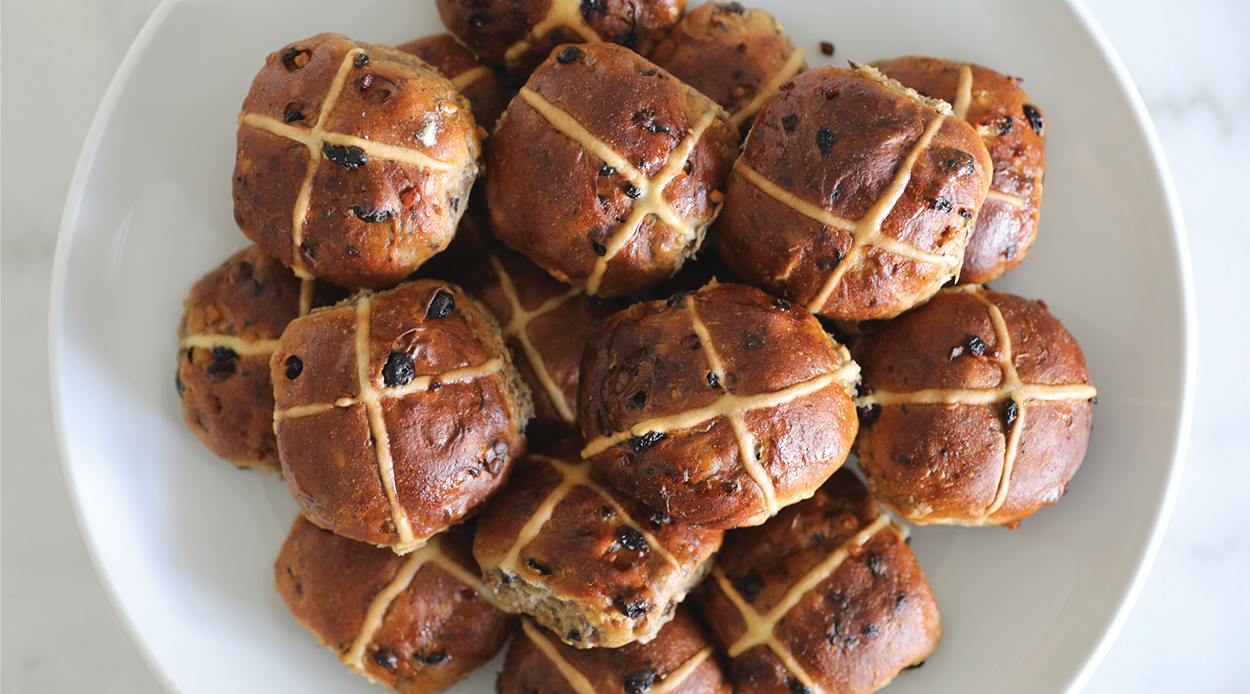 Wild Wheat
Baked in a new pull-apart format this year, with a generous helping of fruit, Wild Wheat's hot cross buns are made to be shared. With a sweet and spicy dough, the soft-to-firm texture of these buns ensures they are just as enjoyable fresh as they are toasted, with lashings of butter, of course. A real crowd-pleaser.
Fruit ratio: 60 percent
Texture: Light with a nice chew
Crust: Medium
Serving suggestion: Toasted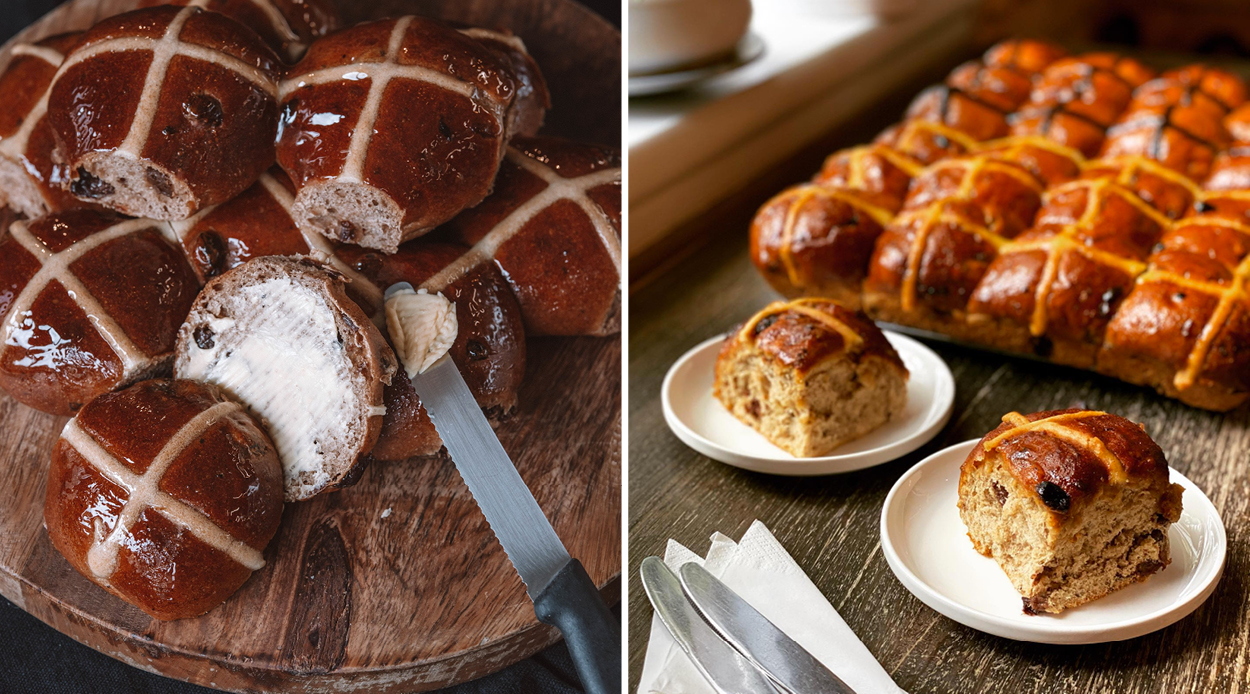 La Petite Fourchette
From French patisserie La Petite Fourchette comes these authentic 'petits pains croisés chauds' — that is dense, dark, Parisian-style hot cross buns. Thickly doused in a sweet glaze, they are delicious with coffee or paired with a mendiant (a small disk of chocolate studded with nuts and dried fruit).
Fruit ratio: 30 percent
Texture: Medium
Crust: Medium and sticky
Serving suggestion: Untoasted
Miann
Miann's hot cross buns are glorious indeed. The traditional flavour contains raisins soaked in a muscovado and orange syrup for two weeks, and the Miann team have created their own spice mix, which they think makes the difference. The chocolate flavour is unmissable, using chocolate that they make from cacao sourced in Fiji. These buns are light and soft rather than dense, great for having with butter or — for a next-level treat — a scoop of gelato sandwiched in between.
Fruit ratio: 20 percent
Texture: Soft and fluffy
Crust: Soft
Serving suggestion: Untoasted