With a conscious effort to be healthier now that summer's fast approaching, our penultimate cook-off in our 2018 'Denizen in the Kitchen' series was noticeably on the lighter side. Previous episodes have included vegetarian burgers, chicken Marbella and a fully-fledged Mexican feast, but this time Irina, Denizen's Executive Assistant to the Editor-in-Chief, decided to use our Fisher & Paykel appointed kitchen for nothing other than the humble salad.
Crisp, light and refreshing, the salad is ideal for almost any summer scenario, be it as a stand-alone lunch bite or as a crowd-pleasing side come sunny barbecues. (This one's perfect for taking along to gatherings come the festive season.) While quick and relatively easy, don't be fooled into thinking that the salad is boring or uninspired. Irina's variation comprised a medley of ingredients, and not only was it delicious to the taste — with every bite delivering up a different burst of flavours — it was also easy on the eye thanks to its wonderful conglomeration of colours and textures.
The ingredients below are enough to easily fill two large serving platters, which was enough for our team of nine while still leaving plenty left over to take home. Feel free to chop and change ingredients where you see fit, (for example pumpkin can be swapped out for kumara if you so wish) and for those catering to vegetarians, make like Irina and top one platter with halloumi while keeping the other for the cooked salmon.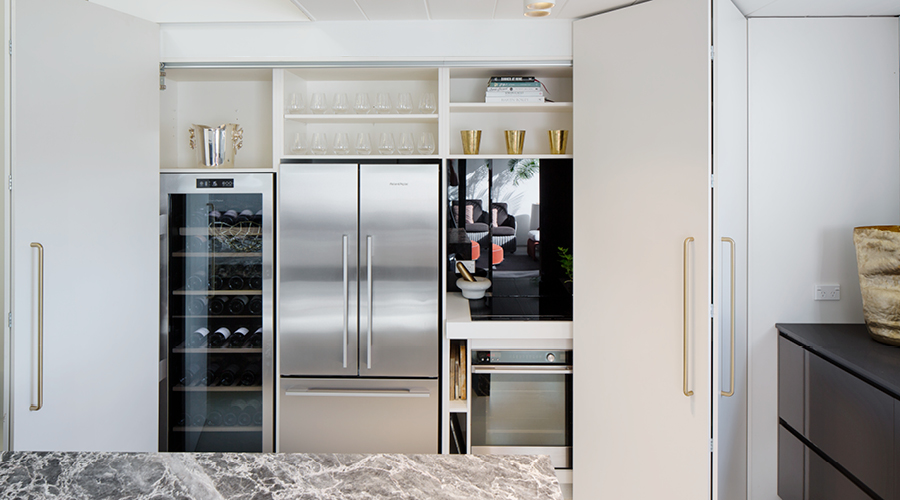 Ingredients:
1 whole crown pumpkin
600g spinach leaves
200g quinoa
1kg cherry tomatoes
200g capsicum
4 large avocados
2 x 200g cooked, smoked salmon
3 x 190g halloumi
100g dried cranberries
40g pine nuts
100g walnuts
100g pumpkin seeds
1 x red chilli
coriander
thyme
olive oil
brown sugar
lemon juice
Method:
To prepare the pumpkin, chop into rough slices and drizzle with olive oil. Then sprinkle with fresh thyme, pine nuts, salt and brown sugar before placing it in the oven and leaving to bake for 20-30 minutes — or until the flesh is soft. To prepare the quinoa, rinse under cold running water to remove its bitter flavour, before adding it to a pan. From here, add double the amount of water to the quinoa and bring the pan to the boil before reducing it to simmer until the liquid is absorbed (around 15-20 minutes). Next, slice the halloumi and add it to a frying pan — sans oil — and leave to cook on either side for two minutes, until golden brown and crispy.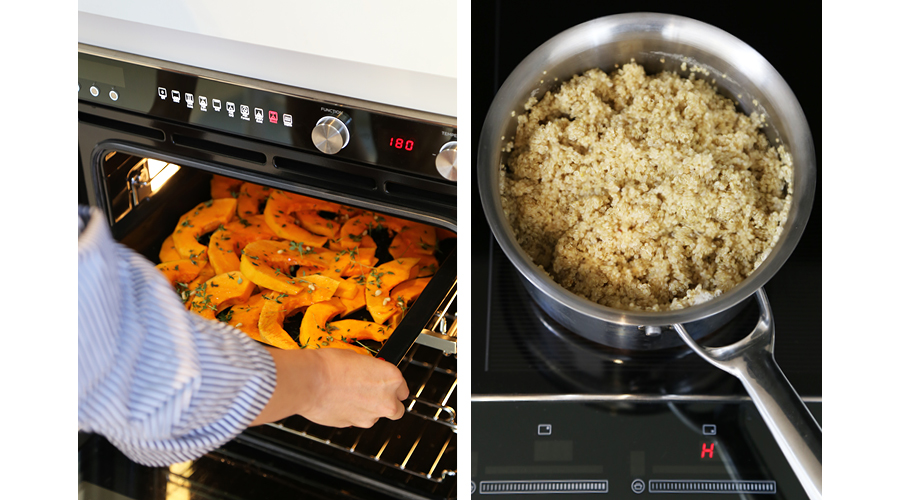 For the raw ingredients, begin by slicing the avocados in half lengthways until you hit the pit. Remove the pit and scoop out the flesh before slicing it into chunks. Slice the cherry tomatoes in half and de-seed and roughly chop the capsicums and chilli.
To prepare the salads, assemble the spinach leaves onto two big platters and top with the cooked pumpkin slices, sliced cherry tomatoes, sliced avocado and chopped capsicum. Evenly distribute the quinoa over the top, before sprinkling the plates with the dried cranberries, pine nuts, walnuts, pumpkin seeds and coriander. Finally, top one salad with chunks of the pre-cooked salmon, before topping the other with the fried halloumi slices — drizzle both with a squeeze of fresh lemon juice.