Over the last few months, our Denizen in the Kitchen series has seen us serve up an array of mouthwatering meals from tangy lime and pumpkin soup to Chicken Marbella, right here in our offices. Last Friday afternoon, the feasting continued with Denizen's Senior Graphic Designer, Fran, taking to our Fisher & Paykel-appointed kitchen to create what could only be described as a bona fide fiesta.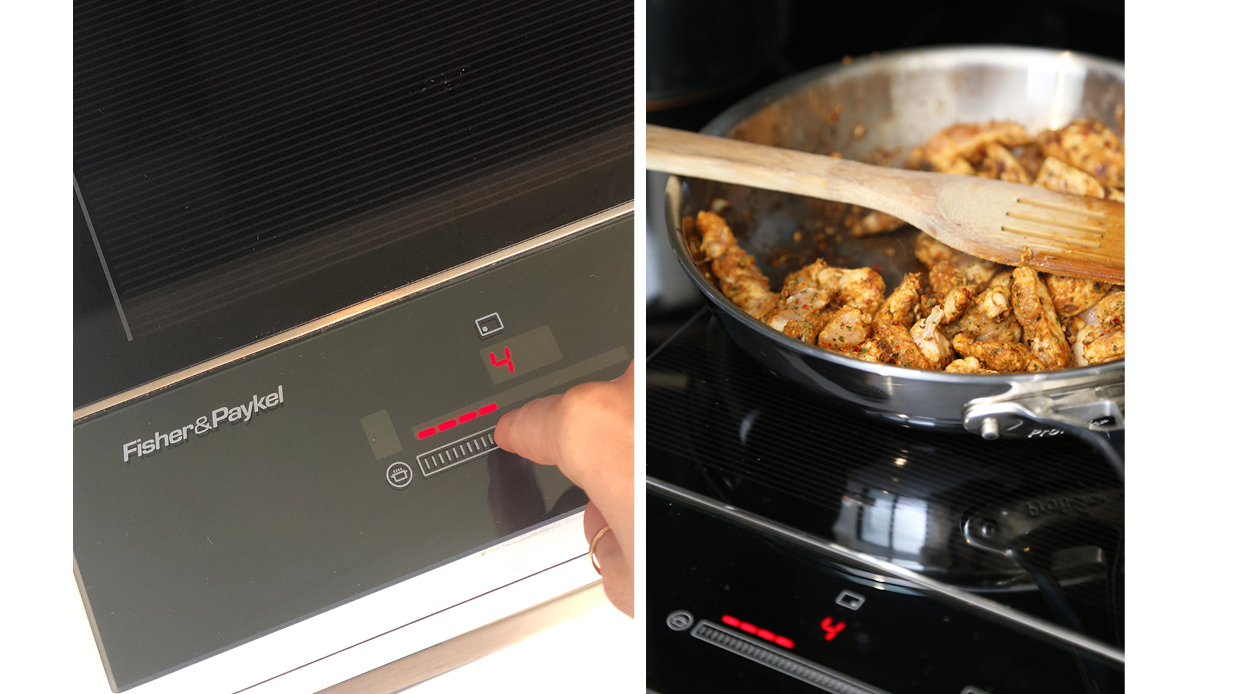 Deciding to serve up a spread of Mexican-style dishes including assemble-your-own chicken fajitas, vegetarian quesadillas and corn chips with salsa and guacamole, Fran lined up a smorgasbord of delicious add-ins so that each of us could create something to our specific tastes. Using the Fisher & Paykel induction stovetop to make the chicken fajitas and serving all the components separately alongside helpings of salad, cheese, beans, garnishes and sauces, Fran's final touch really made the whole thing feel like a party — providing a colourful line up of sombreros that we all had to put on before tucking in.
The beauty of this kind of lunch is the way that it can be customised via a variety of ingredients and fillings, perfect for a large group with a number of different preferences. Here we outline how we decided to do it, but our advice to those wanting to put on their own Mexican fiesta at home? Get creative.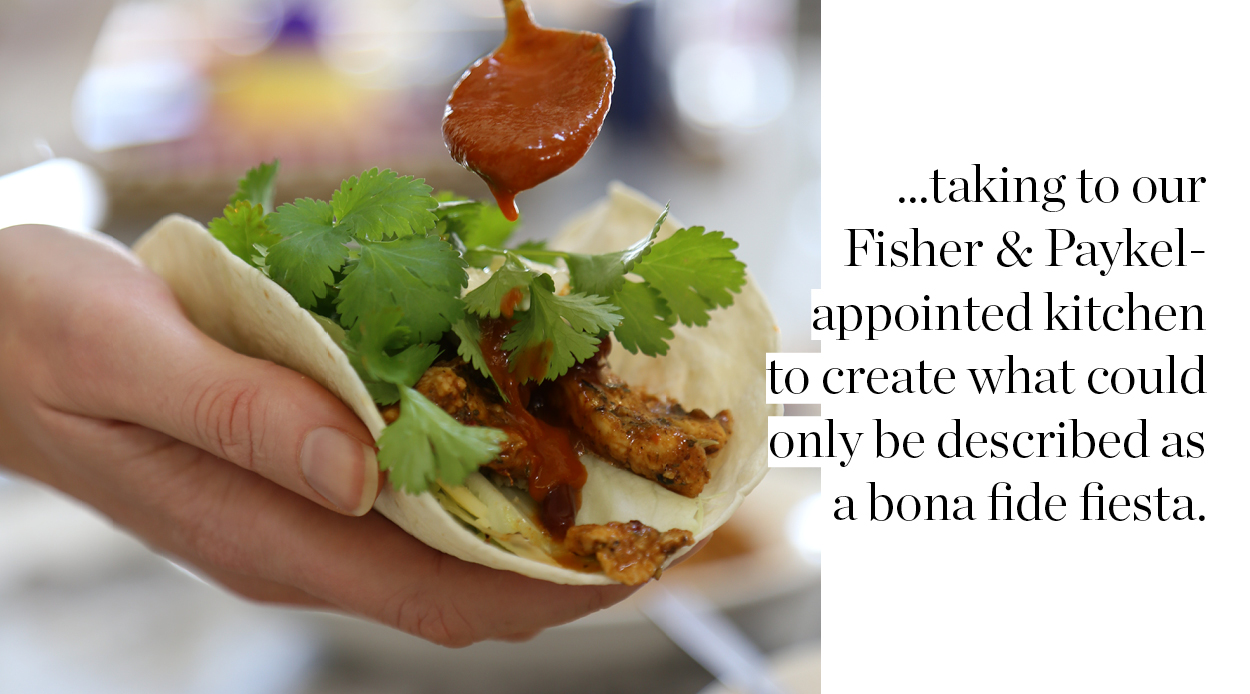 Ingredients
Fajitas:
2 packets of soft tortilla wraps
3 capsicums (red, yellow, green)
1 brown onion
Homemade salsa (tomato and red onion)
2 carrots
1 iceberg lettuce
8 chicken breasts (depending on how big the group is)
Spices (to taste) can include: cumin, smoked paprika, chilli, black pepper, garlic, onion
Vegetarian quesadillas:
Soft wraps
Grated cheese
Spring onions
Sauces and condiments:
Sweet chilli sauce
Coriander
Salsa dip
Aioli
Sour cream
3 limes
Black beans
Mexican salsa beans
Grated cheese
Corn chips
Homemade guacamole (avocados, lemon juice, salt & pepper and sour cream)
Fresh coriander
Method:
To prepare the fajitas, first, slice the capsicums and the brown onion and fry together in a pan with a bit of oil and salt and pepper. Next, prepare the salsa by dicing the tomatoes and red onions into small cubes and combining. Slice the carrots very finely and set aside on a plate with the iceberg lettuce. With the chicken, prepare by cutting the breasts into small pieces and placing into a pan with oil, salt and pepper. Add in some seasonings of choice for flavour. We used a mix of cumin, smoked paprika, chilli, black pepper, garlic and onion. Keep on a high heat until chicken is cooked through, stirring continually. Once the chicken is done, set aside in its own bowl.
Next, prepare the vegetarian quesadillas by putting a pan on medium heat and laying down a wrap on the base. Sprinkle with grated cheese and thinly sliced spring onion, and finish by placing another wrap on top. Cook each side until the outside is browned and all the cheese is melted. Once finished, cut into triangles to serve.
Before gathering everyone around to start eating, ensure all extra sauces and condiments are laid out on their own separate plates. Stack the tortilla wraps up and fill a number of smaller bowls with sweet chilli sauce, salsa, sour cream, grated cheese, black and Mexican beans, and homemade guacamole. Fill a bigger bowl with corn chips.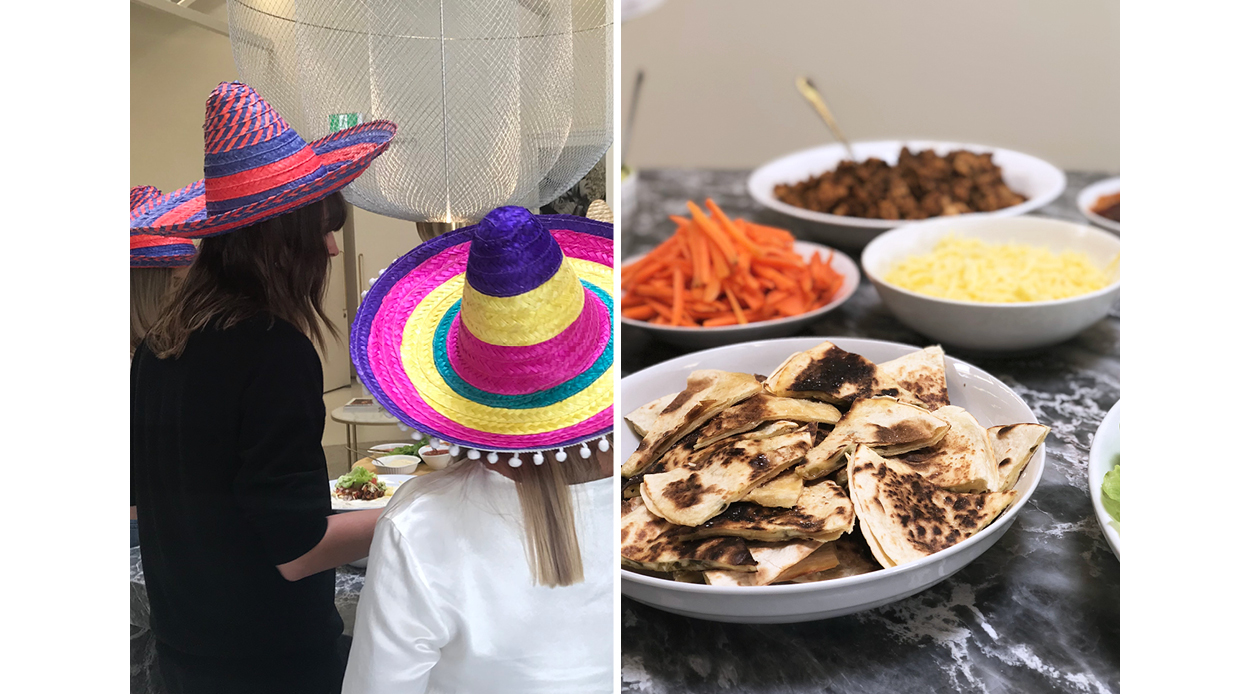 Optional extra: provide everyone partaking in the meal with a sombrero each to really ramp up the vibe.