Having observed Auckland's burgeoning cafe scene over the last few years, the two owners of Browns Bay's newest opening, Common Ground, wanted to create a space that ticked all of the obligatory boxes — good coffee, a considered interior, classic cafe food — while still offering a touch of the unexpected. Peddling crowd favourite dishes with an Asian twist, this modern eatery is understated but expertly finished — and it's the only place in Browns Bay to get Supreme Coffee.
With a generous menu offering everything from granola, to a beef cheek sandwich, highlights include the eggs Benedict with fried potato, wild rocket, soft shell crab and lime and dill hollandaise on a soft brioche, and the waffles with sweet and spicy glazed fried chicken thigh, cabbage slaw, peanuts and pickles. The herb and chilli scrambled eggs with grilled halloumi, broccolini and baba ganoush on Midnight Baker freedom loaf was a delightfully healthy take on our favourite breakfast eggs, while the fried brioche with passionfruit curd, crème fraîche, caramelised banana, nut crumble, coconut nice-cream and (optional) bacon provided a deliciously indulgent dish for when all bets are off.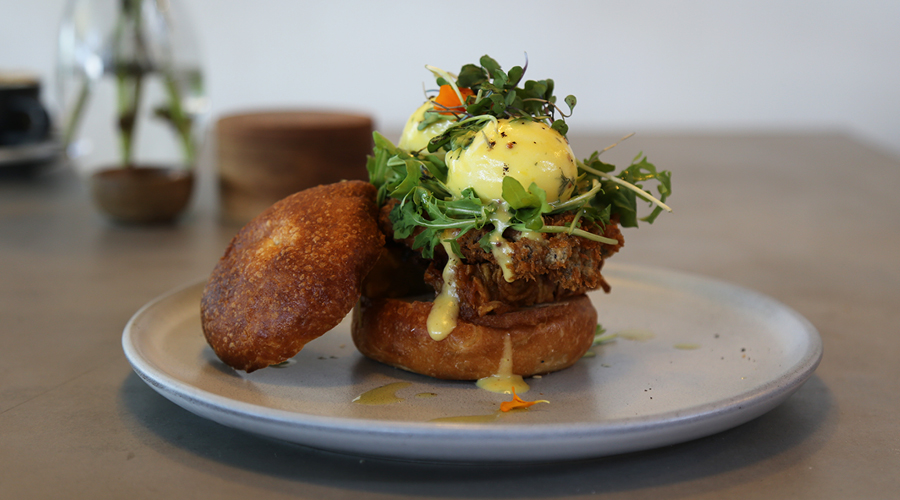 The interior, conceived by We Don't Have Elephants and constructed by Urban Build Co. errs on the side of industrial but is lent softness by some indoor greenery and a mural that sees plants and ferns snaking up the wall. A neutral colour palette of white and concrete-grey is warmed up by the proliferation of wood.
Common Ground traverses the line between classic and unexpected with the expertise of a Cirque du Soleil tightrope walker. It fits perfectly into what we have come to expect from the Auckland cafe scene but still manages to surprise us. A welcome addition to the Browns Bay neighbourhood, if you find yourself with a hankering for fried brioche or fried chicken, this new all-day eatery is worth a drop-in.
Opening hours:
Monday to Friday, 7am – 4pm
Saturday and Sunday, 8am – 4pm
Common Ground
1/63 Clyde Road
Browns Bay
Auckland
(09) 963 3628