People love to talk about the growth of Auckland's restaurant scene, but what is less talked about, is the similar expansion of our bar industry. Cocktail menus are more creative than ever, with every restaurant creating their own signature concoction to differentiate themselves from the rest. After sipping our way through the city, we have rounded up a few of our favourite cocktails of the moment and this is where you can find them.

Cucumber Garden Sour from Sidart
According to the Denizen team members who went alcohol-free this month, Dry July never tasted so good, thanks to Sidart's alcohol-free, Seedlip-based cocktails. The Cucumber Garden sour showcases Seedlip's Garden 108, a botanical blend of peas, rosemary and thyme, which is paired with fresh cucumber, chamomile and green apple to create a drink with a soothing floral aroma. Unfortunately, all good things must come to an end and this drop is only available until the end of July.

Andiamo Fizz from Andiamo
This Herne Bay institution is not only home to some of the tastiest Italian food, but also one of our all-time favourite cocktails, the Andiamo Fizz. The concoction comprises Hendricks Gin, aromatic elderflower, fresh sour lemon, cucumber bitters and prosecco. What we love most about this drink is its versatility — ideally enjoyed under the summer sun but also a pleasant experience when sipping through the colder seasons.

Flat white martini from Clipper
Having taken over what used to be the much-loved Mea Culpa, Barney Toy, James Millar and Bill Scott are ensuring that their new venture, Clipper, only builds on the stellar legacy of its predecessor. Home to a raft of intriguing cocktails, word about the bar is spreading fast, and with options like the flat white martini on the menu, it's easy to see why. In this drink, Toy has taken the classic espresso martini and created a more creamy, milky rendition — the perfect drink to indulge in on a cold night out.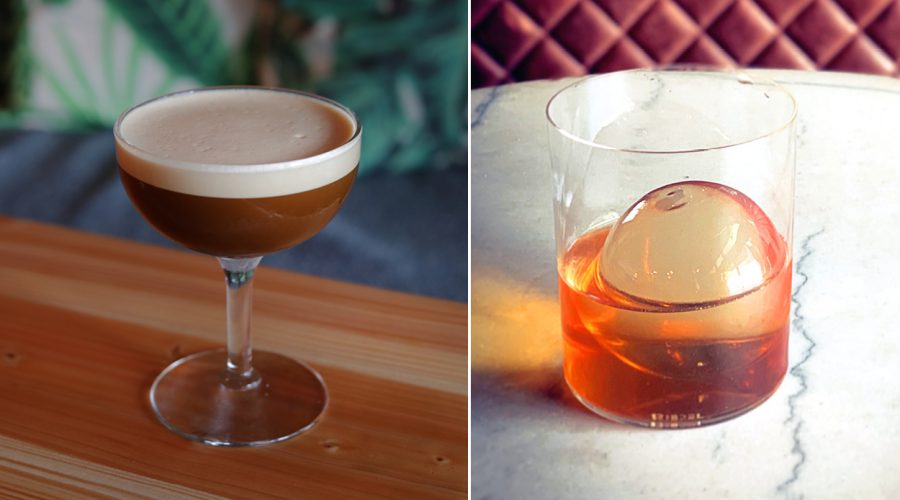 The Connoisseur from Coley & Punch
If you're in need of something strong, look no further than The Connoisseur from Coley & Punch. Containing very few ingredients, Chivas Regal XV is the star of this cocktail and is complemented by the addition of premium Martell VS cognac, Vermouth del Professore Chinato and Angostura Bitters. Served in a simple, old-fashioned glass, over a perfect sphere of ice and orange zest for garnish, this delicious potion is best when sipped slowly.

Rozu from Azabu 
For those that seek fruity sweetness in a cocktail, the Rozu cocktail from Azabu is the one for you. The cocktail has been a favourite of ours since Azabu launched its Roji Bar Cocktail Menu and it includes vodka balanced with sweet vanilla syrup and lychee purée. The addition of rose liqueur gives the cocktail a unique aroma and interesting depth in flavour while a touch of lime lends some sourness to harmonise with the sweetness of the lychee and vanilla.

Mile High Club from Soul Bar & Bistro
This is a drink that has only recently been added to Soul Bar & Bistro's cocktail offerings and has already become one of the stalwart's most popular. The mixture of gin and Marasca cherry liqueur (otherwise referred to as maraschino) makes for a one-of-a-kind bittersweet blend. The addition of floral Crème de Violette is elevated by the lavender, while a topping of egg white froth turns the delightful drink into an indulgent treat. The cocktail is finished with a squeeze of lemon, cutting the richness of the egg white and lending a freshness to the gin.

Dark and Stormy from Satya Chai Lounge
Satya's growing culinary empire is taking our city by storm, but the Chai Lounge on K'Road will always be our go-to for a drink and a bite. Rum and whisky are two spirits that you need to drink at Satya Chai Lounge as the owner, Sammy Akuthota, has one of the most impressive line up of bottles in the game. The Dark and Stormy cocktail showcases a dark, spiced rum, which is mixed with a refreshing ginger beer.