It was 12.05pm when we walked into Cibo, the sassy, sophisticated and adorably flamboyant uncle of Saint George's Bay Road's burgeoning young dining scene. We had booked in for an express lunch at the stalwart institution — hence, the uptight arrival time on our part — famed for feeding and entertaining famous clientele (including one Ms Mariah Carey) when they come into town.
Not in a rush but expecting a reasonably swift encounter, things kicked off with ample momentum when we were greeted and promptly seated by the Maitre D', Fraser. The four of us settled into our plush corner booth and not a moment after our handbags had touched the ground, they were lifted and slipped onto a small square of carpet, so as not to be touching the ground — 'it's the small things' they say. I don't know what it says about me, but I was metaphorically tickled by the use of this baby shagpile.
But back to why we were visiting; the food, or rather the 'express' nature and lofty calibre it arrived in. Although with Cibo, as everyone knows, the experience is always so much more than merely what you devour. Playful, congenial encounters at the restaurant have forever been encouraged by owner Jeremy Turner and affirmed by his excellent staff, even if you are visiting for a 'professional' business lunch.
So where were we…? Ah, drinks! Not one for getting sauced prior to 2pm on a Wednesday, the non-alcoholic section of the drinks menu caught my eye. At the top of it was the very in vogue, non-alcoholic spirit Seedlip, which I had tried for the first time only a week prior. Again enticed, I ordered "one of those," leaving it to Fraser to personalise the cocktail. It's a good test of a place whether you need to specify making something 'not too sweet' (i.e. you shouldn't have to), especially when it comes to mocktails, and its one that Cibo passed with flying colours. The cocktail arrived, harnessing flavours of apple and cucumber to the point of being only mildly saccharine.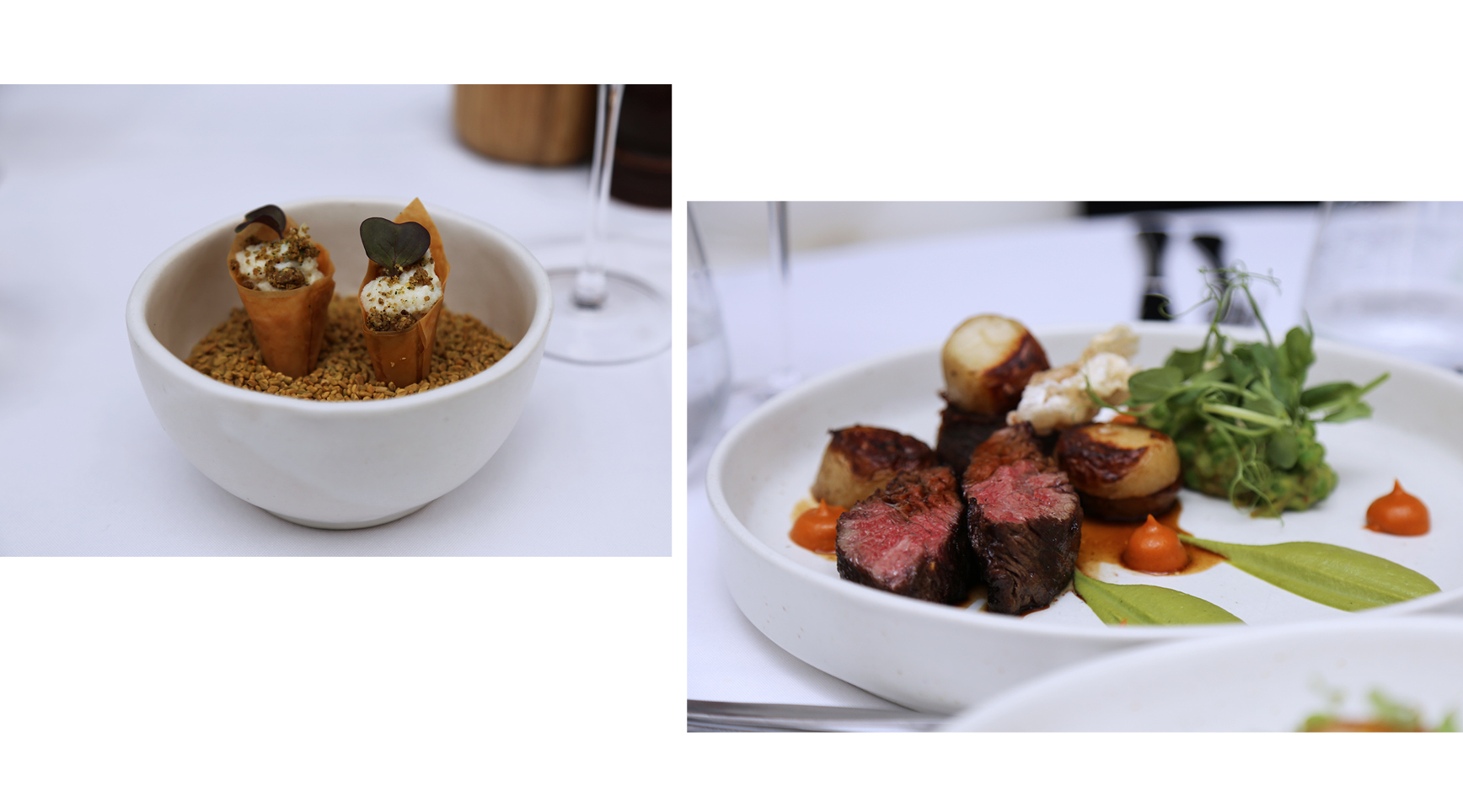 Our attention then turned to the menu where a succinct lineup of entrées, mains and desserts were listed with the option to indulge in two or three courses for the price of $45 and $49 respectively. Given our number and the fact that there were four different entrées and mains, we ordered one of each to share. We had open palates and high expectations.
Shortly afterwards, those palates were wetted with a tantalising amuse-bouche of cooked monkfish in filo pastry. If those delectable morsels were a sign of things to come, they were looking up. Settled into our spot — what felt like a calm, white-tableclothed, natural light-filled refuge on a normally frenetic midday Wednesday — our 'express' lunch had unwittingly transformed into a languorous affair thanks to the inescapably relaxed atmosphere.
A few minutes later, the plates started coming: Cibo's famous ginger and soy-sauced whitebait omelette which never fails to incite an "mmmmm" from whoever is devouring it; a delicious, deconstructed banh mí; perfectly cooked caramelised pumpkin with spinach, feta and tahini; and a pastel-hued bed of fresh sashimi. All were devoured in a total of about four minutes and fifty seconds (these girls were hungry).
Already sated but with space for more, we keenly awaited the next onslaught from acclaimed chef Kate Fay. Out came the hapukā and prawn dish which has survived 21 menu changes according to Turner. Served with a complex coconut curry, the rich umami flavours of the typical Asian wet curry were strong but not overwhelming. Attracted to what looked like a perfectly cooked piece of wagyu hangar steak on another dish, I was rewarded with a flavoursome bite, whose only red meat competitor was its accompanying piece of short rib.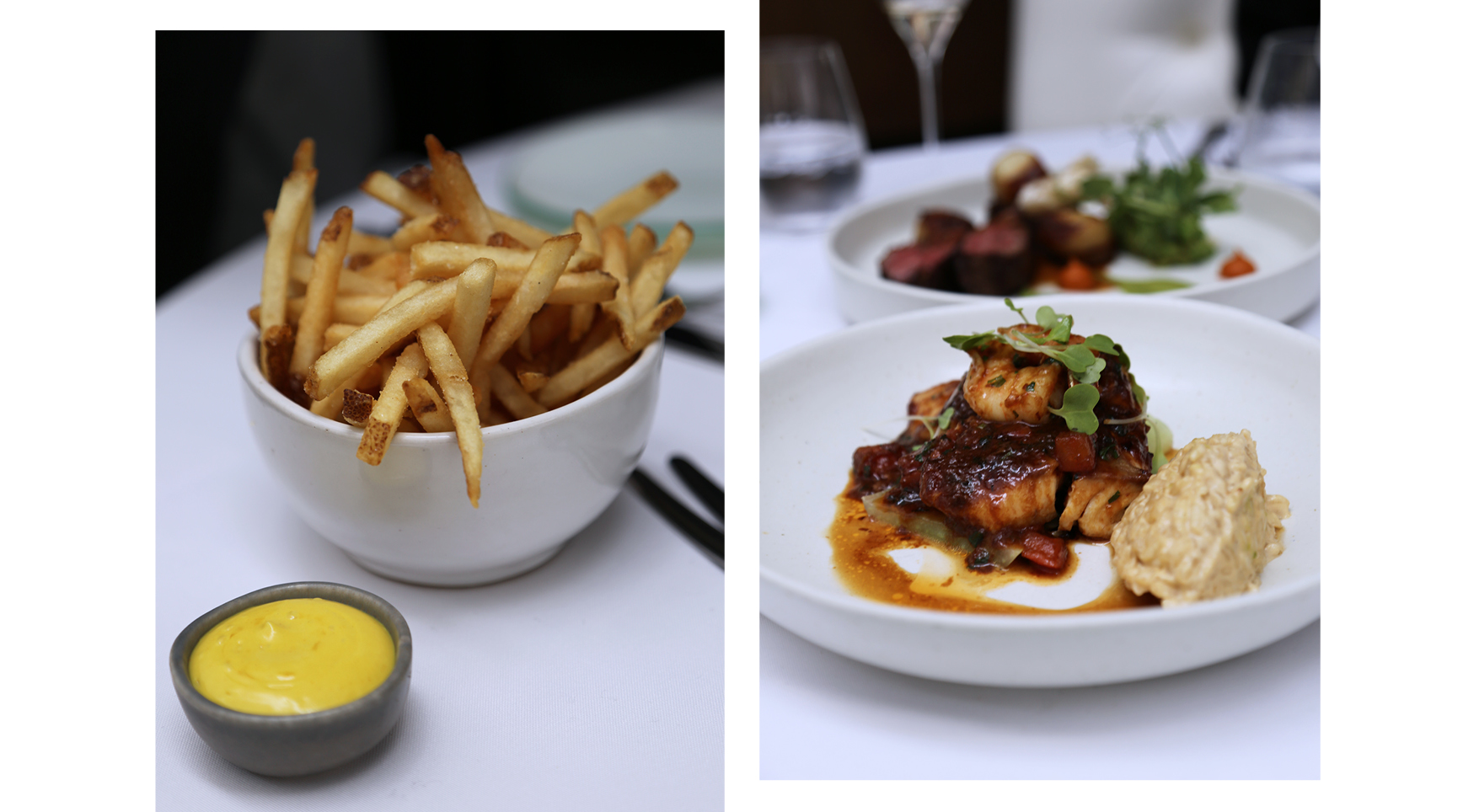 Also present was the mushroom medley, a soy-infused vegetarian dish with a side of truffle sabayon — a sort of savoury custard — and a perfectly cooked piece of pork belly which comes with a cinnamon-laced pork beignet. The intensity of each dish was perfectly managed in its respective portion size, balanced out by our recommended sides of green beans (for vitality) and fries (just because).
Choosing to forego dessert, which is arguably ludicrous given the prospect of an Eton Mess, we felt we had done our dash at two courses and then some. Ready to skip out just over an hour later (it was 1.18pm with a few photos taken along the way), we couldn't fault the service which was hyper-present but never pervasive. Seen to with a final offering of a rose and chocolate macaron (my favourite), we were certainly happy campers as we Ubered our way back across town.
Reflecting on Cibo's vibrant surroundings; the newly renovated Textile Lofts (a private boutique workspace), high-end clothing label E. von Dadelszen, the residents of Faraday Street and so much more, you can't help but feel that Cibo has renewed purpose as one of Parnell's most respected dining institutions; the gatekeeper of a new generation so to speak. Still attracting a diverse clientele with its playful and modern take on fine dining, Cibo's express lunch was a breath of fresh air and an excellent excuse to visit one of Auckland's most up and coming areas.
Click here to book.