In New Zealand, the typical Christmas involves a day in the sun with family and friends, the barbie in full swing sizzling various types of seafood and meat. And while this summery vision of Christmas, filled with fresh salads, pavlova and seafood is normal to us, the idea of the quintessential Christmas feast varies around the world.

China
Only one per cent of the population in China are Christian so Christmas isn't as widely celebrated as the other public holidays such as Chinese New Year or the Mid-Autumn Festival. However, for the few who do get amongst the festive season, ham, turkey and stuffing are rarely seen on the table. Chinese families are more likely to feast on delicacies that are associated with Chinese New Year, such as roasted barbeque pork, dumplings and speciality soups.

Japan
In December 1974, KFC ran a national advertising campaign in Japan, titled Kentucky for Christmas and it was so popular that now, eating KFC at Christmas is a widely practised custom. Families in Japan book their bucket of KFC weeks in advance and feast on the classic fried chicken as their Christmas day meal. Japan also has its own Christmas dessert called the kurisumasu keiki, comprising a fluffy vanilla sponge cake, layered with freshly whipped cream and strawberries.

South Korea
Unlike New Zealand, where most restaurants close their doors for the day, Christmas is one of the busiest times of the year for the hospitality industry in Korea. Restaurants, particularly the buffets, host Western-themed Christmas dinners, which people often attend with their partners rather than their families. For those who do choose to spend Christmas with their families at home, traditional Korean food such as bulgogi, vegetable fritters, seasoned vegetables, stews and rice cakes are usually on the menu. For dessert, despite the freezing cold weather, ice cream chain Baskin Robbins is a crowd favourite, with queues going out the door of people picking up ice cream cakes or ordering hand-packed pints to take home.

Argentina
Christmas feasting begins on Christmas Eve in Argentina, at around 10pm or 11pm and similar to New Zealanders, Argentinians put on a barbecue of meats for their celebrations. Vitel Toné is a popular dish which sees slices of veal, served with a sauce made from tuna and anchovies and there is usually a selection of sandwiches with the crusts cut off served as well. Dessert involves pan dulce (an Argentinian rendition of the panettone fruit cake) and mantecol, which is a semi-soft nougat made from peanut butter.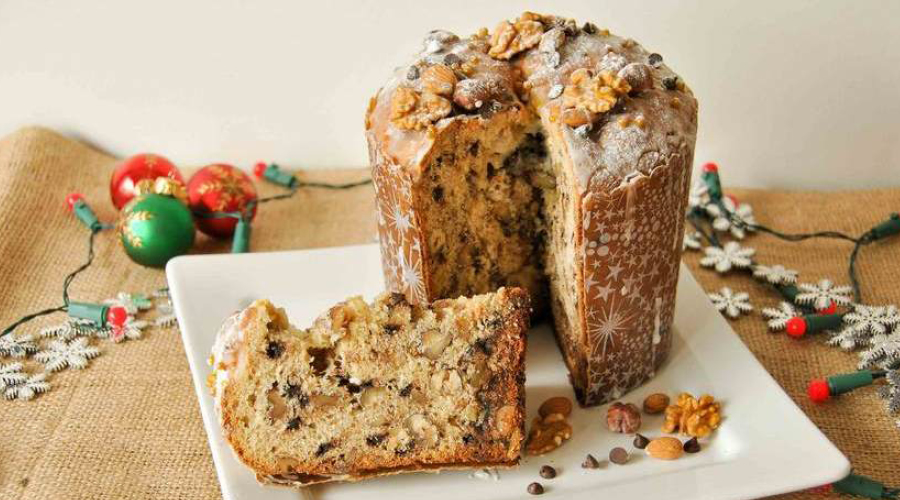 Italy
Christmas is a three-day fiasco in Italy, starting with the Feast of the Seven Fishes on Christmas Eve. Traditionally, this dinner features no meat and is focused on showcasing the ocean's bounty, including swordfish, octopus, tuna, salmon, calamari, smelts, clam pasta and baccalà — salted cod, an Italian classic. Dessert is always included and often features biscotti, traditional pandoro cake and a candied loaf of panettone. Italian families spend hours preparing for Christmas lunch which comprises an antipasto spread of cured meats, cheeses, olives, as well as pasta and meats like braised beef, baked chicken, sausages and roasted veal. And while most New Zealanders celebrate Boxing Day at the shops, Italians continue their celebrations with either leftovers or by spending the afternoon at a restaurant.

Philippines
Christmas is celebrated for as long as possible in the Philippines, usually starting as early as the 16th December (when people begin their visits to church services) and concluding on the first Sunday of January. Just like New Year's Eve, Filipinos stay wide-awake on Christmas Eve for the countdown to Christmas and celebrate with a midnight feast called Nochebuena. This feast usually includes different variations of pork, such as sisig, liempo and lechon kawali. On Christmas Day, people carry on the feast with more dishes, including pancit malabon, which is a Filipino pasta that is infused with annatoo seeds and paired with chicharron, shrimp and eggs. For dessert, the ultimate treat is the puto bumbong — a steamed rice cake made from fermented rice dough, usually boasting a purple colour and accompanied by muscovado sugar and shredded coconut.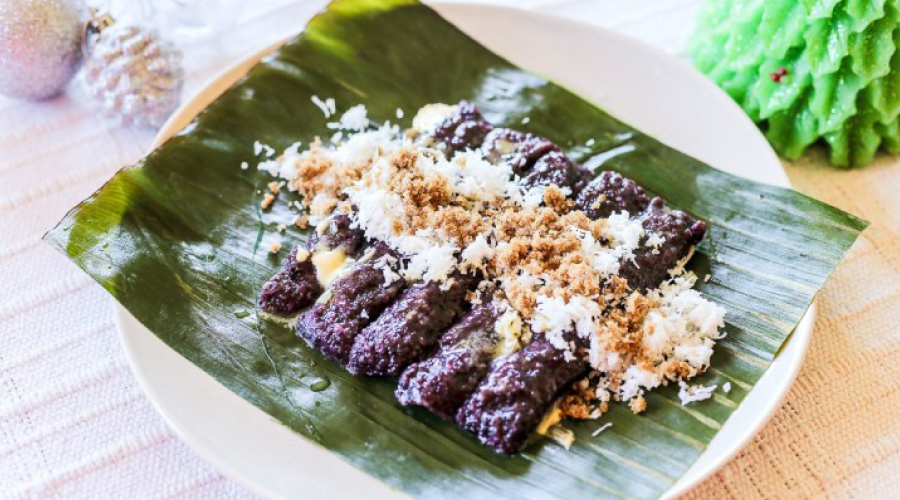 India
Although Christmas is celebrated on a smaller scale compared to the other national festivals such as Diwali, it's still an important event. There aren't any strict staples when it comes to the Indian Christmas feast, but the sweets are taken very seriously. Making them is a family affair, where extended family come together in advance to prepare the delicious morsels. Traditionally called "kuswar," the resulting dessert platter includes a number of things, from dense Christmas fruitcakes, to rose cookies, to sweet dumplings, to kidiyo — deep-fried curly dough balls, dusted in icing sugar.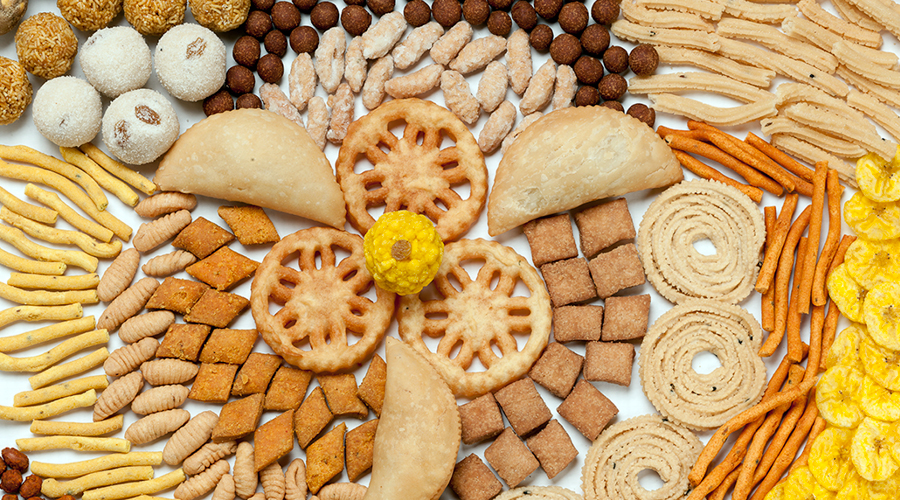 France
Réveillon is what the main Christmas feast is called in France and it's enjoyed on either Christmas Eve or early Christmas morning, following the midnight church service. The French are no strangers to roast turkey, nor are they to a goose or foie gras, which is fattened duck or goose liver. Seafood is also prominent in the Réveillon, especially lobsters and oysters which pair perfectly with the Christmas Champagne. Once the cheese, meat and seafood part of the meal concludes, 13 desserts are showcased to represent Jesus and the 12 apostles, usually made up of chocolate log cake, dried fruits and the traditional olive oil pump cake, pompe a l'huile.