Renowned Champagne Maison, G.H. Mumm, has recognised that combining its prestigious drop with the wintertime beauty of somewhere like Queenstown has the makings of the perfect seasonal celebration. It's one of the reasons why this year, Champagne Mumm is putting on two unmissable Saison des Neiges events in the winter capital.
In true Champagne Mumm style, Saison des Neiges will go beyond the expected to bring the convivial atmosphere of the slopes into the centre of Queenstown. It will be a series of events in line with the maxim of Champagne Mumm's founder (and the Maison's longstanding motto), 'only the best,' and is encouraging all of us to raise a flute to winter.
Looking to elevate its celebrations, Champagne Mumm will be flying over internationally-recognised media personality and entrepreneur Carissa Walford to sit alongside its other special guests Cassidy Morris and Rickie Dee, all of whom will be on hand to ensure that Saison des Neiges is the ultimate way to ring in the cold season. The brand will be hosting a cocktail party at the Reds Bar at QT Queenstown alongside a delicious long lunch at Botswana Butchery.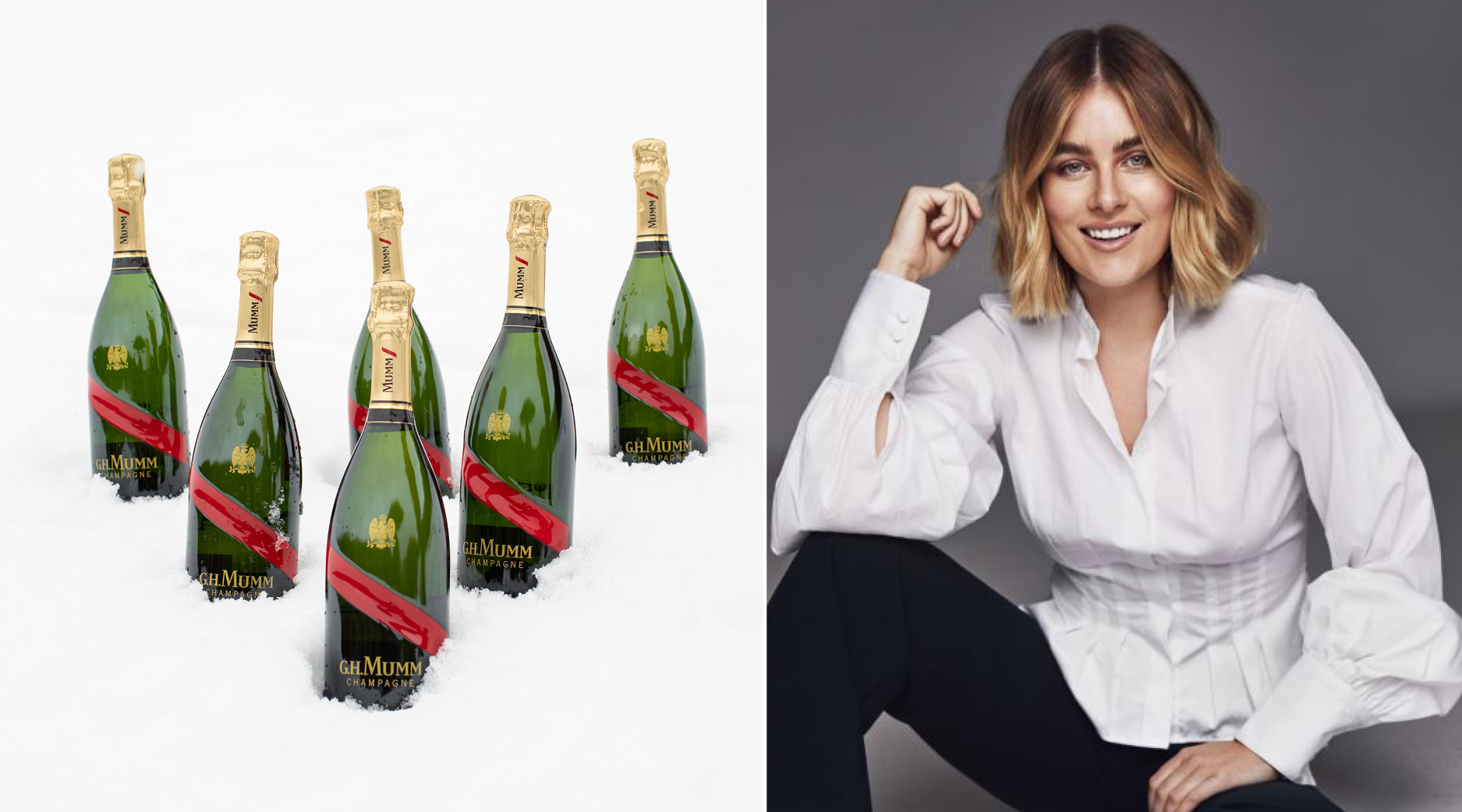 The cocktail party, on the 27th of July, is set to be a decidedly festive occasion. Attendees will receive a flute of Champagne Mumm on entry, as well as one of the Maison's specially-crafted, bespoke Champagne Mumm cocktails and a number of delicious canapés, which they can enjoy while listening to the rousing sounds of the Sweet Mix Kids. Carissa, Cassidy and Rickie Dee will be mingling with guests alongside Champagne Mumm ambassador Ophelie Neil, who will be highlighting the savoir-faire of the Maison by facilitating various #MakeitMumm moments — including impressive Jerobaums and sabrage lessons.
Adopting a more intimate approach for its Saison des Neiges long lunch on the 28th of July, Champagne Mumm will host an exclusive number of guests at Botswana Butchery. This event will see local TV personality, Cassidy Morris, conducting a relaxed Q&A with special guest Carissa Walford, where the latter will discuss her life, her impressive career — spanning a longstanding stint in TV and the creation of her own, distinctly thoughtful media platform and pioneering network, IN.BED.WITH.CARISSA — as well as everything around winter styling and fashion. Attendees will enjoy a delectable, five-course set-menu lunch — each course paired with Champagne Mumm — and will have the opportunity to talk with Carissa, Cassidy and Rickie Dee in a quieter, more personal setting.
Champagne Mumm's Saison des Neiges cocktail party will be held at QT Queenstown on Saturday 27th July, from 7:30pm until late. Tickets are $69 per person and can be purchased here. The Luxury Long Lunch on Sunday 28th July at Botswana Butchery will go from 12pm until 3pm and tickets are $175 per person, available here.