Although the roast turkey and hefty ham have been cemented as definitive Christmas dishes, the less-talked-about salmon is actually perfect for our warm, antipodean celebrations. Big Glory Bay's salmon — sustainably farmed for a superior flavour and texture — is the only kind befitting of the Christmas Day feast. Here, renowned New Zeland chef, Annabel Langbein, highlights the succulent, superior properties of Big Glory Bay salmon with her Celebration Salmon recipe from the Catch to Cook series — reminding us why this is exactly what we should be putting on the table this year.

Ingredients
For the salmon
– 1 whole side of Big Glory Bay salmon, skin on, pin bones removed
– 2 packed cups of parsley leaves
– ½ cup of coarsely chopped chives
– 2 of lemons
– 1 punnet of cherry tomatoes
For the salsa verde
– 2 tbsp of capers
– 2 cloves of garlic
– Salt and ground black pepper, to taste
– 2 tbsp of extra virgin olive oil
– Watercress sprigs, to serve
– 10-12 mint leaves (optional)
– 1 cup of neutral oil (vegetable or canola)
– 1 tbsp of dijon mustard
– ½ tsp of salt
– Ground black pepper, to taste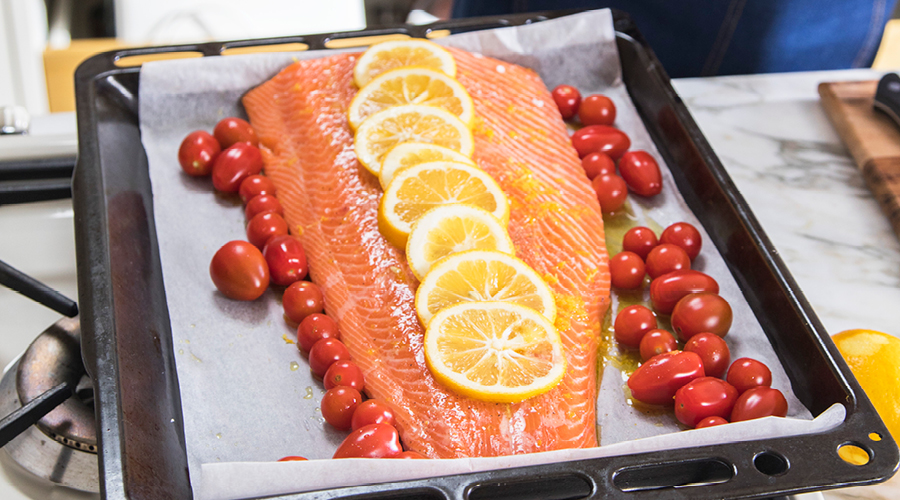 Method
1) Place the Big Glory Bay salmon in a large, shallow oven dish lined with baking paper. Finely grate the zest of 1 lemon over the top of the fish.
2) Finely slice the other lemon and arrange slices down the centre of the fish. Arrange tomatoes around the tray.
3) When ready to cook, preheat oven to 240°C fan-bake. Season the salmon and tomatoes with salt and pepper and drizzle with olive oil.
4) Roast until just cooked through (about 12 minutes, depending on size). The flesh should sink in not bounce back when gently pressed, or a skewer inserted into the thickest part should glide in smoothly.
5) While the salmon is cooking, make the salsa verde by putting all ingredients in a blender or food processor until smooth.
6) Remove the cooked salmon from the oven and allow it to rest for 5 minutes before sliding onto a serving platter. Make sure you include the tomatoes and pan juices.
7) Squeeze the juice of the zested lemon over the fish and garnish the platter with watercress. Drizzle some salsa verde and serve the rest in a jug on the side.

Pro tip: To take the stress out of Christmas day, you can prepare this dish in advance. The salsa verde can be kept in the fridge for up to a week and the salmon and tomatoes can be arranged on the tray, then covered and chilled for up to 8 hours.

You can pick up your side of Big Glory Bay salmon exclusively from Sanford & Sons at Auckland Fish Market. For the full recipe and more of the Catch to Cook series click here.