When thinking of a typical dining experience at a restaurant, it usually consists of a glass of wine or two, an entrée, a main and perhaps a dessert. But side dishes are just as crucial a consideration. Offering additional greens, mouth-watering carbs and delicious morsels, sides (when done right) make any meal feel complete. That said, these restaurants around Auckland are serving up some of the tastiest sides we have ever tried. Not only do they offer the extra heartiness to take a meal from solid to sensational, but they are so good that if it were up to us, we'd go back for a second or third helping.

Ugly Carrot and crinkle-cut kumara fries from Culprit
We aren't too sure about what to think of Kyle Street and Jordan MacDonald's definition of 'ugly,' as their 'Ugly Carrot' side is absolutely stunning in terms of presentation and flavour. The vibrant orange vegetable is cooked in a way that enhances its sweetness and is served adorned with dollops of creamy smoked yoghurt and a sprinkle of dukkah for texture. But it's Culprit's crinkle-cut kumara fries that are the real stars of the sides at this restaurant. Where usually, crinkle-cut only really applies to the regular potato, Street and MacDonald have rendered the beloved kumara in the wavy shape (helping each ship achieve a crispier texture) and serves the tasty dish with a side of Kiwi onion ranch sauce to enrich each golden, salty morsel.

Garlic naan, cauliflower bhaji and broccolini with spiced butter and almonds from Cassia
Auckland's favourite modern Indian restaurant, Cassia, is the place to go to discover bold, distinct flavours you won't taste anywhere else. At this restaurant, you're going to want to wipe your plate clean until there is no residue whatsoever and the side of garlic naan offers the perfect way to do so. Not to mention, it's also one of the best naan breads in town, well-seasoned and crispy on the outside and fluffy and chewy on the inside. Cassia's rendition of the traditional cauliflower bhaji is also a dish that cannot be passed up when dining at this restaurant. The florets are coated in an evenly-distributed crispy batter, the cauliflower is soft and the bowl is lined with a creamy yet slightly spicy sauce which will have you reaching for more garlic naan when you finish. For those seeking a side dish without a fried coating, the broccolini is another one of our favourites. The greens have been cooked to a point where they still carry a pleasant crunch and have been coated in spiced butter and sprinkled with toasted almonds which elevate the texture of the broccolini and add a nutty aroma.
Salty River Farm pumpkins, Brussels sprouts and skinny fries from Soul Bar & Bistro
Renowned for its mac and cheese and pork belly, Soul Bar & Bistro has a popular and lauded menu, where the sides most definitely live up to the high standards of the mains. Right now, we are obsessed with the Salty River Farm pumpkins, a winter dish that we hope will remain through the seasons ahead as well. The pumpkins are caramelised to reach optimal sweetness, are served in a bed of cultured cream for some extra indulgence and are finished with a drizzle of chilli jam to lend a spicy kick. The Brussels sprouts is another dish that shines a light on Soul Bar & Bistro's incredible side offering and pushes the boundaries of the brassica with a glistening glaze of honey butter. The sprouts are also laced with bacon bits, that offers a moreish saltiness to contrast with the sweetness of the honey and richness of the butter. The skinny fries is another side dish that is a staple on Soul's menu and for very good reason. The long shoe-strings are some of the best fries in town, each boasting a crispy golden exterior, perfectly seasoned and served with both tomato sauce and mayonnaise.

Truffle mac and cheese, creamed spinach and roasted beetroot from Jervois Steak House
Thinking that Jervois Steak House only specialises in steaks is a novice mistake. The sides are just as popular as the cuts of meat and you'd understand why after tasting one spoonful of the truffle mac and cheese. The cheesy, creamy pasta adds a nostalgic element to the premium quality steaks, making the experience at JSH feel somewhat homely and comforting. The creamed spinach is another must-try when dining at JSH, a classic Western side that is done justice at this establishment. To break up all the richness, diners swear by the roasted beetroot side that's served with goats cheese and rocket. The beetroot lends a smoky aroma to the fresh goat's cheese but the earthy bitterness from the rocket still shines through beautifully. Finally, don't forget to order the onion rings. We understand the hesitance to order this delicacy at a fine-dining restaurant but trust us when we say that they are the best onion rings in Auckland (and thank us later).

Potato skins with truffle oil and iceberg wedge with ranch from Depot
The fish sliders and Hapuka belly at Depot are iconic Auckland dishes. Ask any foodie and you can bet they've eaten at least one of these two dishes before. We think, however, that no Depot experience would be complete without a side of crispy potato skins. The addition of truffle oil, porcini salt and shavings of manchego cheese makes this potato dish a total game-changer, cementing its position in the hearts of every diner that orders it. The Iceberg wedge with ranch dressing is another side at Depot that can never do wrong. The delectable combination of a rich sauce against fresh greens works in perfect harmony, creating a dish that shines in its simplicity.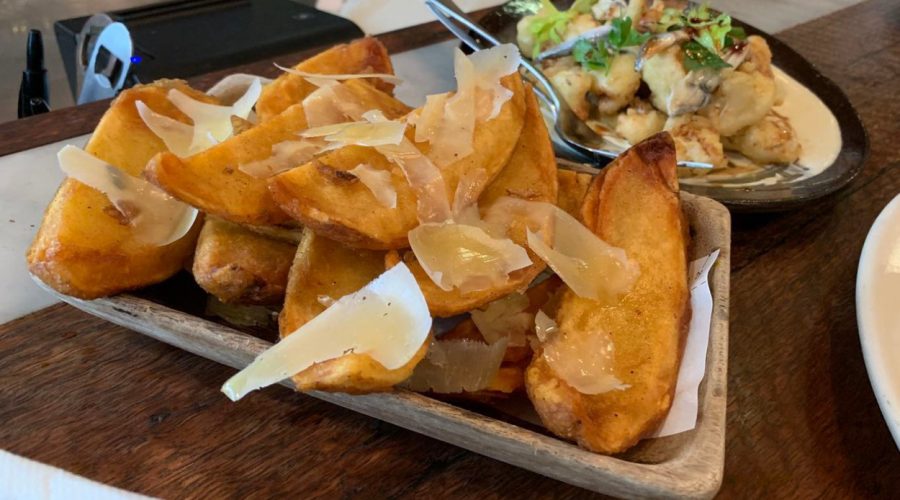 The side salad platter from Ima Cuisine
The menu at Ima Cuisine has been designed to shine a spotlight on sides. Patrons are welcome to choose any main they like, ranging from lamb to vegetarian options such as the sabich, but they all come with a medley of side salads that are so delicious that even someone who doesn't like vegetables wouldn't complain. The side platter of salads exceeds the regular garden medley, seeing a delicious selection of Arab rice with lentils, pine nuts, pistachios, almonds and caramelised onion. The Tunisian grilled carrot salad is coated in creamy feta while the chopped tomato salad with beetroot, radish, red onion and chilli lends a refreshing cleanse to the palate, similar to the minty, zesty, crunchy cabbage, cucumber slaw, and sauteed spinach with garlic shoots and sesame. Add a bit of each to your plate next to your main dish and prepare for a taste sensation.

Parmesan beignets and creamed sweetcorn from Ostro
We all know about the seafood platter and Beef Wellington at Ostro, but more people need to recognise the glory of the parmesan beignets. For those who are unsure about what this side dish consists of, let us explain. Simply put, they're basically deep-fried cheese doughnuts and taste as divine as they sound. Their outer layer is crispy while on the inside, is soft and fluffy and filled with melted parmesan cheese. Once you start with these morsels, it's impossible to stop. Another delightful side dish at Ostro is the creamed sweetcorn — a simple yet heavenly combination of corn kernels that have been drenched in butter, sprinkled with a touch of paprika and burst with sweetness and flavour. This side dish is so moreish that it's often hard to avoid scooping it straight into your mouth, as opposed to on to your plate to accompany your main.