Salmon's reputation is that of a vibrant, rich and tender fish that can be cut like butter and that melts in the mouth. But no salmon is as worthy of this reputation as Big Glory Bay's. New Zealand's most prolific seafood company Sanford (with a vision to be the best in the world) started farming its King Salmon sustainably, at Big Glory Bay and is producing some of the best fish we've tasted in a while. The salmon is reared in the fresh waters of the Clutha and Waitaki rivers before being moved to Big Glory Bay in Stewart Island, where cool ocean currents and the Rakiura National Park converge to deliver perfect conditions for producing some of the best Salmon in the world. Salmon grow in this pristine environment at a slower pace, developing their delicate flavour and tender texture. The team at Big Glory Bay take on the serious responsibility to preserve the environment of the farm managed by sustainable practices. Their strong commitment to protecting the stunning marine environment and the wellbeing of the salmon is also evident through their BAP (Best Aquaculture Practices) certification. King salmon from New Zealand is highly regarded worldwide and is recognised as being "best choice" for consumers by the Monterey Bay Aquarium's Seafood Watch programme. The care and attention undertaken is rendered entirely worth it when you taste the difference in the fish — it's noticeable. So here are some of our favourite dishes in Auckland that showcase Big Glory Bay King Salmon at its finest. 
Terrine and tartare at Euro
Euro Bar & Restaurant showcases the versatility of salmon on a single plate. Its salmon terrine and tartare features a carefully constructed cut of salmon complemented by raw salmon tartare to deliver a unique, textural element. The summery flavours are enhanced by freshly shucked peas that are spread across the plate so you get the burst of their juiciness in every single bite.
Mandarin infused pan-seared loins at Ebisu
For those who prefer salmon to be served hot, Ebisu provides a pan-seared take on the fish, cooking it in such a way as to allow the fish to reach peak tenderness while highlighting the crispy texture and salty flavour of the skin. Half the plate is coated in sweet yet sour grapefruit soy while being contrasted with the full-bodied, decadent miso mascarpone on the other side. Four delicate salmon filets are then topped with a layer of crispy skin that has been infused in mandarin juice and finished off with sautéed vegetables and caramelised grapefruit.
Japanese-style Peruvian tiradito at Azabu and Azabu Light
Renowned for its unique mixture of flavours inspired by Japanese Nikkei and Peruvian cuisine, Azabu and its smaller and more casual iteration at Auckland Fish Market, Azabu Light, serve salmon at its most real and raw. The thick slices sit in a puddle of coconut cream to enhance the richness of the fish, while a citrusy leche de tigre counteracts the creamy texture. Adding some crunch, crispy spaghetti squash is employed as a garnish before the dish is drizzled with passionfruit seeds bursting with sour sweetness.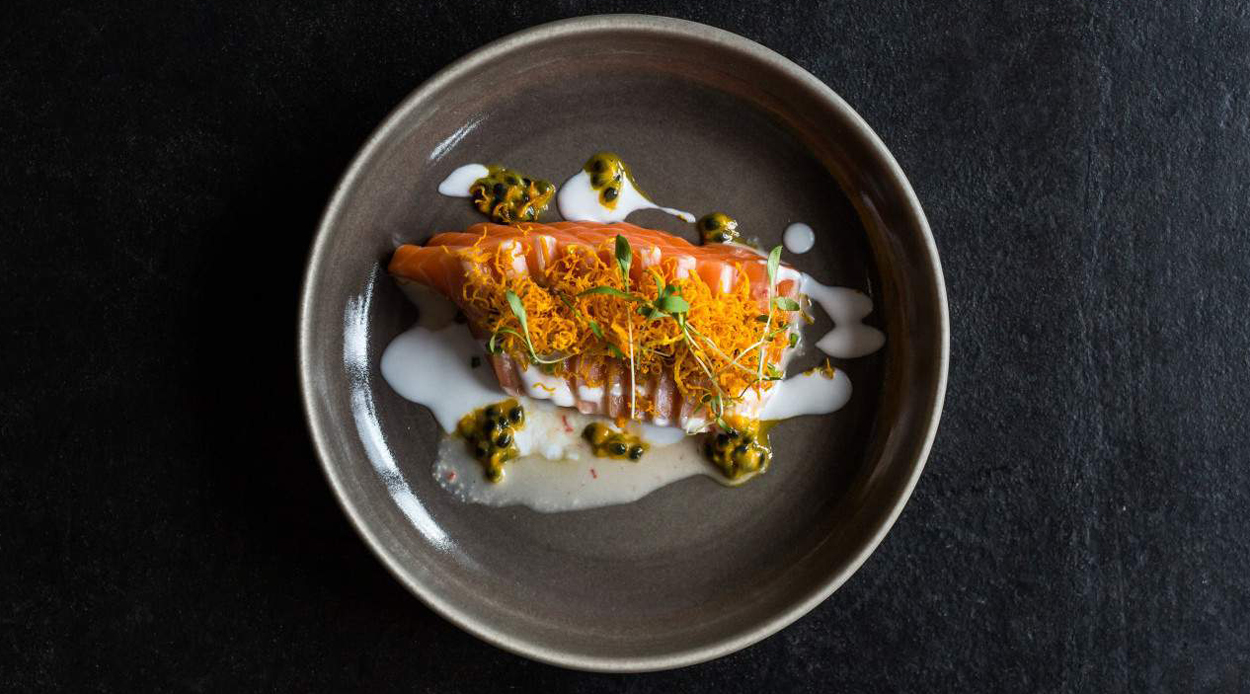 Squid ink saffron salmon at Ostro
With a second-to-none view overlooking Auckland's Waitematā, it's only appropriate that Ostro serves a stunning salmon dish. Served with fragrant saffron potatoes, fresh green beans, pungent olives, sweet and sour teardrop capsicums and juicy cherry tomatoes, the salmon is  finished with a final touch of squid ink and caper sauce to enhance all the elements on the colourful plate while allowing the saltiness of the top layer of crispy salmon skin to shine.
Parisian style grilled fillet at Jervois Steak House
Ordering fish may seem a bit out of the ordinary when you're at a steak house but when you pair Big Glory Bay King Salmon with Jervois Steak House (also known as 'The Institution') you will not be disappointed. The fish has been grilled to perfection, boasting a crispy exterior but retaining that melt-in-the-mouth tenderness you want. Served on a bed of French sauce vierge — a concoction of fresh herbs and olive oil — this elevates the rich layers of fat in the salmon, while a side of fresh lemon serves to brighten up the dish.
Sumac seasoned with a side of crackling at Odettes Eatery
With flavours inspired by Mediterranean cuisine, Odettes Eatery does a spectacular job at adding different elements of flavour and texture to its salmon dish, without taking away any of its natural beauty. The fish is rubbed in tongue-tingling sumac and capers, which offer bursts of flavour and work to sharpen the dish. The unique point of Odettes' salmon is the crackling of the skin, adding crunch from the first bite before dissolving beautifully.