Apparently, it's the most important meal of the day. And with this succinct round-up of local destinations adept at serving a time-efficient breakfast, there's no excuse for skipping it.
Pintu
Tucked away in the lane running between Richmond Road and McKelvie Street, Pintu is the healthy breakfast hero we can't get enough of. Our favourite brekkie to-go has to be the cinnamon porridge — a hearty, healthy and satisfying start to the day with the addition of red plum, coconut chips, bruléed bananas and walnuts. So yum! Call ahead to order. (80 Mackelvie St, Ponsonby)
Bowl & Arrow
The OG breakfast bowl stop in Auckland is an inspiring place to start your day. With bowls entitled 'Six Pack' and 'Summer Bod', you'll be chomping your way to a svelte figure with this cult breakfast offering. (Orakei Bay Village, Orakei)
The Rocket Store
There's little that beats a Best Ugly Bagel. Served how a bona fide rendition of the Polish delicacy should be — slightly sweet, dense, chewy and unmatched in terms of integrity and flavour, The Rocket Store on Ponsonby Road has a new bagel bar that's serving up the goods. (208 Ponsonby Road, Ponsonby)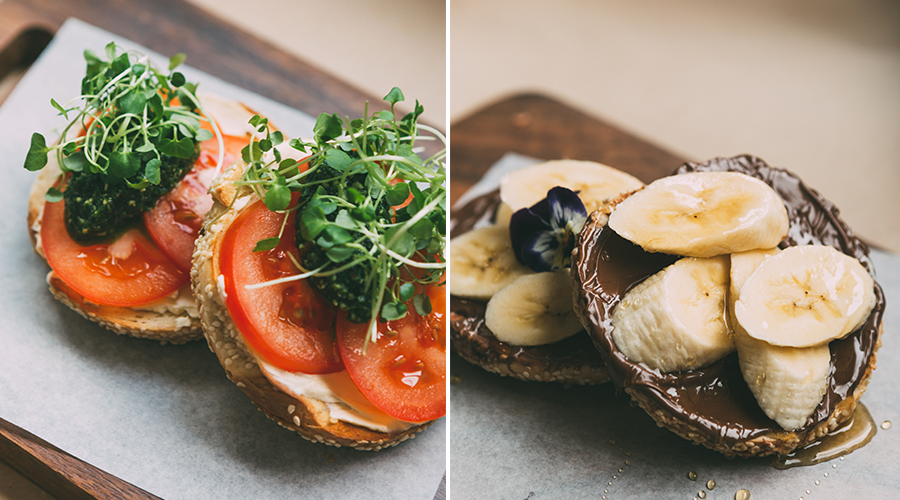 Amano
With a heady array of freshly baked goods, you'll be struggling to concentrate as you grapple between the buttery, straight-out-of-the-oven croissants and open sandwiches if not steaming hot bowls of porridge. The silky smooth buffalo milk coffees go down a treat too. (66-68 Tyler St, Britomart)
Misters
With all their delicious gluten and dairy free portions packaged up to take away, the understated 'baked beans' are a supremely satisfying start to the day – butter beans served with hot and sweet peppers, roasted tomato sauce and gremolata and your choice of either chorizo, a poached egg and salsa verde or avocado on sunflower cream. (12 Wyndham St, CBD)
Greedy Guts
Ain't no better way to start your day than with the Morning Greed; an open sandwich with smashed mint peas, ricotta and a generous serving of smoked salmon served on sourdough, garnished with lime and dill. (44 Wellesley St West, CBD)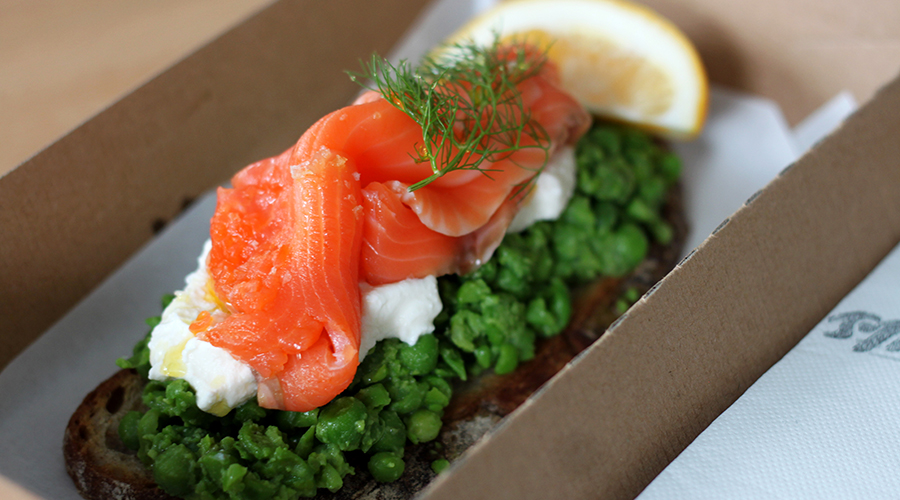 Together
Catering extraordinaires and best friends, Emily Read and Phoebe Carr, are behind this pit stop on the shore. Bliss balls, freshly made sourdough sandwiches, incredible smoothies, breakfast bowls, salads and epic raw slices make will call your name time and time again. (585 Beach Road, Rothesay Bay)
Bird on a Wire
Now located in Ponsonby Central, Orakei Bay Village and Takapuna, the chook specialists' Early Bird Breakfast menu plays to our tendencies for simple and satisfying deliciousness. There are free range eggs on your favourite toast with portobello mushrooms and greens, chicken wraps and even mince on toast.
Goodness Gracious
Bagels are the bread and butter of this new Parnell hot spot. From 'The B.L.A.T' to 'The Kransky', our preferred choice might have to be 'The Sampler' which includes a choice of three mini bagels almost too cute to eat. They're always ready to whip one up quickly.