As a bastion of Italian cuisine, the humble pizza's hearty constitution never fails to delight both the eyes and the stomach. While there are many establishments serving up laudable renditions of arguably the greatest gift Italy ever gave the world (followed closely by pasta, Peroni and gelato), we've rounded up a few of our favourites.
Non Solo Pizza, Parnell
A neighbourhood favourite for over nearly 25 years, Non Solo Pizza welcomes all with open arms — and nothing says 'welcome back' like one of its delicious pizzas. We love the winter Zucca special, with slow-roasted pumpkin, charred cauliflower, smoked mozzarella and toasted almond, or the more classic spicy salami comprising tomato, fior di latte, spicy salami and fresh basil.
Francesca's Pizzeria, Pt Chev
Makers of truly authentic Italian pizza, the finest dish on the menu is arguably 'Francesca's Choice'. Layering tomato, mozzarella, spinach, salami and eggplant on a light, wood-fired base then finishing it all with a sprinkling of chilli, we recommend grabbing one to go or perching up at the window to enjoy.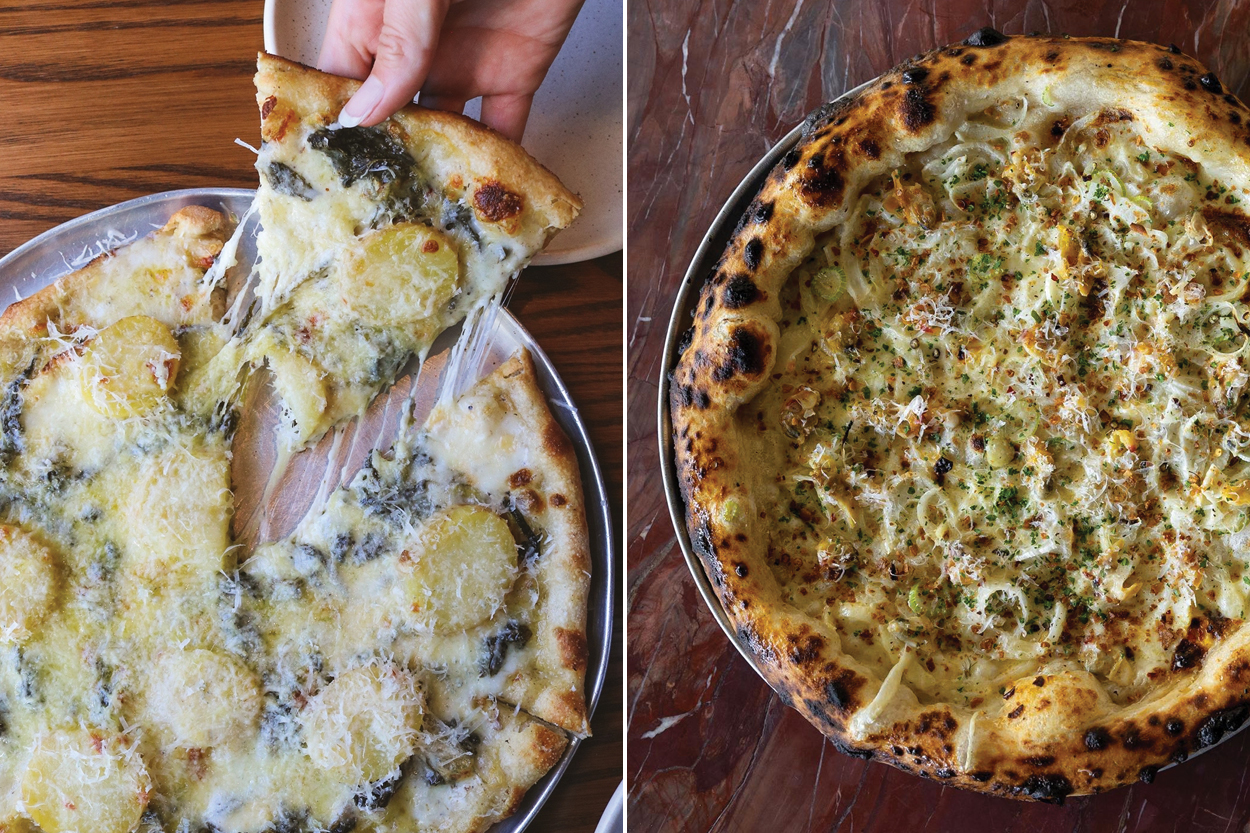 Andiamo, Herne Bay
The Jervois Road outpost is one venue that offers consistently wonderful food, from their pastas to their meatballs, and everything else in between. It has been said that you can tell the talents of a pizza chef by their take on a margherita, and Andiamo is no exception. This pizzette, with Clevedon buffalo mozzarella, neapolitan tomato sauce and fresh basil is nothing short of a classic — and is the perfect size to devour in one sitting.
Lilian, Grey Lynn
The perennially busy Grey Lynn osteria always draws a crowd for its delicious food and beverage offering, and its delightfully doughy pizzas are a large part of this appeal. We love the signature prosciutto, grape, parmesan and thyme, and the tua tua, fennel cream, chilli flake, fried garlic and pecorino flavours.
Settebello Pizzeria Napoletana, New Lynn
Francesco Acri opened Settebello to bring "a taste of Napoli to New Lynn", and we would say he has succeeded in his mission. The Naples native offers a lengthy menu of extremely good pizza Napoletana (what else would it be?!), plus folded Calzoni and homemade pasta.
Spiga, Remuera
This new Italian eatery has all the makings of a future classic. While offering sharing plates, moreish pasta and an extensive wine menu, the pizzas are what we find ourselves returning for time and time again. Perfectly doughy and nothing short of authentic, the nduja is one we can't look past. Topped with local buffalo feta, it's divine, sumptuous and perfect for sharing.
Al Volo, Mt Eden
With their 150-year-old family recipe in tow, the team at Al Volo have been serving undeniably fantastic Neopolitan pizza since they opened in 2004 — and it has even been voted among the best in the world. We can't go past the signature eponymous pizza, a lesson in the beauty of simplicity with buffalo mozzarella, cherry tomatoes, fresh rocket, olive oil and parmesan.
Abruzzo, Birkenhead
North of the bridge is a venue that is more subtle and hidden — it is the kind of place that is so under the radar, you know it's bound to be brilliant. Here, the woodfire pizza menu is endless, offering an abundance of seasonal ingredients and traditional flavours. If you find yourself torn between options, rally a crew and try the Blu Celeste, the Funghi, and a Four Cheese Calzone to share for the ideal Italian indulgence.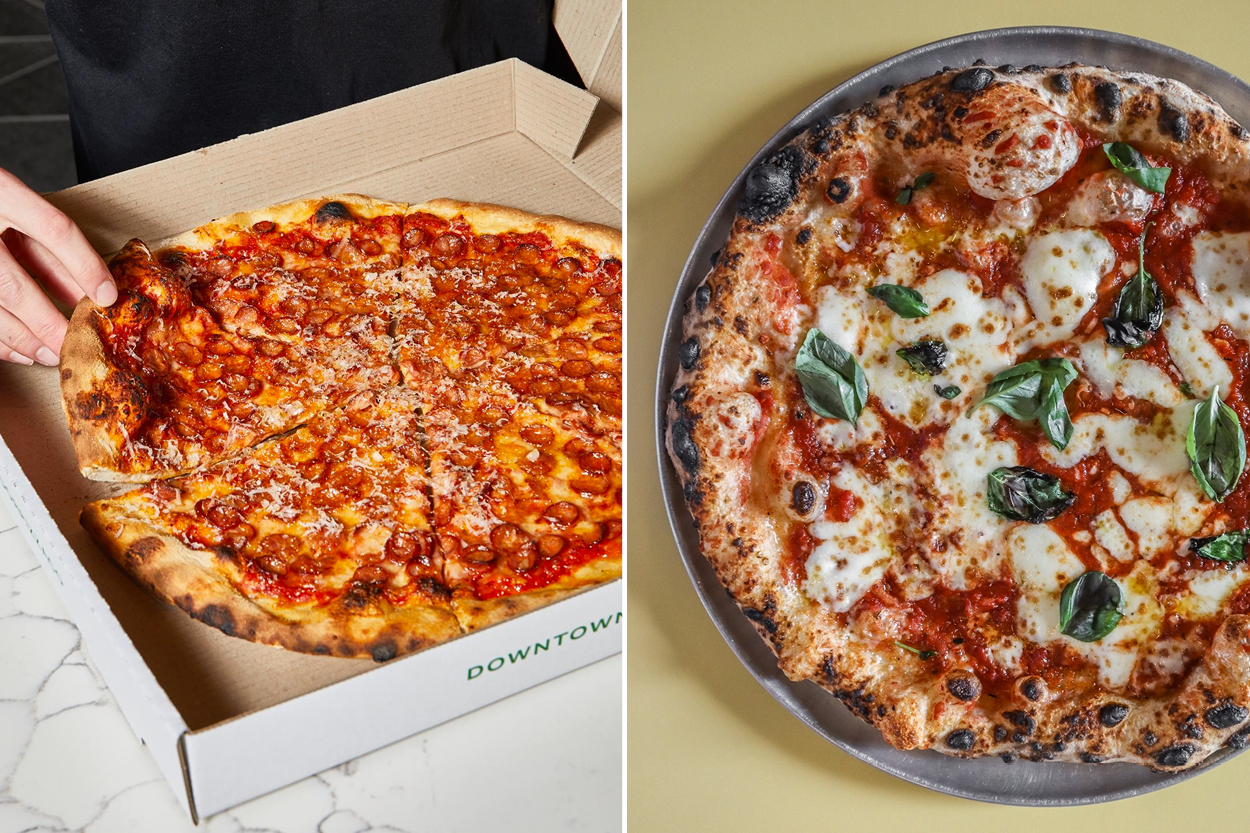 Green Door Pizza, Commercial Bay
Pizza by the slice has to be one of the greatest inventions of the modern world. Green Door Pizza is perfect for a grab-and-go snack as you shop your way around the bay, with the larger pies being more ideal for a take-home meal. We love the Pepperoni, which gives a true taste of how New York does it, and the addition of chilli oil is a welcome kick to round out the palate.
Umu, Kingsland
This eatery's sourdough pizzas hit the spot every time, and we recommend enjoying them on-site for ultimate freshness. Petite enough to eat a whole one to yourself (although, they're definitely not stingy), the exceptional dough and beautifully fresh ingredients will help to ensure you don't feel ultra weighed down afterwards.
Farina, Ponsonby
Ponsonby road corner cutie Farina has been an enduring go-to since it opened in 2014, and while its menu of pasta dishes and 'secondi' like Cotoletta are filled with delicious bites, it's the pizza we're highlighting this time. Whether you dine in or takeaway, Farina's Napoletana pizzas are all delicious from the first bite to the last.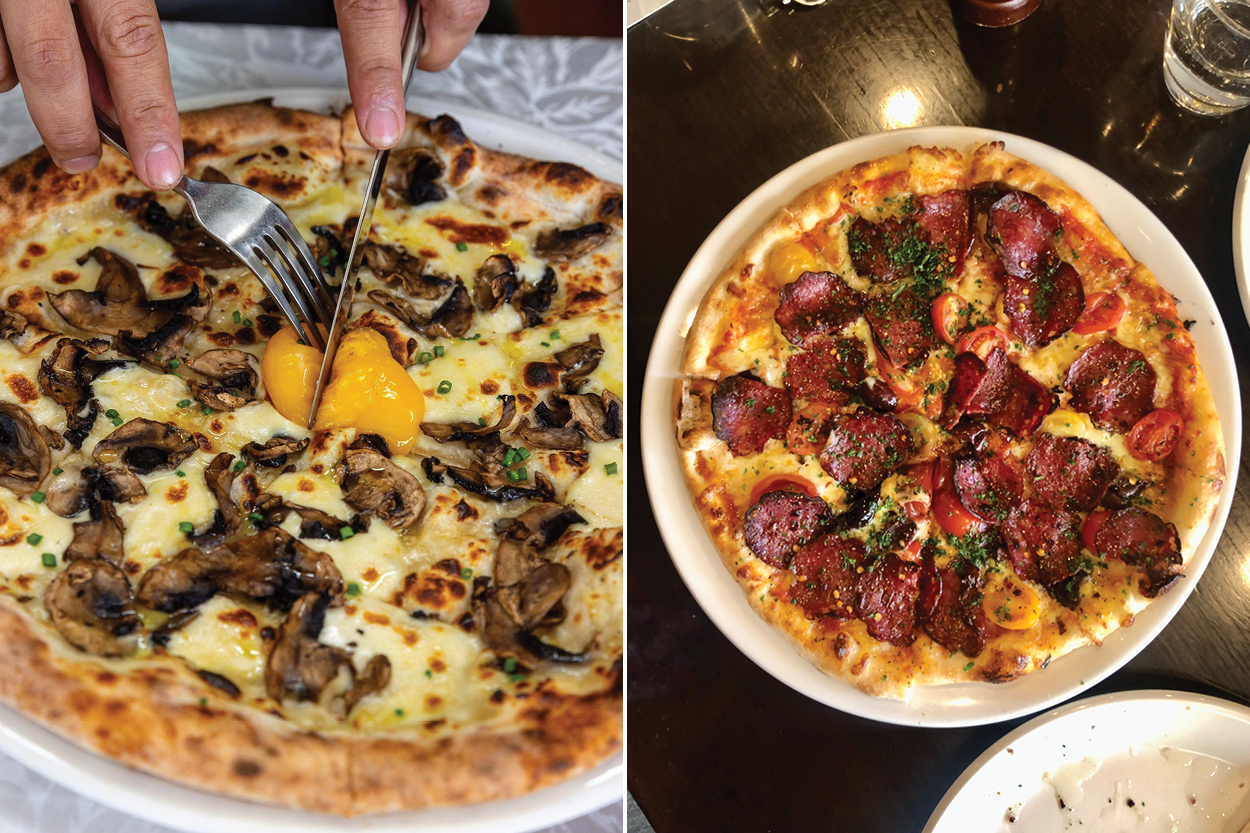 Elmo's, Ponsonby
If you have a sizeable group to cater for and pizza's the go, look no further than Ponsonby Road eatery Elmo's. There's something for just about everyone on its menu of wood-fired pizzas, from a classic Margherita or pork and fennel sausage pizza, to a vegan rendition with vegetarian sausages and cashew cheese.
Prego, Ponsonby
Purveyors of all things delicious and Italian, these culinary maestros certainly don't drop the ball when it comes to their pizzas. The hefty selection has something for any craving; a particular must is the Bianca with truffle mushrooms, white mozzarella, ham, rocket and Grana Padano.
Epolito's, Grey Lynn
Merging traditional Italian flavours with New York's signature thin-crust pies, the pizza at this Grey Lynn local demonstrates what beauty can be born when cultures collide. The East Side (artichoke, lemon and parmesan) and On Madison (black olive, roasted garlic and feta) are two of our favourites, though any flavour will do you right.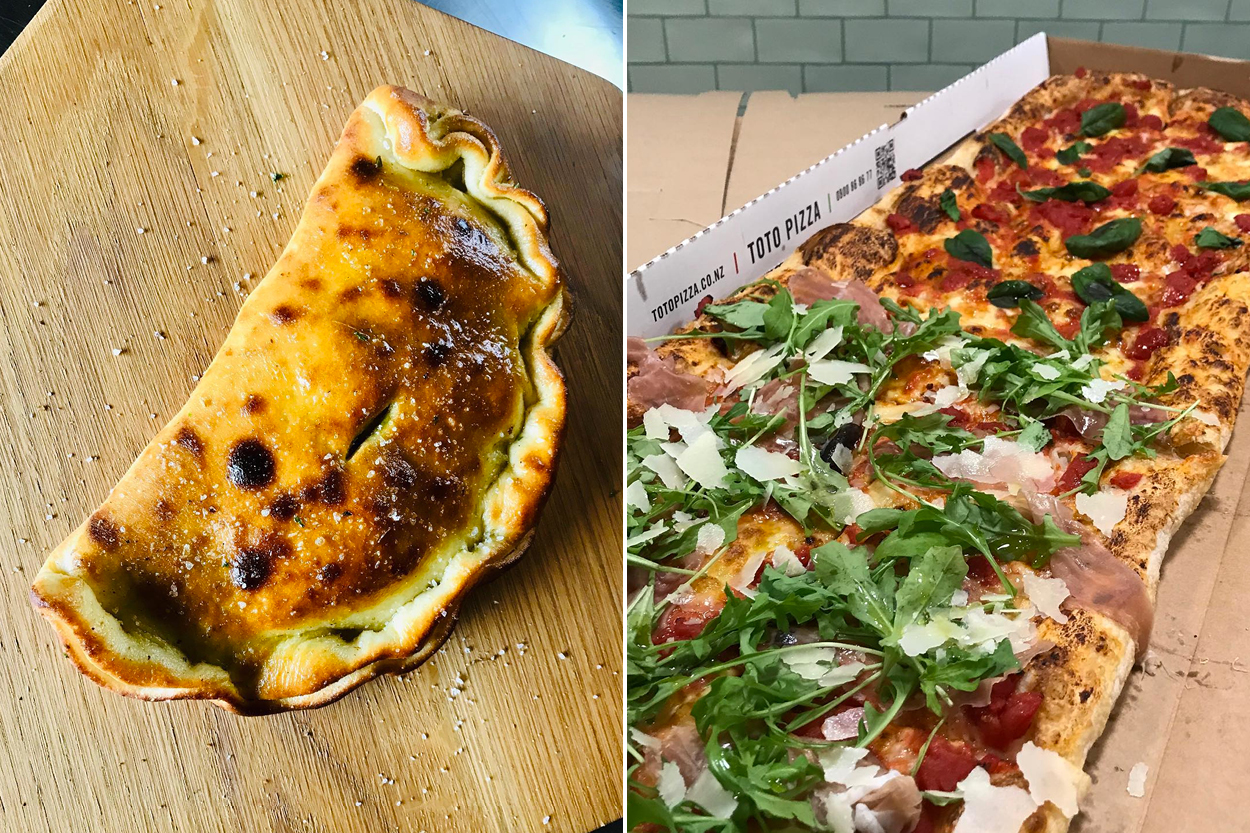 Dragonfired Pizza, Waiheke Island
Almost worthy of the ferry trip alone, these Waiheke mobile pizza legends have garnered themselves a bit of a cult following. Parking up at Little Oneroa Beach throughout summer, their winter hours are slightly more limited but they are open regardless, weather permitting. The menu works on a 'build your own' basis — if you're stumped for the best combo, just ask the team.
Dante's, Ponsonby, Takapuna, Queen's Rise, Eastridge
Distinguished by the authenticity of their wood-fired pizza, Dante's takes its authenticity very seriously in order to deliver Auckland's best Neapolitan pizza, stamped by Italy's prestigious Associazione Verace Pizza Napoletana (VPN).
Toto Pizza, CBD
When the occasion calls for a metre-long pizza (and more do than you would think), there's no one else we would turn to but the doughy dab hands, known fondly as Toto's. Go for a half and half or a full metre of one flavour, dine-in at the Hardinge St premises or takeaway — we like the never-fail Boscaiola (the truffle, mushroom one) or the Parma — prosciutto, mozzarella, tomato, parmesan and basil.
Di Vino Bistro, Parnell
The generous selection on offer at this Parnell favourite can make for a difficult dining decision. But with no bad choices on the inclusive menu, there's really no going wrong. If you do prefer a little guidance, however, the Napoli hits the mark, every time.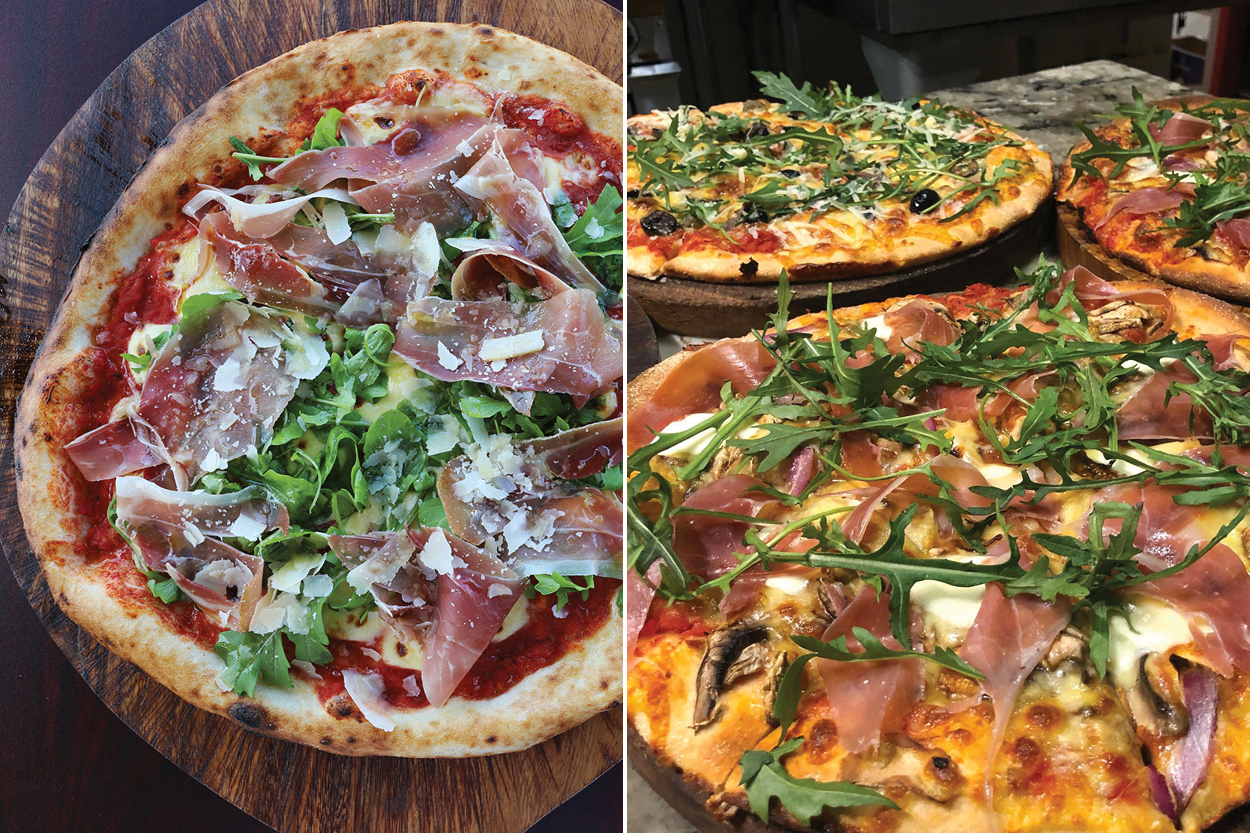 The Master and Margarita, Grey Lynn
Chef Ivan Janic specialises in perfectly wood-fired, Roman-style pizza at Surrey Crescent outpost Master and Margarita. Thinner and wider in diameter than their Neapolitan counterparts, these 15-inch sourdough beauties have a pillowy crust yet aren't super doughy overall, which lends a welcome lightness.
That's Amore, CBD
Boasting one of the most extensive (and delicious) pizza menus in the CBD, That's Amore brings a dose of Italian flavour to Courthouse Lane. You might have trouble choosing a flavour, but you'll have no trouble eating these moreish and approachable pizzas.
Papa's Italian Eatery, Kingsland
When a pizzeria has been operating since 1984, they must be doing something right, and Papa's Italian is one such place. From its colourful corner site on Sandringham Road, Papa's offers dine-in or takeaway pies in both classic and more 'guilty pleasure' flavours, like apricot chicken and Hawaiian.